A few weeks ago a friend was over and we were just talking about our homes and she was saying that she really wanted to learn how to makeover furniture like I do.
Then she asked me a question I never really thought about. "What furniture have you purchased new?"
I started to think about it…not that much! Our sofas, one dresser, the night stands in our bedroom and our dining chairs. That actually might be it. Oh and the beds. But we have seriously thrifted most of our furniture and a ton of our decor.
So I thought it would be fun to look back at and show you a lot of the pieces I bought second hand from either Facebook Marketplace, Habitat Restore or side of the road. What they looked like before and what they look like with a little work.
I want to show you that you don't have to spend a lot of money when you are furnishing your home.
It can be inexpensive and beautiful! So let's get started! The links are included if you want to see the actual blog post/tutorial
Coffee Table. I love the lines of this table and it actually has been a few different colors. This is how it is now but this summer I plan to strip it to natural wood.
This piece I did get a lot of grief over on my Facebook page. People were yelling at me for painting it. But I feel like the before picture makes it look better than it was. There were cracks in the side and it was really dark. Too dark for my decor but the perfect piece for what I needed it for! So I painted it. I don't regret it either!
The "island" that was in the kitchen when we purchased was a stand alone bar with two stools. Not my style and when the kids were busy would try to climb through it.
So when I saw this island on Facebook Marketplace for $75. I jumped at it. It was perfect for what we wanted now until we get new countertops and build an actual island.
I used my HomeRight Paint Sprayer and sprayed it with the same paint I used on my kitchen cabinets.
It's been here and perfect for the last 3 years!
But this tall cabinet in the corner..$45 dollars on Facebook Marketplace!
This cabinet I bought from Facebook Marketplace for $50. I had it in our living room and now in our hallway downstairs. I love it and can't get rid of it!
When Henry told me he wanted a desk to do his art projects. I happily went to the Habitat Restore and purchased a desk for $30. Nothing paint and some cool knobs couldn't fix!
Molly's room is small and needs storage. So this large box/chest I scored for $20 on Facebook Marketplace doubles as toy storage as well as a night stand!
I ultimately want to put built-ins in our downstairs family room but this large buffet that I purchased for $100 on Facebook Marketplace is the perfect storage solution for under our TV!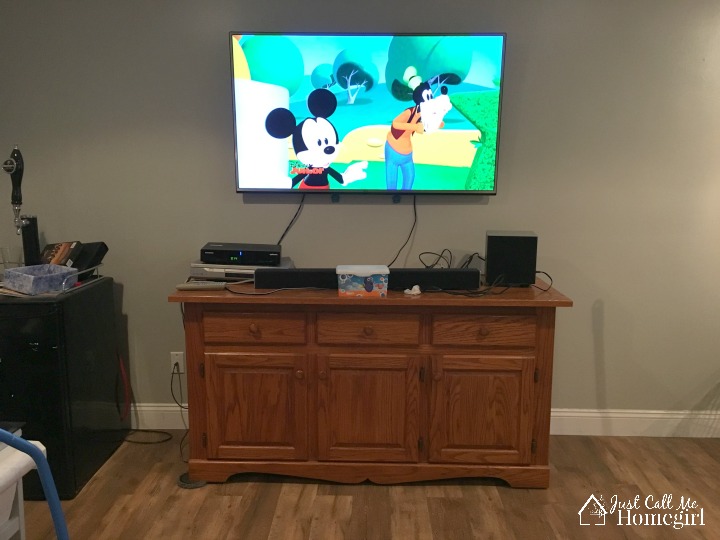 Stenciled Coffee Table anyone?
We have also made our way through many console tables. They're always a cheap investment and I can always make a profit when I want to swap out for something new.
End tables have also made out way through our home. These are perfect little projects that can have a big impact.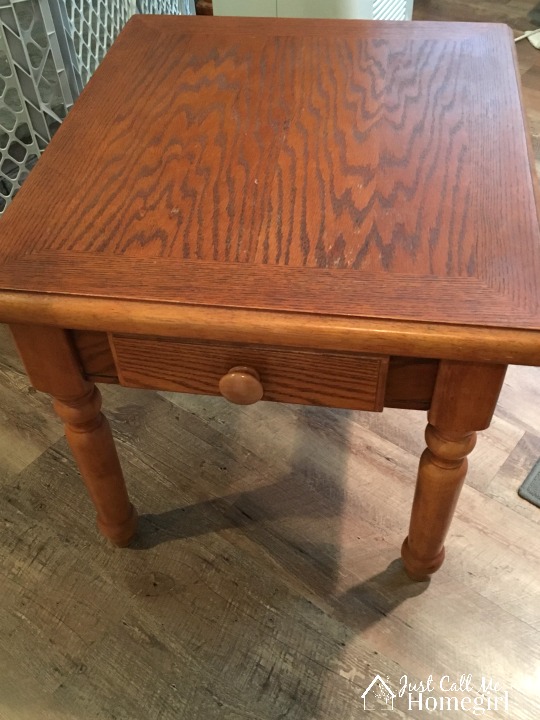 This is one of my favorites! I was always on the lookout for a solid wood table for our sunroom. I decided to look on the Let Go App and I got this one $40!
There has just been so many makeover of thrifted items in this house. I don't document them all because..I'm sure you don't care that I slapped some white paint on something! But I wanted to show you with this post that you DO NOT have to spend a lot of money on your home to love it. You just need to love what is in it.
Here are a few more for inspiration: