I have been looking for a cabinet this size for awhile now so when it became available on the Facebook Market Place for $45, I snatched it up within 10 mins. I had to have it.
But when I posted the before picture of this cabinet on my Facebook Page, I had sooo many people telling me not to touch it or not to paint it, it was beautiful the way it was.
Well I do agree it was beautiful. But it wasn't MY taste. The stain did have some orange tint to it and I wanted it to fit into my decor. So in typical Tara fashion…I painted it white.
But before painting it I did do a little prep work. I used liquid sander just to remove some of the shine as well as any grease or oil that may have been on it. I also used wood filler on some of the cracks to fill them in for painting.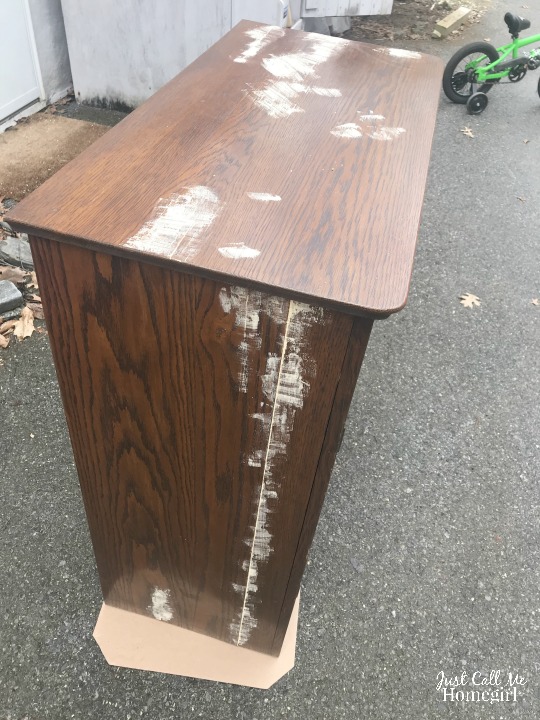 I used Country Chic Paint in Simplicity. It's the same paint I used on the wood wall decor I painted a few weeks ago.
Since I was painting it white, I knew I would need more than one coat. I ended up doing maybe, 2.5 coats. But it didn't take me much time at all. Also I hardly used half of the pot of paint. You don't need a lot to give full coverage!
When I finally got it the way I wanted it, I went back and forth on how I wanted to finish it. Part of me wanted to leave it plain white and just finish with clear wax, and part of me wanted to try grey wax…but I decided to take some sandpaper to it to see how it distressed. This paint is known for being easily distressed but I haven't used it that way yet.
I was so excited. It distressed beautifully! I love the markings and how authentic they look.
After distressing it, I did go over it with a clear coat of Country Chic Clear Wax for a polished finish.
I love the way it turned out. This cabinet is exactly what I have been looking for. The depth is great to hold oversized coloring books and the kids art supplies that have been taking over the house. The drawer is our new "paper drop zone" You know the birthday invites or the papers you need but not right away like coupons or reminders That usually live on the fridge. Well, now they have a better home.
This cabinet makeover what one of the first things to be done for a makeover on our living room. It will be a slow makeover doing things here and there when budget and time allow but I think it's something that will fit our family a little better.
Please don't hate me for painting the cabinet! Oh and if you want to try Country Chic Paint use code: homegirl10 for 10% off your first order!