Mother's Day is a day to celebrate and show every Mom how much you admire, love, appreciate and cherish them.

But it's not just for your Mom. Every Mom or "Like a Mom" should be celebrated. So I found one of a kind, lovely, personalized gifts you can give your best friend, your Grandmother, Aunt, Sister, or that special woman in your life that you admire.
All of these gifts can be found on PersonalizationMall.com.
Garden Gifts: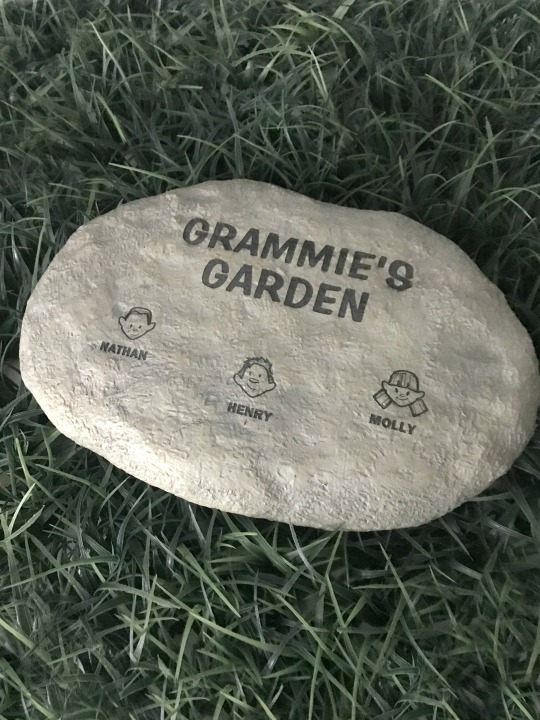 How adorable is this garden rock?! We got this for "Grammie" but it would be so adorable for "Mommy" as well! (I even saw in one of the reviews that some have used it for a pet memorial rock).
Here are some other adorable garden gifts I found:
Loving Family Engraved Garden Stone
Bee Happy Personalized Flower Pot
Personalized Set of Garden Rocks
Mom Photo Outdoor Flower Pot
Jewelry:
My bar necklace has such special meaning. I choose to have 11,13, & 16 put on it in Roman Numerals. Those numbers are the year we got married, the year Henry was born as well as the year Molly was born. It's my whole family on one little necklace!
It would be so cute with just the kids birthdays, or your anniversary date. Names..so many special things you could do with this necklace. Perfect gift!
You can't go wrong with these jewelry pieces!
Personalized Photo Bracelet
Mom Personalized Jewelry Box
Birthstone Bar Necklace
Layered Stackable Disc Necklace
Family Tree Necklace
Keepsakes:
I love this little key chain. On the front it says Mama because that's what they call me…then on the back their names repeated. I always think a key chain is such a thoughtful gift because it's a little reminder when you're out.
More keepsakes to browse:
Personalized Candle Votives
Personalized Candy Jar
Engraved Ornament
Personalized Puzzle
Household:
This bag is PERFECT! If you need a gift for your wife GET THIS! I had our last name embroidered on it and couldn't be happier. This bag is so large and sturdy I can't wait to take it to weekend trips to our cottage on the lake.
This bag will last a really long time, and take many trips with us. Camping, Road trips, or even just to Grammie's house.
Even more incredible household finds:
Embroidered Robe
Embroidered Cosmetic Pouch
Personalized Photo Cookie Jar
Personalized Wood Server
Photo Blanket
Whatever you decide to get your Mom, Grandmother or Best Friend for Mother's Day. The gesture is what counts. Make sure you reach out and tell them how much you love and admire them this Mother's Day.