When it comes to Easter decor I don't really do a whole lot. I might throw a few bunnies on the shelves, maybe some eggs and call it a day.
Well Spring has been really late to show up this year and I was craving some fresh decor and pastels to brighten up dreary NY!
I have made a few centerpiece pieces over the years for our 7′ table but I wanted something low that I could place some small items in.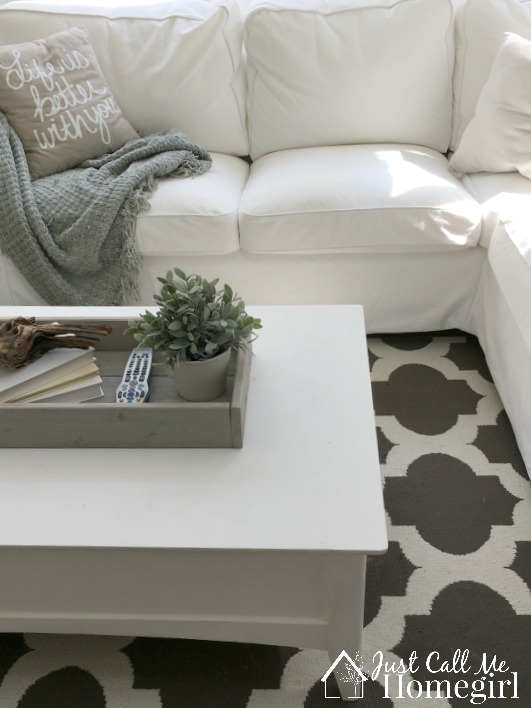 You might remember this table tray I built and stained in a driftwood color for our sunroom to corral remotes and other items. This was exactly what I was looking for, for our dining room table but I had to give it a quick makeover.
Using what I had on hand, that I just used for the carved wood piece, I grabbed my Country Chic paint in Simplicity and gave it a once over making the whole tray white. (If you follow me on Instagram you can see the whole makeover video). Once the white was dry, I used Country Chic's Grey Wax to give the tray a little more character with stencils and depth with a once over in the groves with the wax.
The B is for our last name, 11 is the year we were married, 13 is when my son was born and 16 was when my daughter was born. A little nod to our little family.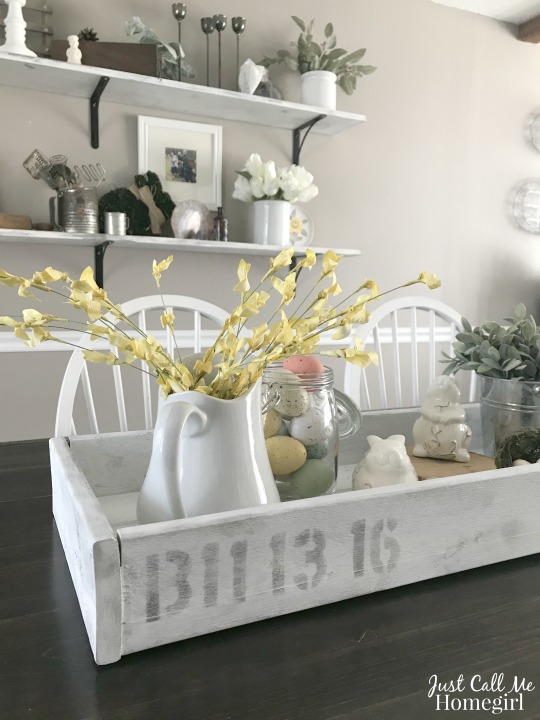 When everything was dry I hot glued a piece of of felt to the bottom to prevent scratching of the table and I was ready to decorate.
These faux flowers were left over from my Spring wreath from last year. They have been sitting in my sunroom all winter so I just moved them inside for the time being.
I love putting these pastel eggs I got from Hobby Lobby in this glass jar. It creates height and just looks really pretty.
The rabbits are from Hobby Lobby as well and the nest is actually a pick from Michaels but I just removed the pick. It was cheaper than buying just the nest!
What do you think? Do you decorate for Easter?