I have to admit, I'm pretty good on my free furniture game. I tend to find the free items on Facebook Marketplace first and scoop them up.
This nightstand didn't have a chance. I saw it and had to have it. I thought it would be the perfect addition to Molly's room.
When Country Chic Paint mentioned they had 20 new colors and wanted me to try them out, of course I immediately thought of this nightstand.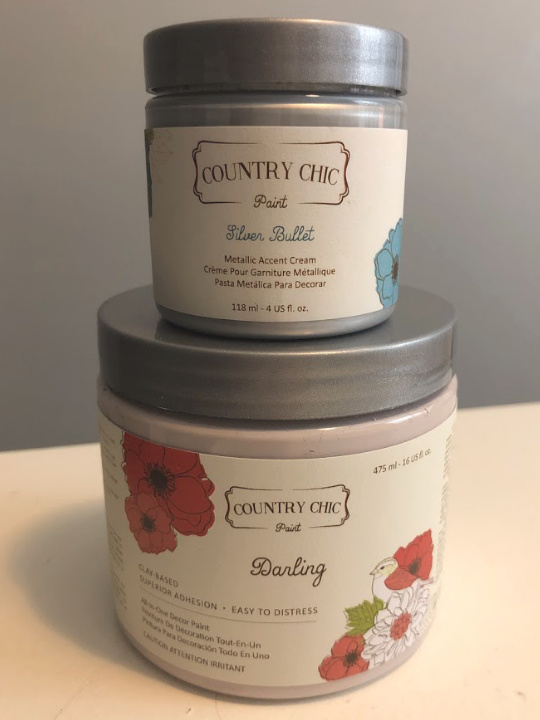 Looking at the colors, 20 new ones to be exact, I thought the color Darling which is a really pale pink would be really sweet. I also wanted to try out the Metallic Accent Cream over it since it's something I never used before. I chose "Silver Bullet" which is a light silver. I didn't want the accent cream to be really noticeable but give it just a nice shimmer.
I have used Country Chic Paint on other furniture items like this console table as well as Molly's chest. So I knew it would cover great. After two coats it was time to try the metallic accent cream.
I actually had to watch the tutorials on Country Chic Paint's website just to make sure I was doing it right.
I showed some of the application on my Instagram stories, so if you're not following me over there, be sure to because you get live updates on the projects I am doing! Plus some that I don't blog about!
One thing to get use to is the accent cream dries really quickly so you have to work in small areas.
I love the final look. It's a subtle silver shimmer and gives it nice finish.
What do you think?
Also if you're interested in purchasing Country Chic Paint don't forget to use my code for 10% off your order!