I first saw this piece on the Facebook Marketplace and I thought it looked really interesting. It was $50 but I didn't know where I would put it so I didn't want to pay that much.
After a few weeks it went down to $40 then a few weeks it was still there so I offered the guy selling it $20 and I would pick it up that day. He said yes! Turns out it was left in the house they just bought and didn't want it so it was a win for both of us!
I decided that it would be great in my daughter's room as a toy box since her room is tiny and we can take all the storage we can get. Plus, we were planning on a little big girl room makeover for her 3rd birthday anyway so it was perfect timing.
When I first posted this on Facebook a bunch of people commented that I shouldn't paint it..which is what they normally say but this piece even though it's sturdy, it's not in great shape, it's handmade and basically thick plywood screwed together. Plus, if it's going in my daughters room she needs a fun color to go in it!
I decided to use Feline Fine, part of Country Chic paint's Spring line. It's a pretty mint color and would go great with the other decor already in her room.
Remember, if you want to purchase Country Chic paint for yourself, you can use code homegirl10 for 10% off your first order!
After painting it, and using Country Chic Paint's Clear Coat I added toy box hinges to the inside so my daughter can search through her toys in the box without the door falling on her.
I also added grey felt I had on hand to the bottom for a clean, soft feel.
What do you think?
I also did a Facebook Live when I did the first coat of paint that you can see here:
Supplies:
Some of the following links are Affiliate links. Click here to see my full disclosure.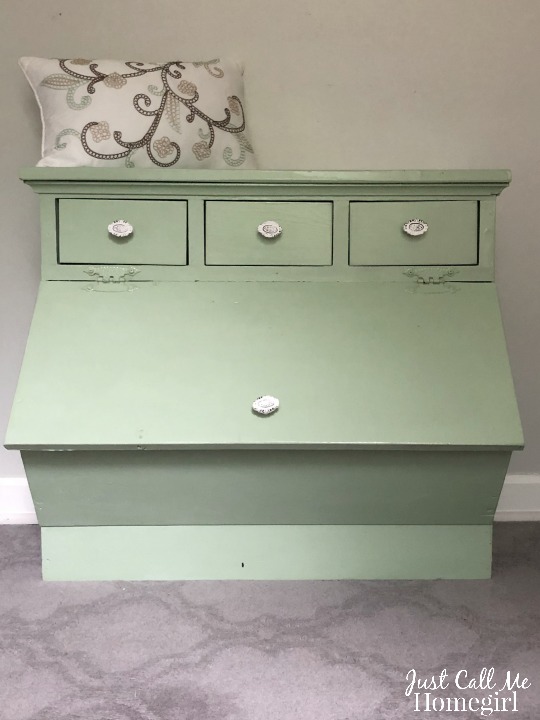 I can't wait to show you some more pieces that I refinished in her room and also the flooring and closet system! Stay tuned! Don't forget to follow me on Instagram to follow my day to day and small projects that I don't always blog about!