The closets in our home have been the bane of my exisistance since we moved in. Basically what was there was a rod to hang the clothes. And, as a former Professional Organizer all I could see was wasted space!
So to get us through the baby years until we knew what our needs were, I installed the two shelves we already had, on the bottom just to put toys and what not. We don't hang our kids clothes yet so it was still a ton of wasted space.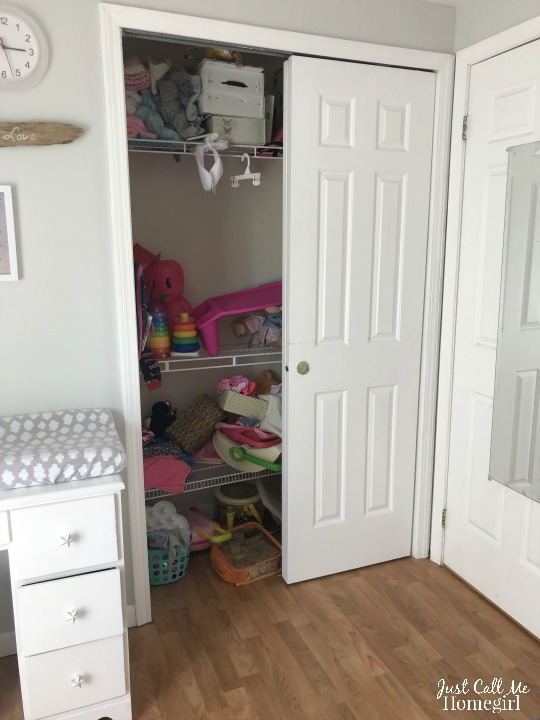 With Molly getting into her big girl bed it was time to get her big girl room ready and tackling her closet was high on my list!
For her closet, there were a few things I wanted:
A drawer system – her room is TINY. It's basically a third of the size of our master bedroom and Henry's room so giving her more space to play by getting her dresser out of her room, was a huge must.
Shelves – The closet must have shelves and they have to be adjustable. For now they need to hold toys the she can easily reach and then adjust to hold accessories and other items as she gets older.
Clothing rod – it is a closet…even though we don't hang a ton of her clothes now, she will as she grows.
Adjustable – Since she doesn't hang clothes now I put the rod way on top. As she grows and needs to hang more clothes or longer clothes the rods can move down and shelves can move up. It's truly a piece that can grow with her!
Sturdy and will last – I wanted to install a system that will be the last system I put in. I don't want to have to change it as she grows, I want it to last and not break or have the screws come loose. I don't think thats too much to ask for in a product!
Easy to install – I'm a DIYer. So if I am installing it myself, I want it to go smoothly. I want pieces to fit how they are supposed to fit and I don't want to spend a full day installing it.
So those are the must haves and I think they're pretty reasonable wants right?
When I started searching for closet systems I stumbled onto Lundia. I wasn't familiar with their products but after some research, I loved what I was learning.
Lundia Closet Systems are made from 100% REAL WOOD and made to order right in the USA. There is no particle board used so they are formaldehyde free, which is so important when putting something in, basically the smallest space in your home, the closet.
Designing the Closet
To design the closet I first took measurements. Twice. I didn't want to make a mistake and have the closet not fit. After getting the measurements, I started putting a design together on the Lundia website.
Their website is very easy to navigate. To begin your design process you need to start with a "starter frame" and essentially build off that to the dimensions you need.
Because of the dimensions of Molly's closet I only needed one starter frame and one add on frame. With the basic frame measured out, I started onto the fun part – adding the additional components I wanted/needed
They have everything from shelves, shoe shelves, to drawers, jewelry drawers, tie racks and anything else you need.
I went with 4 drawers, one being extra deep for sweaters or jeans when she's older, 5 shelves and 2 hang bars.
You can even design the look of the closet with 9 finishes to choose from! I of course went with the painted white.
If you are having trouble designing the perfect closet for your needs Lundia also offers a free design service for you!
Here is a rendering of the closet I ordered. Everything is is movable and adjustable so these are not exact placements but it gives you a quick look at what your closet will look like.
Once your order is placed, they start building the product, so there is a few weeks wait time while it's being built. To take advantage of those few weeks, I decided to start prepping Molly's room for her new closet.
Since the closet will last a lifetime and I will not have to replace it, I figured I would change out her floor before I even put the closet in. It's the same flooring we put in the rest of the upstairs and we had just enough left to do her small room.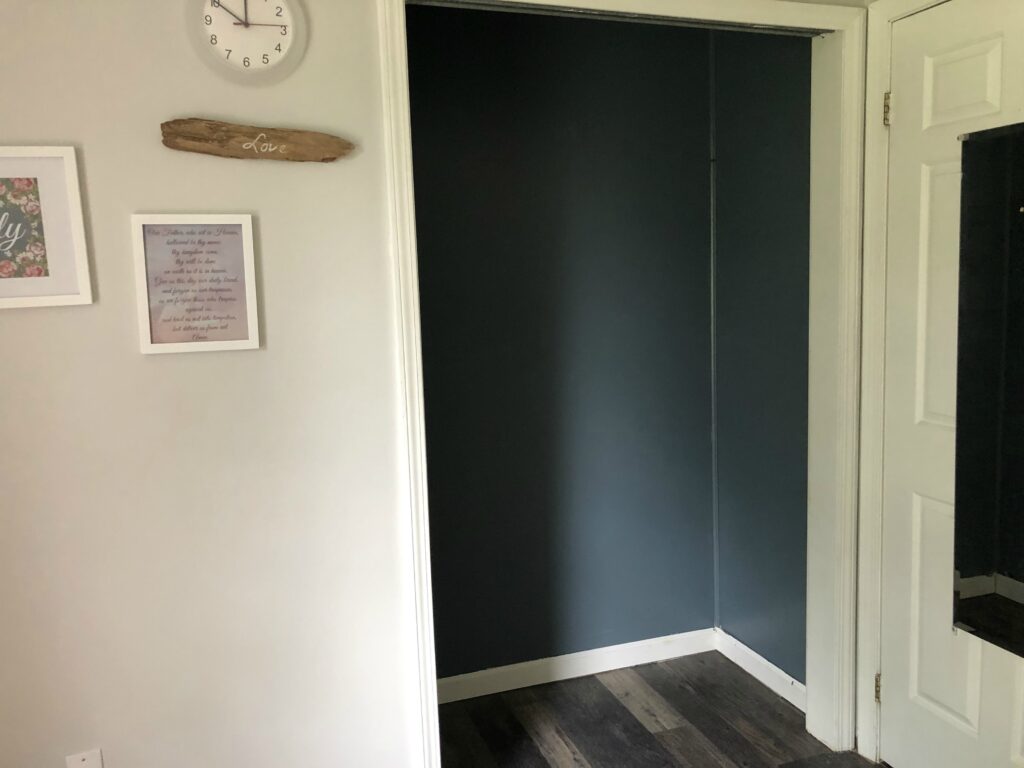 I also decided to remove the old closet "system", repair her closet walls and paint it a dark color. I thought the painted white finish I ordered for the closet would look really great popping off of a dark color…which is just basically Henry's room color we had left over.
Delivery
The closet was delivered and I was IMPRESSED. Every single box was marked what it was and the contents. This saved so much time installing because I didn't need to open every box, trying to find the one I needed.
The box with the instructions and the hardware were clearly marked as you can see above with the yellow and orange stickers.
Installation
My parents happened to be visiting when I wanted to install the closet system so my Mom took the kids and my Dad helped me install. It is possible to install it yourself, but with the frames unless your putting it together, laying on the floor, you will need someone to hold the frame pieces while you attach them.
The instructions were very clear. I do recommend to read through them once before you start installing just so you have a sense of why and how your doing steps.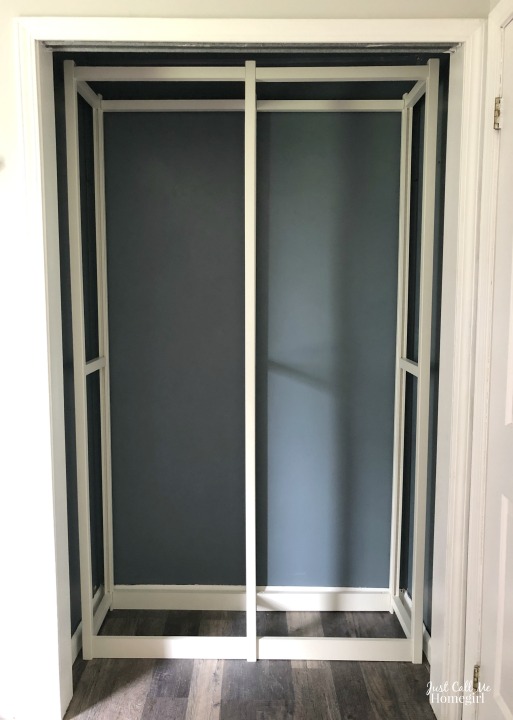 All together it probably took us less than 3 hours to install. That's with taking a few breaks, opening the boxes, reading the instructions etc.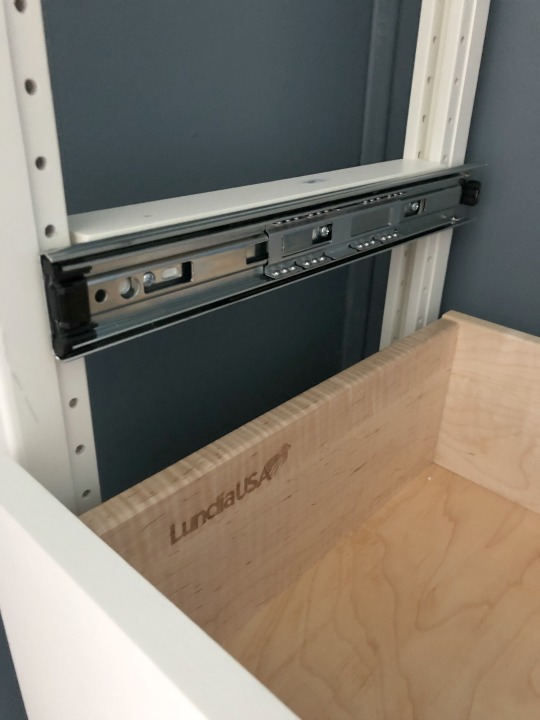 Every piece fit together perfectly. There were no adjustments, or weird holes to fix. In the hardware box it even comes with an Allen Wrench Drill bit! So convenient!
Here is a quick time-lapse of us putting it together:
Review
I have been using this closet so far for a few months now. So I think it's appropriate to give my honest review.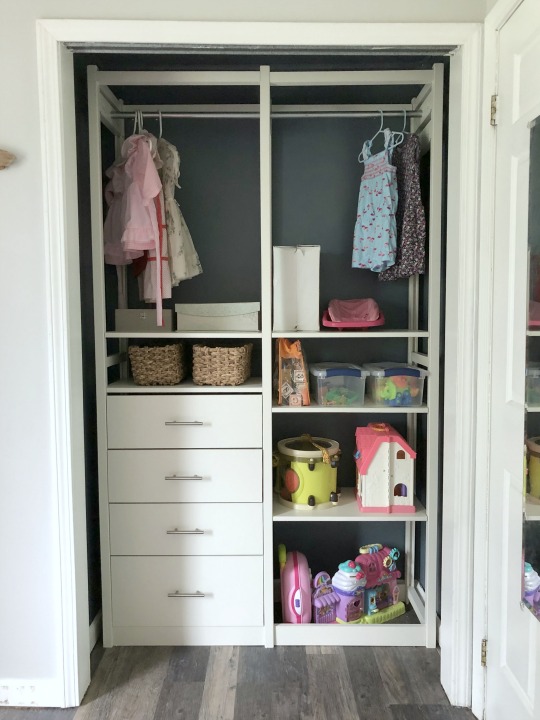 I love it. I want to to do Henry's room and our Master Bedroom with these closets. They are sturdy, well built, and of course so pretty! Molly is loving that she can easily get into her drawers to pick out her outfit for the day.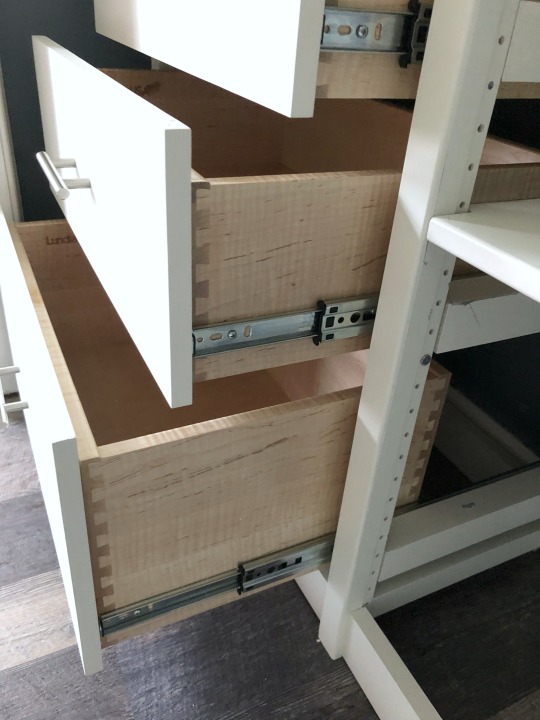 As a 3 year old she loves to do things herself and everyday she goes into the drawers and picks out her outfit. The drawers don't close really fast so I don't need to worry about her slamming a finger. She is putting her toys away when she is done because everything has a space and she can reach them.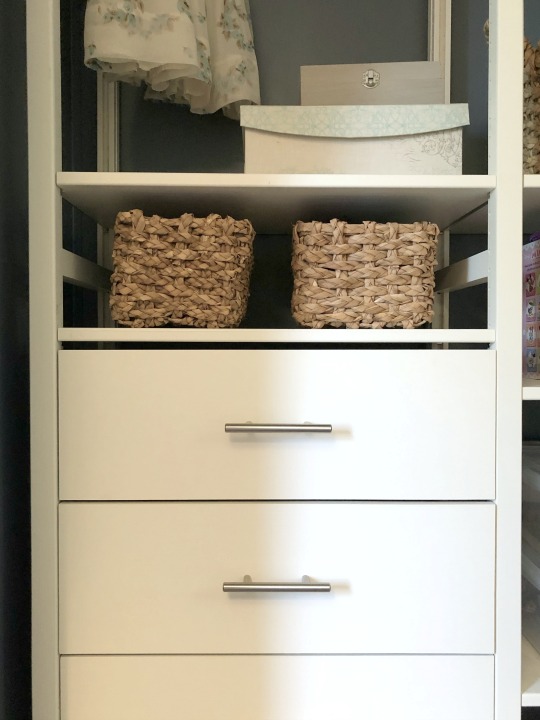 I know this Lunida Closet System will last. The paint finish its rock hard and does not easily scratch. Overall I would recommend this closet system to everyone.
If you have questions about the closet or would like to design one for yourself be sure to visit the Lundia Website for more information.