Since I finished this work station wall in my office, every time I walk past my office door I have to stop and just stare at it. I love the way it turned out.
It all started when I scored two new base kitchen cabinets on the Facebook Marketplace for $50. They were brand new so I knew I could do something with them.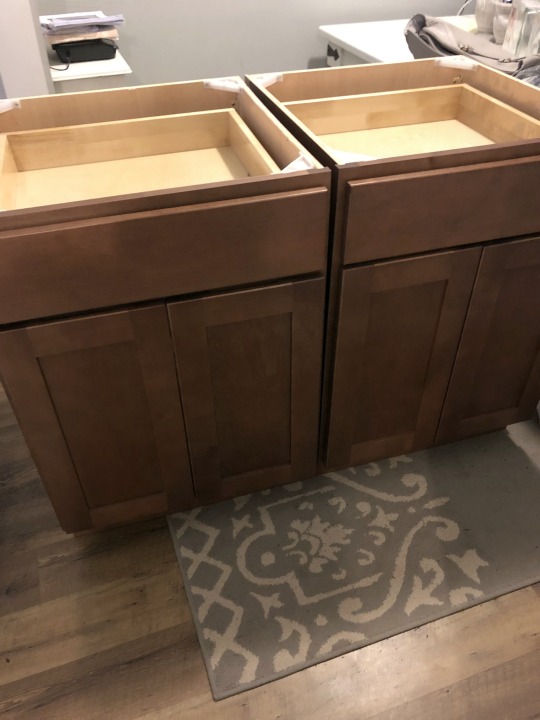 After I brought them home I just put them into my office until I figured out where I would use them…and while they were in there it dawned on me that I could use them as a work station right there in my office!
The first thing I did was paint them with Benjamin Moore Advanced Paint (the paint I used on my kitchen cabinets, and a ton of other furniture projects). It's called Deep Space and I knew it would look great, as well as cover the dark cabinets easily.
Once the cabinets were painted, I picked up 2 1x12s and a 1×2 for the top.
I set cabinets on each side of the back wall in my office. I removed the trim on the floor where the cabinets were and cut holes in the side of the cabinet where there was an outlet.
I placed the boards on the top and drilled 1 1/2″ holes through the top in each corner as well as one towards the middle, for easy cord access.
Once I had everything dry fitted, I thought it was lacking something. I wanted it to be a little more dramatic and a showstopper. That's when I found an awesome removable wallpaper by NuWallpaper in Groovy Garden. I thought it would look really cool with the cabinet color and add a fun statement wall in my office.
This peel and stick removal wallpaper was so easy to put up as you can see from my time lapse video. Now I find myself looking everywhere to see where I can put wall paper next!
I added shelves with wood I already had and stained Provential by Minwax the same stain as the work top.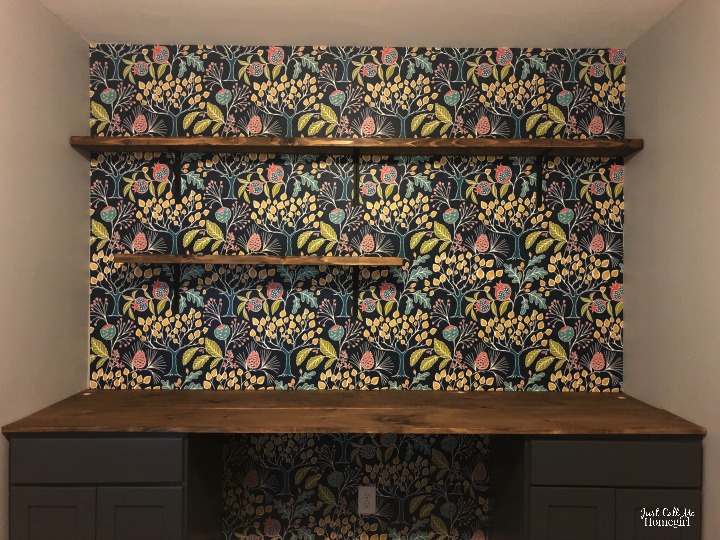 Now that it's done and my office is put back together I can't help but just stare at it! It looks so inviting but the best part is it's functional!!!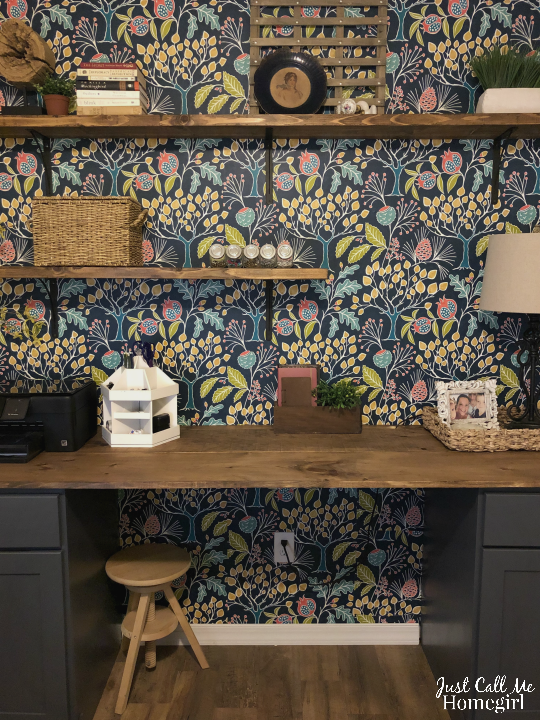 What do you think? Would you ever put wall paper in your home?
To purchase this wall paper head to my Amazon store where it's listed under Home Products.
Don't forget to follow me on Instagram and Facebook!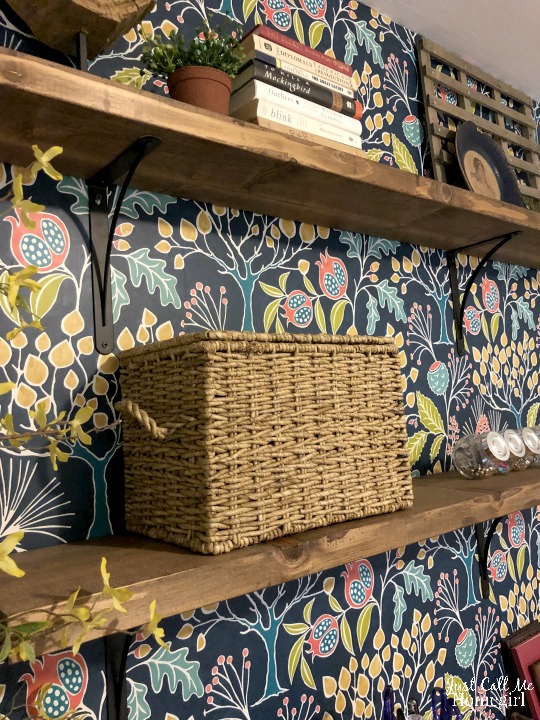 After a month or so of using my office I decided to paint the rest of the walls dark! See that here.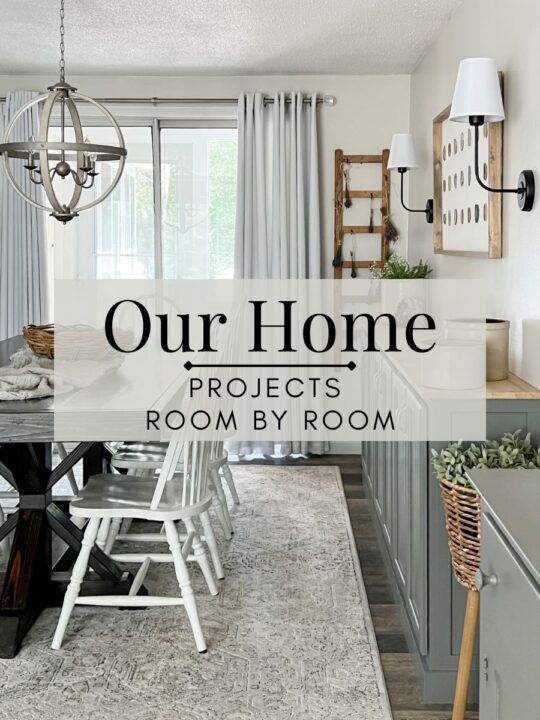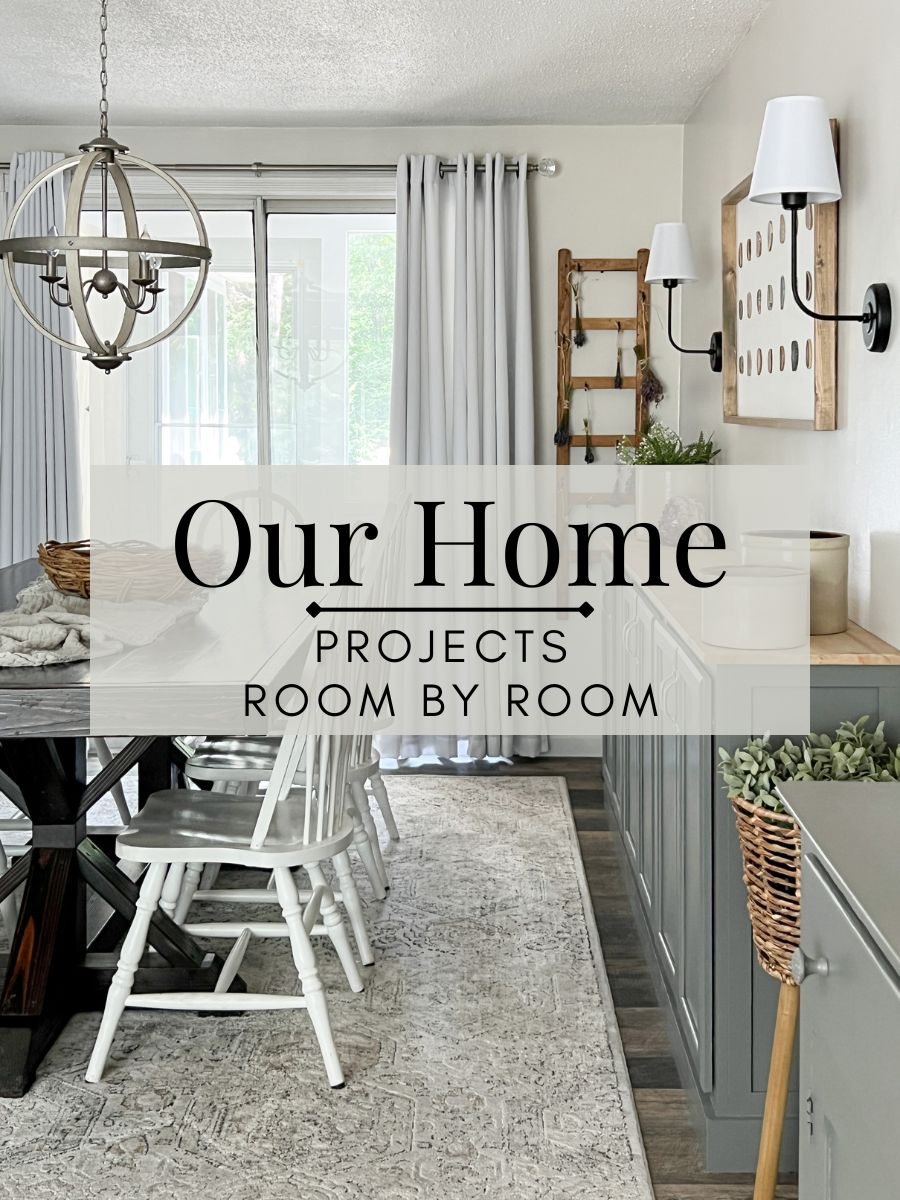 Popular Posts