I have an amazing way to transfer photos onto wood without using Modge Podge or glue of any kind. It's super simple using…get this Tattoo paper!
The possibilities are really endless with this method. In this post I am showing you how to create wood slice ornaments, but you can do this for a wedding picture on a wood plaque, box to store stuff in or use as a planter. It makes such a great gift.
How to Transfer Photos onto Wood
Some of the following links are Affiliate links. Click here to see my full disclosure.
Supplies:
How To:
Print out your photos on the the tattoo paper using their instructions. Do a test print out on normal paper to make sure the size is correct, before printing it out on the tattoo paper. When purchasing the tattoo paper make sure you get it for your specific printer (ink jet/laser)
Once the pictures are printed out, place the clear sheet that comes with the tattoo paper over the printout when the ink is dry. Then using a credit card or scraper rub the adhesive that is on the clear sheet over the pictures.
When you are ready to transfer, cut out the picture and carefully take off the clear sheet on the picture.
Align the picture onto the wood. I do this by putting the wood on top of the picture. Be careful! You can't move the wood once it's been placed!
Flip the wood over and cut off the access paper. It's okay if it's not perfect. The extra will "fall off" or can be pressed down.
Then take a wet paper towel or rag an place it on the paper. Make sure to get the paper wet and hold it for about 30 seconds.
Carefully remove the paperbacking making sure that the print is staying on the wood. If not, try wetting it a little longer.
That's it! You can seal the picture with Modge Podge or a spray sealer but I have not done that and I have never had a scratch on them.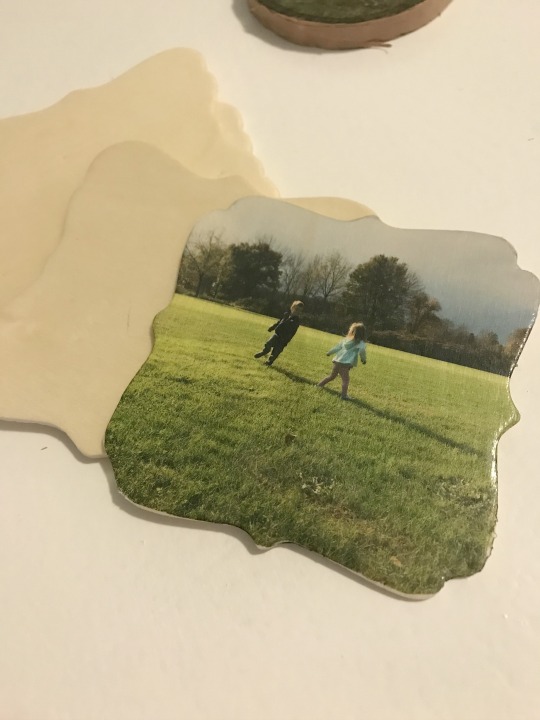 You can use any kind of wood you'd like. These are little wood cutouts from a craft store. They sell for about 30 cents each. Transfer the photo, add a magnet and voila!
So many possibilities! Ornaments, magnets, coasters, banners, etc.
These are so easy to make and they are a great personalized gift!
Follow me on Instagram to see my projects and tips in real time!