All I want to do is make dinner without a little walking under my legs.
All I want is to make a phone call without someone screaming.
All I want is not to have someone telling me they're bored.
If this is also you, then these are the gifts to get your kids this holiday! These are items that we have given to our kids that actually let us have those minutes for us just to sit and maybe finish our coffee.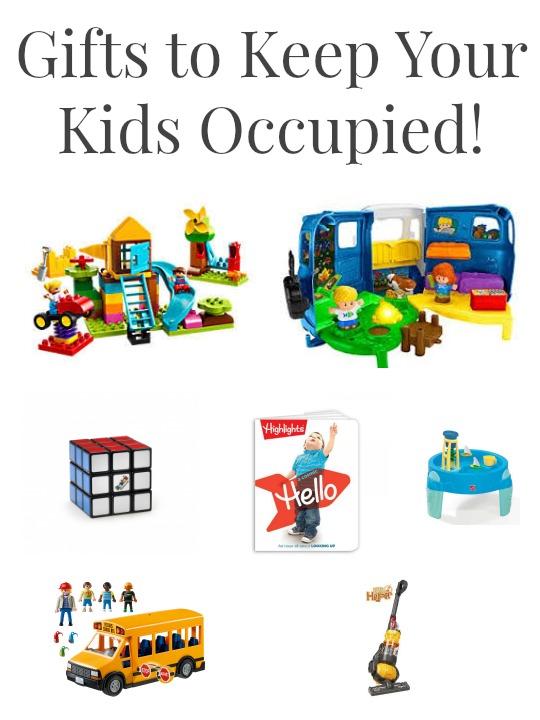 **Many of these gifts are geared toward toddlers. My children are 2.5 and 5 years old. They have been playing with some of these for years! But please buy age appropriate toys for your children to reduce choking hazards.**
Duplo Legos – These have always been a huge hit in our home. We first bought these when my son was 2.5 and he still uses them at 5 years old. My daughter has also been playing with these ever since she could pick things up. They are big enough that even my daughter can do them herself without help from me. Which is a plus when you want to get something done! We have many sets and we just keep them in a large basket under our coffee table for easy access and storage.
Rubiks Cube – We got my my son a Rubik's cube last year. But he was only 4, so it didn't really interest him much. I pretty much got it because I wanted to solve it – Which I did! But did you know there are other Rubik's Cubes for younger kids as well? There is the Rubik's Bear as well as the 2×2 cube. Basically something for each family member to keep busy!
Playmobil Sets– My son got his first set last year. The School Bus and the take along hospital. These toys are really high quality, they last and the attention to detail is awesome. I have to add that some of the pieces are really small. But my daughter is 2 and does fine with them. She's even getting a set this Christmas because she loves to play with them. There are a ton of different sets to choose from. My son wants one of all of them of course.
Highlights Magazine and Hello Magazine – I remember when I was a kid, getting so excited when the highlights magazine would come in the mail for us. I can't wait to get them for my son when he starts reading but for now we receive the Highlights Hello Book. Its a small picture based book for young kids 0-2 and it's basically indestructible. I save them in my car for when my 2 year old gets fussy. I hand her one and it give me some moments of peace and quite while she flips through. I don't have to worry about her tearing out the pages or ruining the book either because the pages are tear free. That's a bonus!
Fisher Price Little People – We particularly love the camper and the little house. These toys are really well made, great for little hands and just really cute! We got them for my daughter, when she was one and still plays with them at 2.5. My son also likes to play with them as well. I think any of their toys are really adorable and keeps them busy!
Toy Sink: This little $15 dollar toy from Walmart is awesome. I got it for my daughter for her 2nd birthday and she will sit and just "wash" the dishes or fill up the cups and dump them out for a good hour. It's great sitting at the table and we used it outside on hot days as well for cooler water play. One thing – if you read the reviews there are a lot of bad ones saying it quit working. We haven't had any problems with it. I do recommend rechargeable batteries (Amazon ones are awesome) and like the instructions says don't keep the motor submerged in water when not in use.
Dyson Toy Vacuum: Grammie & Pa got this for the kids last Christmas. They play with it all the time! Molly loves to pretend she's helping me vacuum and Henry loves that it actually sucks up a small amount of stuff. So he races around trying to find small piece of something the can suck up. It sounds real, you can turn off the suction, and it's really well made. Gives them something to do while your trying to cook dinner!
Water Table: We have been using this Step 2 one for over 4 years now. It's still in great shape and both of the kids love it. Let's you do a little yard work while they're playing!
Garden Tool Set: Speaking of yard work, this set is awesome. We got this 2  years ago for my son who likes to help. They are actually made of metal so they work well. It gives him the feeing of accomplishment when helping rake leaves or just letting him play by digging a hole while you relax in the sun!
Water Coloring Mat: This was a Birthday gift. The kids love to play with it and color and the best thing is it's no mess!
I hope this list gave you little inspiration to what to get your kids!
Happy Shopping!