We all know the people I'm talking about, whether you need to buy something for a co-worker, an Aunt you don't see very much, your parents who seem to have everything or even grabbing something for the host of a party you're going to.
Sometimes gifting is hard! So I am came up with some ideas from small items to larger splurge items for the ones you just don't know what to give!
Crabtree and Evelyn:
They have some of the best gifts for everyone. I love these diffusers and room sprays for a co-worker or host gift. Their hand creams and candles are pretty delicious too! Plus Free Shipping when you use code THANKSHIP!
Precious Moments: 
This pie plate is the perfect hostess gift, or for the new home owner. Bring it for Thanksgiving or Christmas…even bring it with a pie already in it! Be sure to check out their whole site for great gifts anytime of year or to create a new tradition with your family with their "precious" collections!
Saavta Sheets and Pillows:
So listen up. I have been sleeping on these sheets and pillows for about 3 weeks now. OMG. These sheets and pillows are the best! But I am going to concentrate on the pillows for second…You know how you go to a hotel and you fall in love with their amazing pillows? They're usually heavy and fluffy and just like sleeping on a cloud?
That is how I feel about these. They are the best pillow I have ever slept on. Even better is that they have inserts so the pillow cover is washable! They are on the pricey side, but they make a great gift for a spouse, or parents or someone who just has everything…because I bet they don't have these!!! I can't say enough good things about them.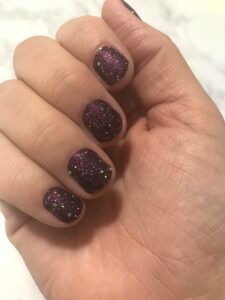 If you have been around for little while on my page you might have seen me put these on. These things are amazing. Basically it's a DIY beautiful manicure, you can do at home in less than 15 minutes and less than you would spend at a salon. Plus – No Drying time, They last 10-14 days, They're gorgeous, and they make a great gift for teachers, co-workers, family, kids and a great stocking stuffer. etc. If you want to learn more you can see my post here. Or you can shop for them and check out all the amazing designs here. (Buy 3 get 1 Free) Order by December 10th for Delivery before Christmas.
You can't go wrong with Amazon Products. Whether it's an Echo Dot or a fire stick (Buy 1 Get one Free Right now!)
Just search Amazon and you'll find something anyone would want!
I have these and they are the warmest socks ever. Plus they are soft and comfortable. I use these around the house on cold days as well as when I am playing in the snow with the kids. And…my kids have them as well! They think they are so soft and wear them everywhere. They make a great gift for family or even co-workers. Oh, by the way they also have hats and gloves and under garments as well!!
If you have any DIYer you need a gift for this is a great one. It's a magnetic cuff that will hold screws, nails etc. I'm the DIYer that tends to hold the nails in between my lips but I'm trying to be more careful incase the kids are watching! So this is the perfect solution!
Rachel Hollis – Go Wash Your Face Book
If you are a mom, a woman, an entrepreneur, You need this book. Life Changing!! Just read the reviews. They will explain everything.