This summer was the year we were going to start tackling our yard and landscaping. Since being here for 6 years we have mostly worked inside the house but it was time to get the outside in shape too. One project at a time.
One of the areas that just bothers me is a set of pavers in our back yard that use to serve as a "deck" to a pool that was in bad shape and we took it down. We kept the pavers as a place to put our patio furniture etc on it.
Well, the pavers are in an area that is filled with moss, doesn't get a ton of sun and it becomes filled with weeds, moss and just not pretty or functional.
So this summer I decided to get rid of the moss and give it a go to see if these pavers can be saved, or if we just get rid of them and plant some seed or put down some crushed stone etc.
I've tried spraying weed/moss killer on it and it just doesn't help. Thankfully with the help of STIHL's RB 200 pressure washer I had the pavers looking great in no time!
To prepare the pavers I tried to loosen up any moss with my feet. Not really needed but I figured I would try. I also pulled any weeds that looked like they were really rooted in the crevices.
I then used my STIHL Battery Operated Leaf Blower to blow any loose leaves and dirt from the pavers before I started. I love this thing. If you have read "Why Every Home Should have Battery Operated Tools" then you will get it. We have a large, gas operated, back pack style, leaf blower but who wants to drag that out for small jobs when you can just grab the battery and go?
Now onto the nitty gritty. What I like about the STIHL RB 200 Pressure Washer is that it has an easy start pump system. One pull and I was ready to go! Also I think it's definitely worth it to purchase the Multi Function Nozzle. This thing is great because you don't have to keep stopping to switch nozzles for different jobs, you just turn the head and it's done!
With 2500 psi the water came out with enough pressure to basically peel away the moss and grime from the pavers. Pressure washing is a messy job, so many times I hit the edge of a paver and basically mud was flown back onto me. Which is why it's important to wear the right gear and safety glasses when using the pressure washer!
After about 30 minutes of pressure washing I was done! It looked great and I was happy with it! Now the only thing to do is see if we actually use the patio or keep it up like this. I want to say yes..but I'm also not a fan of the red that the moss and dirt have been hiding….so we'll see next year if we want to keep it like this…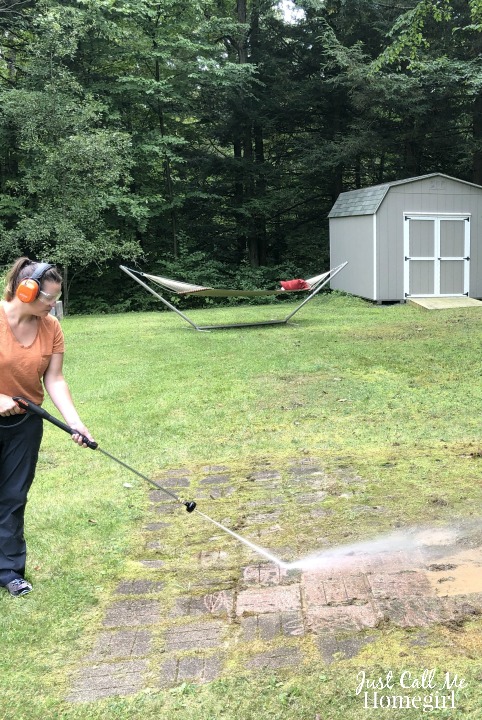 As for the pressure washer, it was easy to use, easy to start and I have to say I am a little addicted. I started spraying all the things. This won't be the last you see of me using the STIHL RB200 Pressure Washer!
In other fun satisfying videos…this chair was here when we bought the house as well. It's literally been sitting outside for 6 years near our driveway so if I wanted to sit while the kids rode their bikes I could. Hoping not to get the grime that seemed to be permanently on the chair, on myself.
So let's see how the STHIL RB 200 did up against this old chair…