A few weeks ago, if you follow me on Instagram, you would have seen my stories and how much fun I was having at the Stihl Summit.
I was so honored to be asked to attend the summit by Stihl that was going to include 9 other female bloggers. This was a great opportunity to learn about the company, try out their products, visit the manufacturing floor and just meet some awesome people along the way.
If you remember, back in the Spring I worked with Stihl for the first time using my pole pruner. This was the first time I got a glimpse at what the company stood for.
You see, Stihl doesn't sell their products to the big box stores. They are sold out of independent retailers who are trained on each product and are capable to help you decide which product is right for your home and the jobs you will be working on with them.
Before you even leave the store the retailer will show you how to work it, turn it on, add the gas and any other tips you will need to know.
How amazing is that? That's also what I experienced during the Stihl Summit. Well educated, eager to teach and patient men and women that have worked for Stihl a long time. There average employee tenure is 10 years. Many even longer!
The Summit
There was no doubt that Stihl wanted us to feel at ease, confident and learn as much as possible while were there.
We started off the day heading to different stations to learn and try out each line of a certain product.
They showed us how to use them, different adjustments that could be made to make them more comfortable and how to keep us safe as well.
It was really great to be able to try out each of the different tools in a category. From the lightest leaf blower to the strongest and most powerful. From their battery operated line to the gas powered line.
We tried the chainsaws…
and even tools that were not available yet…
We even got to try out this bad boy…ha! Just kidding! I couldn't even lift it!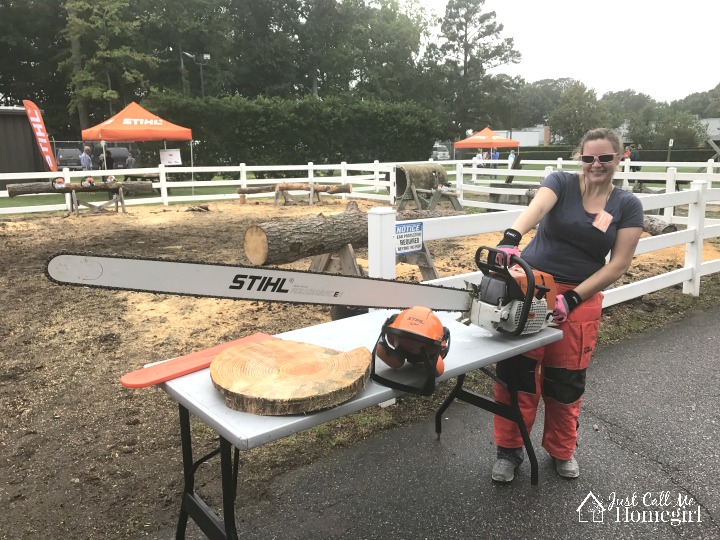 Members of the Stihl team took the time to answer our questions, show us how to work the products and even made sure we could sharpen and change the the chain on a chainsaw.
Manufacturing
One of my favorite parts of the summit was a tour of the manufacturing building. The Director of Manufacturing was a woman, which my Mom was also a Director of Manufacturing, The tour brought back a few memories because it had some of the same smells from when I would visit my Mom at work.
There were a few things that stood out for me during the tour.
One was the use of robots. From testing the equipment to building and even boxing the tools. The forklifts were even driving themselves around the floors!
Something that stuck out was when she told us that no one ever fears their job because of a robot. If they implement a robot to do the job they are doing, that person will be trained on something different.
Every tool is tested before going into the box. They want to make sure that when you receive it, it will turn on.
A majority of STIHL gasoline-powered units are built in the United States and they are starting to build the batteries here too!
Stihl wants their employees to be involved. If they have an idea that might save the company money, that employee would get a percentage of that savings if implemented. What a great way to keep employees motivated!
Now it wasn't all work and no play at the Summit!
We were honored to watch Griffon Ramsey, a chainsaw artist, do incredible work carving out a free library box bench for a local organization. We also had a quick session with her to hear how she got started, her process and why she loves what she does.
If you caught my Facebook Live while I was at the summit you saw the incredible Axe Women Loggers of Maine do their thing! We even got to take a gander at throwing axes as well! Yes I made it!
All in all, the Summit was amazing, informative and inspiring. I had a great time learning about this company and also just having some down time to talk business with fellow bloggers and influencers. I am blessed that this is where my business has taken me and opened doors for me that I will be forever grateful for. I am also thankful to my readers who want to take this ride with me.
Thank you to Stihl for a wonderful Summit!