Our yard is a lot. A lot of work. We have been here for 4 years and every year we try to get a handle on everything that really needs to be done, but when I am pregnant for 2 of those years, and then have little ones running around, plus time, money and learning to do everything ourselves, it's hard.
I would love to wave a magic wand and have the yard of my dreams but come on. Reality.
I would also love to just hire one company to come in and take down trees, grind stumps, landscape, re-plant the grass, fix the rock wall..the list could go on. But we don't have endless funds and what kind of DIY'er would I be? I need to learn and find the time to do it since this is our forever home.
So this year we have a list! Every time we cross something off the list I will let you guys know! Plus you can hold me accountable..right?
Since the weather is getting warmer, grass is getting greener it's time to start our Spring clean up. First we are starting with the trees.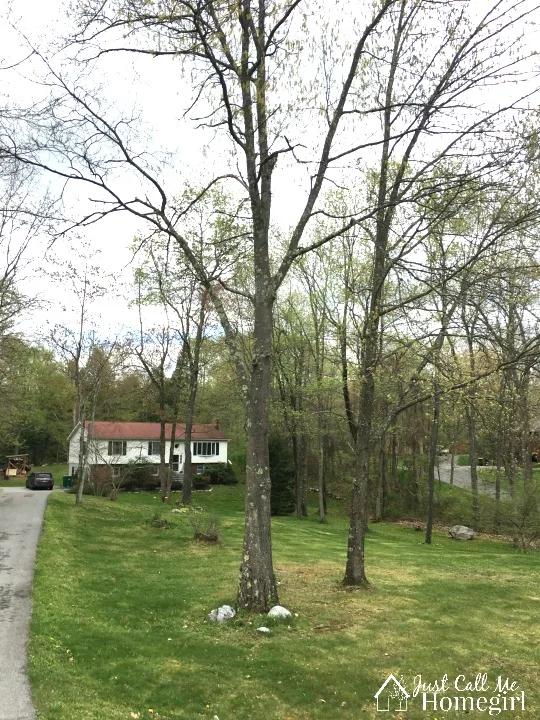 Take a look at our yard forest. We have a ton of trees, not only in the yard but we are surrounded by them and they are TALL and they are damaged and they are blocking a lot important light to the property.
Every year when the weather gets warmer, I want to take the kids outside and every time I hear my husband say, don't go under the trees.
Well, there is not much space to play without trees… My husband is all about safety, which is great. He sees the branches that were damaged by the winter and wind and has those limbs coming crashing down on us playing in his head every time we step outside.
He works really hard and he really wants to have the time to do "yard things" but sometimes if I want it done, I take matters into my own hands. Which I love. I like doing things with my hands and seeing the accomplishments.
In the past when we prune trees we have just use a standard pole saw and it's exhausting with all of these trees! We end up taking turns because our arms would be so sore from sawing off all of those limbs!
This year Stihl has generously hooked me up with their gas powered pole pruner and I'm never looking back.
After I geared up, which of course makes my safety first husband very happy but also keeps me safe, I wanted to start along our driveway.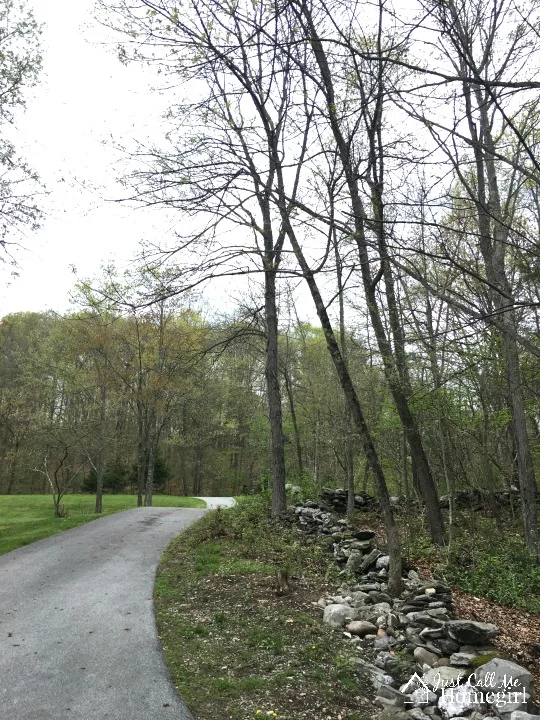 We play a lot in the driveway, riding bikes, sending trucks down the hill, playing basketball so it was easy place to start.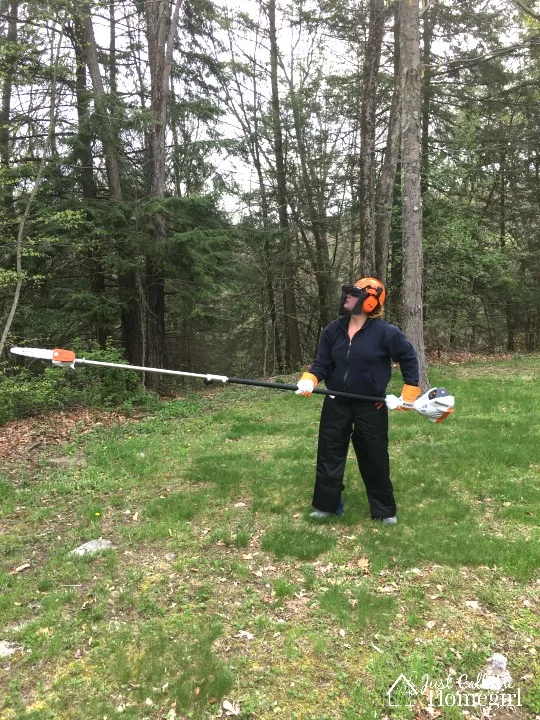 I then headed to the backyard, a favorite place for Henry to play baseball and soccer. There is a dead tree right in the corner that will be taken down this year, but until then, I was happy to remove the dead and damaged limbs hanging over our yard!
We have more trees that need to be pruned but they are just too tall. We also have some that need to be taken down. We have been saying it every year it just hasn't happened but I happy to report the tree company is scheduled and I'm a happy Momma that I will be getting to enjoy our whole yard this year!
Here's a list of our yard chores this year we would like to complete:
Fix the rock wall
Clear out and plant grass seed on the side of the driveway
Seal the driveway
Power wash the siding
Add a swing set and landscape around
Remove the flag pole and bushes around it
Prune trees
Cut down trees
I'll be sharing our yard progression all season as well as doing Facebook lives to show our progress. Follow along on Facebook!
Don't forget to check out Stihl and their awesome products as well!
Follow on Facebook and Instagram.