I love that my son has such a love for learning. When he hears something he doesn't know he asks a lot of questions and usually wants to go to YouTube to see it in action.
My hubby is also a great teacher. He's patient and has a great way of explaining things.
When I was thinking about his wall decor for his new big boy room I knew I wanted to have large maps. It's something that my son and husband can go over and talk about before he goes to bed each night.
*Some links are affiliate links (see my full disclosure here)
When I was searching large wall maps I found some really beautiful ones, but I have to keep stopping myself when picking out items for his room! I want everything to be beautiful and functional but I have to remember he's 3 and a half! So I switched my searching to Kids Wall Maps and I found these ones at Target. They were also cheaper than the Amazon version!
According to the description they were cling maps that adhered right to the wall but they were also removable.
I wanted something a little more finished and if I wanted to move them it would be easy. I picked up these large frames at Michael's for less than $15 with their sales. They are the perfect size for the maps.
When the maps arrived, I took off the backing of the frame and used that to adhere the map to. It was an awesome fit!
I framed them, and hung them. I got one World map and one United States map.
I placed the United States over his bed but at a height he can get close to it and the World map above his dresser. I figured this way once he learns US we can then move on to the world and just switch them.
I already love listening to Henry learning to spell different states before they read to go to bed. He also wants to show me where different people we know live.
The walls are still a work in progress but on this wall I'm thinking it's going to be his "learning wall" the alphabet picture is one I made about a year and a half ago for him to learn his ABC's.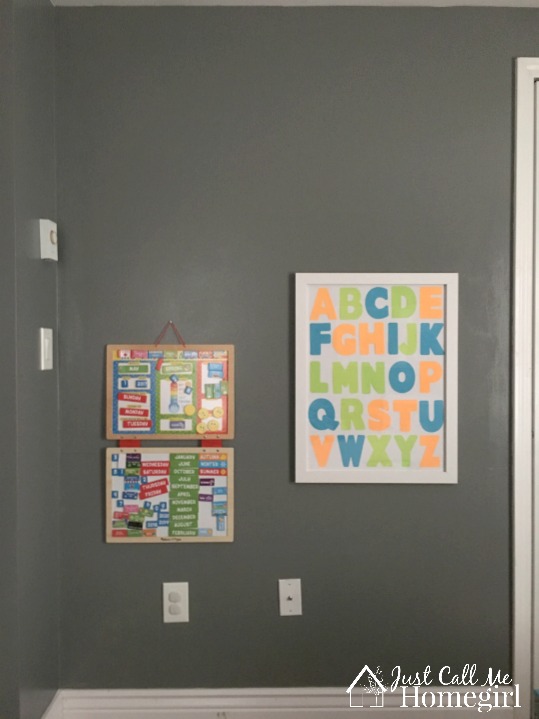 That was simply the pre-cut poster letters from Staples put on the back of the frame insert! So easy! That was how my son learned his ABC's.
Every night again before bed, my husband would go through each letter and point while they sang. Since he already know's them, I will probably be changing them out soon for something else.
And the little Melissa and Doug Calendar he loves to do. It's really helping him learn his day's of week and get a grasp on when something is going to occur.
I'm hoping to finish all his wall decor this week so I am ready for the One Room Challenge big reveal next week!!!
Catch up with the previous weeks here: Week 1 / Week 2/ Week 3