It's that time again! It's the Spring One Room Challenge hosted by Calling It Home!
Last Spring, for the challenge I made over our guest room into our baby girl's nursery. It was a lot of fun but also a lot of work doing it in a short six weeks. It seemed to fly by and being so pregnant I was happy for reveal day.
I had no plans this year to take part in the One Room Challenge again. I felt like there are so many projects that need to be done in all the rooms I couldn't narrow it down.
But remember a couple months ago I made new curtains for my son's room, I upgraded his nursery curtains to these awesome vintage airplane curtains. He loved them and so did I.
Then it started…every time I walked into his room, the curtains looked so "Big Boy" and the wall color started to look too "nursery."
I knew it had to change or it was going to bug me. So I decided I needed to paint and once I decided on panting, I had to do this and that and this and that.
The list started getting longer and I realized it was time to just jump in and tackle this room in the One Room Challenge. This way it would give me a set start and end date and would push me to get it done, not just doing one thing here and there.
So let's take a look at his room. Since his nursery, it has evolved into a nursery with big boy toys and mishmash of items.
These pictures were taken right before I made his new curtains. Of course I took them on a day that his room was a mess. Makes for a better before picture right?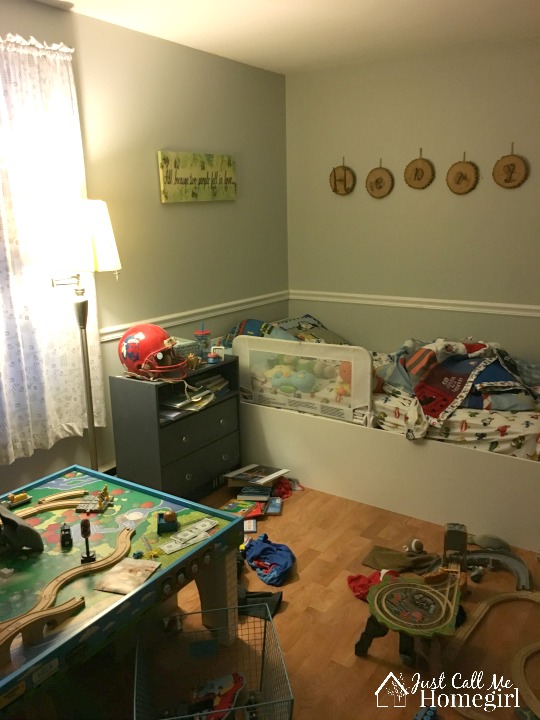 So here is what I am planning on doing:
Remove the chair rail
Paint
Install new curtain rods
Create a new headboard
Create more toy storage
Gallery Wall
Here is what I am thinking of getting/making:
Large rug
New comforter
New light
Wall decor
Seating
Nightstand
I'm sure this plan will change and evolve as I get into the thick of the next 6 weeks but I am excited and excited for one happy little man to see his new room.
Here is what I'm thinking:
To play off his plane curtains and his love of anything transportation. I'm calling it an adventure room. Where will this little man like to go? Where will he end up. I want maps for learning and fun items for playing.
What do you think?
I also want to thank my generous sponsors for this room makeover: Valspar and JCPenney!