When we moved into our home 6 years ago, and were purchasing our tools for the yard, I always thought to get the big, gas powered ones because we have almost 3 acres and we need the heavy duty stuff.
Well about 2 years ago I had a change of heart. When STIHL invited me to their summit, I got the opportunity to try out all of their tools and their line of battery operated tools.
I loved the ease of just popping in the battery and turning them on. They were always light and easy to manage. But, I thought, to myself we already have these types of tools, they're gas operated but they're fine.
But they're not fine. Because when I want to do a quick blow off of the driveway or deck that's full of leaves, I would have wait for my husband to do it because I had no desire to put our huge gas operated leaf blower on my back and fill it up with gas just to blow a few leaves here and there.
Now I grab our STIHL Battery leaf blower and the driveway is done in no time.
And when we had that huge snow storm and a tree fell across our driveway, guess what was already "winterized"? Our gas powered chainsaw. But our STIHL Battery Operated Chainsaw was charged and ready to clear the tree so we could leave our home.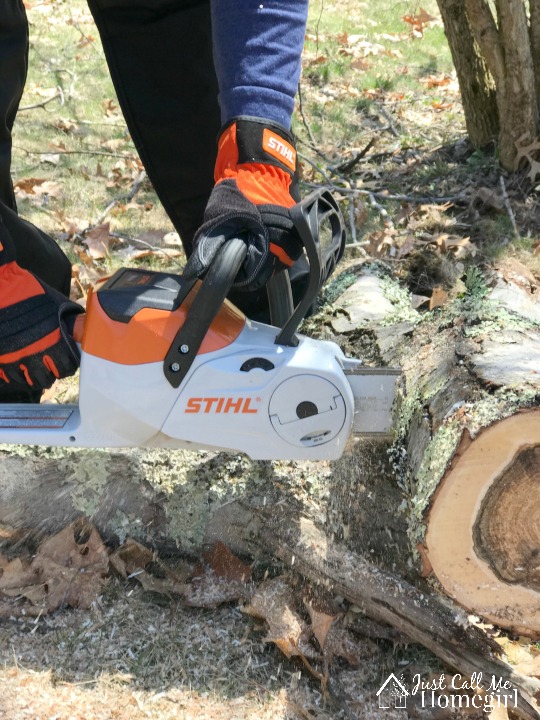 If you remember, last year my husband had to have open heart surgery so for 8 weeks, I was the one doing ALL the yard work. The first time I had to trim our whole property, I was cursing our gas powered trimmer. It was heavy, my arms were shaking, my forearms were sore for days and all I could think about was the STIHL trimmer I tried out at their Summit.
That's why every home should own battery operated tools. They are light weight, get the job done, and sometimes you don't need to pull out the big guns, when the little ones do the same thing, just more convenient.
Thanks to STIHL I now have their Battery Powered Trimmer! I love the ease of popping in the battery and pulling the trigger to start. If I see the kids play areas getting long, I can just grab it and not have to worry if we have enough gas or not…plus hate to say it but the hubs is not the greatest trimmer and I am constantly reminding him of areas he forgot. Now I just do it!
For me, it's so important to keep the yard trimmed because of the ticks. We are always playing outside but we live in an area that is full of ticks so keeping grass short and trimmed is crucial.
My trimmer, the FSA 56, is only 7.3 lbs INCLUDING the battery! I love that it's the same battery type for my leaf blower and my chainsaw so I can switch them from one tool to the other.
My son likes it because it's not loud. He's sensitive to noise and our leaf blower, chainsaw and trimmer don't bother him. He even asks me if Daddy is going to use Mommy's chainsaw because he wants the quiet one.
If you're looking into getting new yard tools I highly recommend STIHL's Battery Powered Tools. They're easy but they're still tough enough to actually do the job.