This winter was BRUTEL, especially March when we had 3 Nor'easters!
The first one we had hit us pretty hard with the snow and wind. We had a couple of trees come down but, we were lucky it didn't hit our cars, because it came down right in between them!
Since the tree was right across the driveway we had to move it to get out, with 18″ of snow, it would be difficult especially since the chain saw is in the shed and we would have to trek over to it, clear the snow enough to open the door, then basically de-winterize it by putting gas etc in it. Not convenient in this storm!
But, do you remember in September when I traveled to STIHL for their women's summit? I talked about it here and why I admire this company and what they stand for.
Well, we got to try out most of their chainsaws, leaf blowers, power washers and other tools and I really liked their Lightening Battery System.
The products are really light weight, and quiet..well quieter than a gas powered product. Which is nice for residential use or where their are noise restrictions.
When STIHL sent me the MSA 120 c-BQ Chain Saw and the BGA 56 Leaf Blower…which they both use the same AK series battery, so I can switch them out easily, I was really excited.
It was perfect timing for this late storm.
As soon as the snow started to slow down we needed to get the driveway cleared, starting with the tree. While my husband started the snow blower, I grabbed my new chainsaw, checked the bar oil, suited up, and popped in the battery and was ready to go.
I cut the tree in two spots on both sides of the driveway, and that was it. The hubs, moved it out of the way and continued to to snow blow the rest of the driveway. (Of course no pictures since we were too busy!)
It has been awhile before the weather was cooperative to actually take care of the trees that have fallen but we finally got it done!
I logged the tree to use as firewood as well as cut up the branches to clear away. The chainsaw battery lasted the whole time!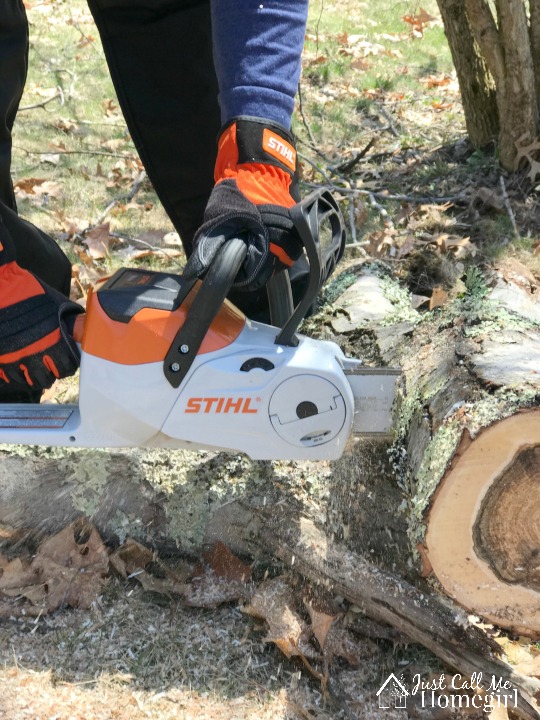 When I was done logging the tree, the hubs started clearing the logs and putting them into the woods shed. I used that time to start clearing some of the leftover leaves from around our rock wall.
Getting rid of these leaves are crucial in us trying to keep ticks out of our yard!
I popped the battery out of the chainsaw and put it into the blower…

And got to work!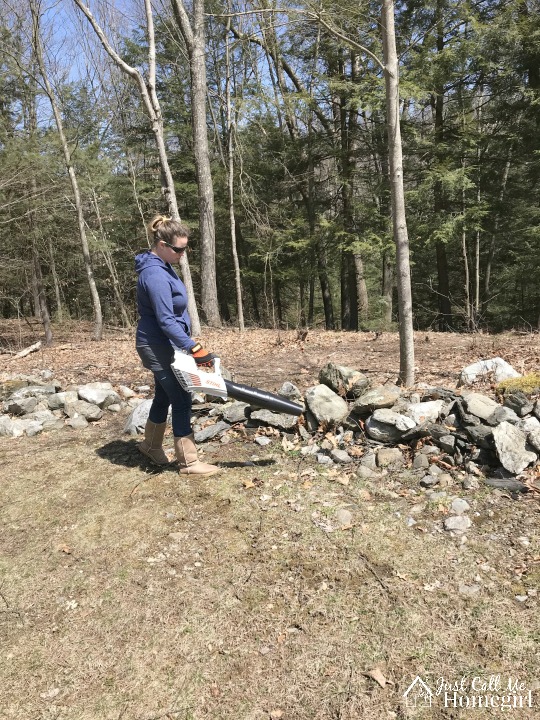 We still have a lot more Spring clean up to do but STIHL's battery operated products make it pretty easy.
I'll be sharing more of our yard this Spring, we really want to concentrate on getting our grass healthy, removing more trees and stumps as well as the landscaping in the front. We have been here for almost 5 years and haven't tackled the yard yet so more after tutorials and after pictures to come…when everything is finally green again!
Want to see more of my days with STIHL products, follow me on Instagram!
If you would like to know more about STIHL Products check out their website and find a local dealer.