I have found some great pieces lately that I just had to have in my home. Of course whenever I find a piece I immediately think of what color I'm going to paint it.
Country Chic Paint recently sent me a couple of paint colors to try, the first being Darling a light pink that I used on a nightstand and a pretty grey color called Cut A Rug that I knew my two new pieces were going be painted with.
The first piece I made over is this adorable little chest of drawers that I found at a local flea market. I saw the tiny drawers and I had to have it for the top of my dresser.
It seemed as someone tried to make it over and distress it but it just wasn't my style. So on went Cut A Rug. I put two coats on it and it turned out perfect.
I was planning to get new small knobs but couldn't find anything I wanted that was small enough, so I just put the old ones on and I actually liked them! It gave it back that vintage look.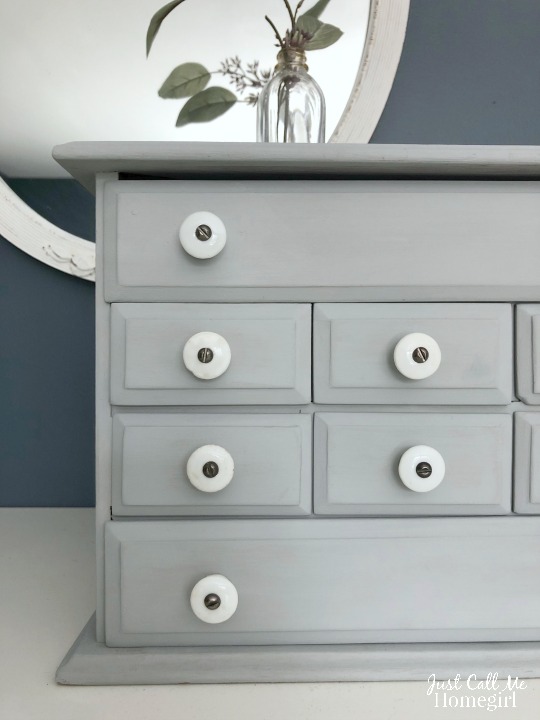 The second piece I made over was this desk I scored from our local Habitat for Humanity Restore. My son has been wanting a desk to do his art and this one was the perfect size…just obviously in need of a makeover.
I also put on two coats of Cut A Rug on the desk and it was the perfect coverage. But since this desk was going into Henry's room I had to incorporate some of his favorite things of course.
I had these Darth Vader knobs that I purchased on clearance at Hobby Lobby for about a year just waiting for something to be placed on.
Plus with my new Cricut…I knew I wanted to add some fun decals. He loves anything transportation. I searched the Cricut Design Studio and found tanks, helicopters, jet fighters and a few others. I cut those out and put them on the side of desk.
I surprised Henry with the desk and he loves it!
Do you love second hand finds? Do you tend to paint all the things like I do as well?