This is a sponsored conversation written by me on behalf of Cricut. The opinions and text are all mine.
In my last project post where I used my Cricut Explore Air 2, I mentioned when I first received it I was overwhelmed and a little scared to use my Explore Air 2. Well, I have a done a complete 180 and now I am using it constantly and my crafting game has changed!
If you are on the fence about purchasing a Cricut Explore Air 2 or you think you won't know how to use it…I've got 5 Things I love about my Cricut Explore Air 2 coming at you!
The video tutorials – Out of the box I was at a loss on what to do next. I hopped on YouTube and watched a bunch of Cricut tutorial videos from Cricut themselves and learned how to do my first project.

The videos they have are so helpful and teach you step by step how to implement certain techniques. Cricut also has live videos of different projects and skills to learn on their Facebook page. I made gift card holders for the kid's teachers..something I didn't even think off until I caught a live video of how they did them this week!
2. On the Go Designing through the Design Space App on your phone or iPad – When you have a Cricut your mind starts changing the way you see items and future projects. So when I am in the car waiting to pick up the kids from school, or when I am in bed at night and I have an idea for a project, I go the the Design Space App on my phone and see what I can do. What images are available and start designing. No need to grab my computer!
When I got the idea to add decals to the side of my son's new desk. I designed them right on my phone at 6 in the morning from my bed. It took no time at all!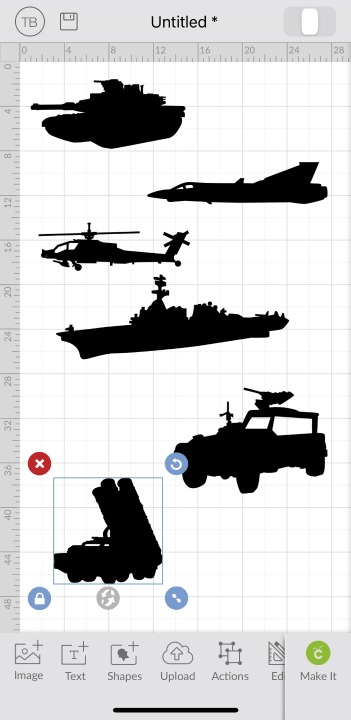 3. Built In Storage – Did you know I use to be a Professional Organizer? So when a product has places to store the tools I need to use with them built in, I am a happy girl. The Explore Air 2 has "cup holder" type storage for tools I use regularly and also has built in storage inside for items I don't need every time I make a project like, extra blades, pens, scraper etc.
It makes creating easier!
4. The Amount of Material the Explore Air 2 Can Cut – From cardstock, vinyl, iron on to leather, fabric and cork, the Explore Air 2 can cut over 100 materials! You can see the full list here.
I can't wait to bring you along as I try out all of the things!
5. Tons of Designs to use within Design Space and Cricut Access – Within the design app there are many images and fonts you can access for free. But with a subscription to Cricut Access there are a ton! Every time I want to find an image I start there first before heading elsewhere. With these images and fonts I was able to make these fun canvas bags for my son and my nephew and personalize them with things they love. Tutorial below.
Personalized Canvas Bags with Iron On Vinyl
My nephew is obsessed with busses. So when I picked up a few canvas bags from Hobby Lobby to personalize it was a no brainer that it had to have a bus on it.
I went into Design Space and searched for busses. So many came up and I liked this one that had a more "fun" vibe. I set it up in Design Space so I could print out his name on the same Yellow Iron On Vinyl..since of course it's his favorite color.
2. Since I knew I would only be using half of the vinyl sheet for this project I always make sure I cut the vinyl before loading it. There is so much you can do with even small pieces of scrap! The cutting ruler paired with the True Control knife and self healing mat make this step very easy.
3. After the Cricut did it's job it't time to weed. It's really is my favorite part. Anyone else? I find it so calming and satisfying!
4. Using my Easy Press2 I pressed each of the iron on onto the canvas bag per the Cricut Heat Guide and Voila!
I love the way it turned out! To personalize my son's I made sure to use Star Wars Iron on for his name! How cute are those little Star Wars Characters in his name?
I hope this post gave you a little more insight to what the Cricut Explore Air 2 can do and why I, even as a beginner have learned to love it!