This is a sponsored conversation written by me on behalf of Cricut. The opinions and text are all mine.
I have a confession, when I first received my Cricut about 2 months ago and I posted about my first little project which was sign for Henry's Birthday, I was a little overwhelmed and honestly scared of my Cricut.
I knew this machine could do so much and I was a little intimidated. Yup, Me. The homegirl, DIYer, and Crafter was intimidated with a machine. So I completed that first initial project, which was basically a test run to see how to use the machine and now everyweek I feel like I am using my Cricut confidently and eagerly!
I am still on beginner projects, just like the one I am about to show you, but I am still getting to know my Cricut and accessories and just trying to sort my brain into which project I want to do next.
Tea Towel Host Gift
While walking down the aisles of Hobby Lobby these adorable little tea towels caught my eye. The muted red, the stripes, and of course the little pom poms on the bottom.
But this year I am trying not to purchase any Christmas decor for my home since I have so much..and don't use half of it. But…these would make an adorable host gift for a party we are attending this weekend. So that's okay right?
To make it even more special, I decided to use my Cricut Explore Air 2 and my EasyPress 2 to personalize them!
I went into Cricut Design Space and started looking for a fun quote to put on one of the towels, and then I would personalize the other towel with their last name.
This "Don't get your tinsel in a tangle" design made me laugh so I decided to use that one, and added their last name to the cut as well.
I chose green Every Day Iron On Vinyl to stand out from the red as well as keeping up with the Christmas theme.
Since I wanted to save time and vinyl, I cut them out on the same sheet at the same time. So when the Cricut was done doing its job, I simply took my True Control Knife and Cutting Ruler to separate them to press them on separately.
I checked Cricut's Heat Guide to find out what to set my EasyPress 2 temperature to as well as how long I need to press it for, and if it needs a cool or warm take off. I know just have the website saved to my home screen on my phone since I am checking it so often!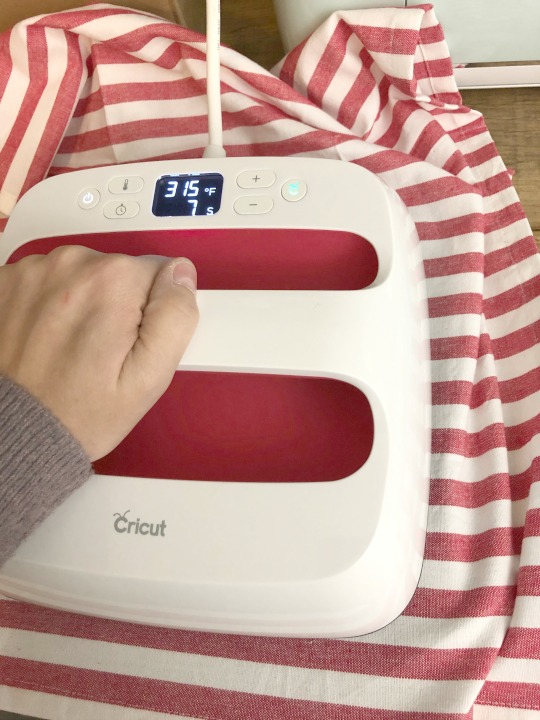 What I like most about the EasyPress 2 is that it counts down for you. When I used to use an iron to do some projects I was always doubting myself if I was holding it for too long or not long enough. Was I counting too fast or too slow? Easy Press 2 takes the guess work out of it.
After pressing the vinyl I took of the protective layer and I loved how they turned out! The green pops off the white and red and it just adds a little something to cute towels.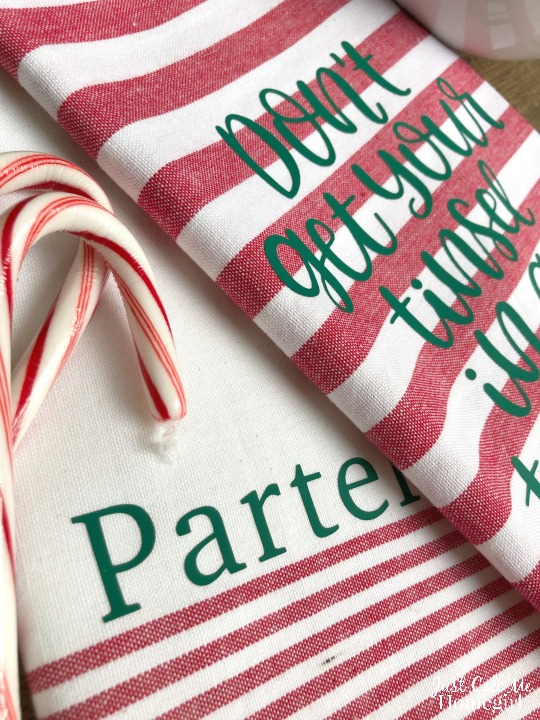 After getting my Cricut Explore Air 2 I haven't looked at items the same way. Now it's always "How can I make it better, or more me."
What are some some host gifts that you have created with your Cricut or what do you like to bring to parties?