I don't think I have done a "proper" Christmas Tour in a few years. Even though I have done Inspiration Posts.
But this year I wanted to step it up a little and create a cozy, natural, and rustic theme. I love natural elements. If you have been following me for awhile you know I love driftwood, rocks, wood and anything that comes from nature. That is how I wanted my Christmas decor turn out this year. Lots of natural elements as well as family memories.
Starting in the entry I went simple. I put some greenery and berries in this vintage hanging basket that I picked up at the Country Living Fair this year, added a few this little tree is from Riverbend Home and is so cute. It has a burlap bottom but I put into this little white crock I had.
Since we don't have a mantle I like to hang our stocking in our pass through. This year I took a long wood box I made a few years ago and filled it with clippings from our tree. Added pinecones and berries and it was the perfect natural look. I added a few small nails to the box to hang out stockings from and that's it!
A few years ago I made little wreaths for my kitchen cabinets and I put them out every year. This year I switched up the picks with glittered eucalyptus and I love them. You can see how I made and hung them here.
Our dining room got a makeover this year and this light is my absolute favorite! I finally have a light that I can decorate!
This cabinet in the corner is a new addition and I am obsessed. I will blog about it soon but it just makes this corner a little more cozy. Plus it's filled with special antiques and items from our both of our families that have passed.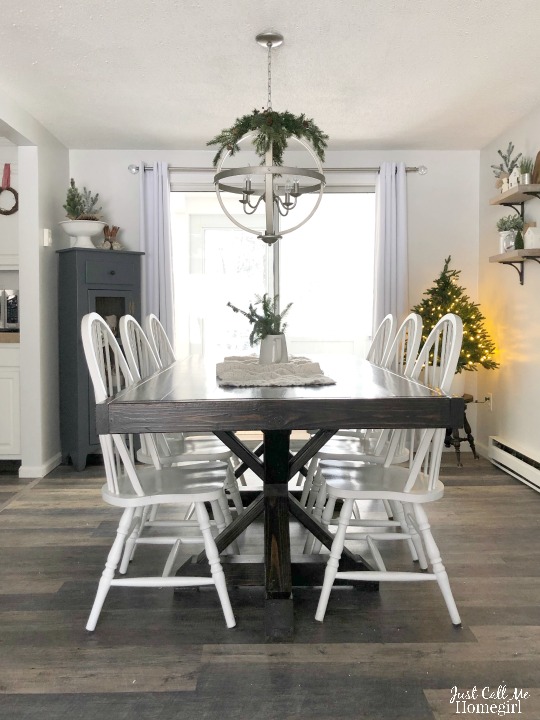 These birds are also from Riverbend home. I think they're the cutest. They are perfect for my taste, neutral, rustic with a little whimsy with their hats.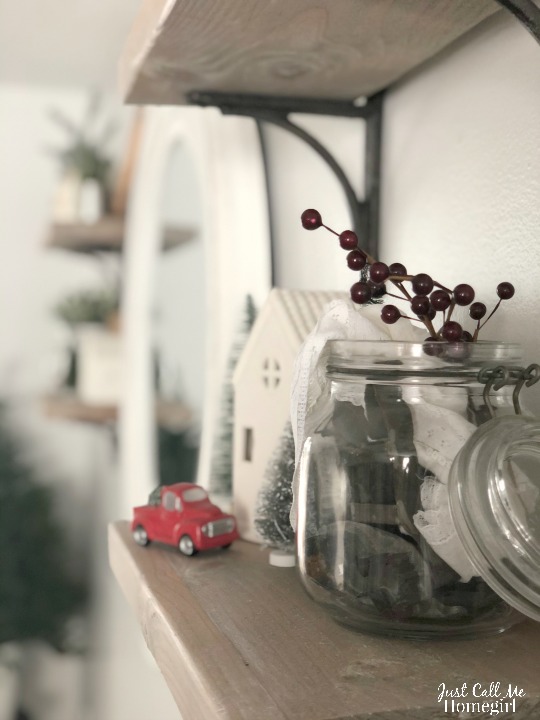 I styled the shelves with greenery and items I already had. If you watched my Facebook Live where I showed how to create easy Christmas decor with items you have in your home then you would have seen this little Jar that I filled with antique cookie cutters and an old handkerchief from my Grandparents. Add a little berry sprig and voila Christmas!
I've always wanted a tree in our dining room. Not a huge tree, just something simple and pretty to finish off this corner. This tree is perfect. It looks Rea, and even has little pinecones on it. Plus it's pre-lit which is a score for me! It's from Riverbend Home and it's just darling. The perfect size for this corner.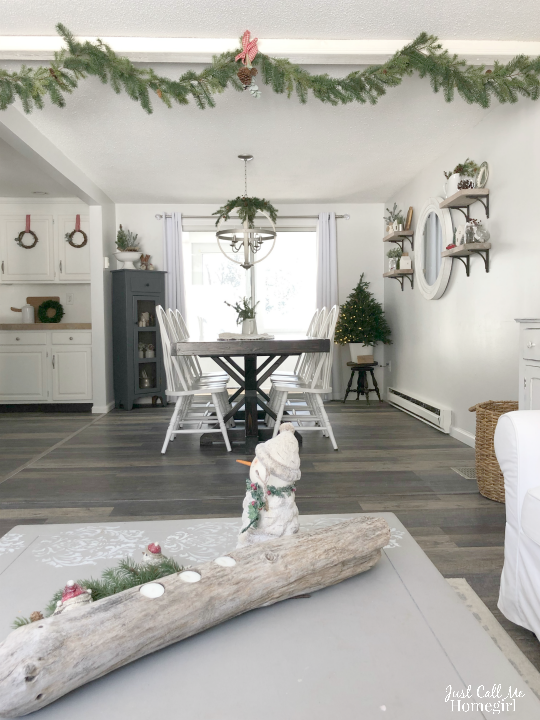 If you have been watching my Instagram stories lately you will know that we brought in the sofa from the sunroom. I love this sectional and it's definitely going back in the sunroom when the warm weather comes back but for now we moved it in here for more seating during the holidays as well and it's just plain cozy!
I also moved the coffee table from our family room so it fits better with the sofa. That will get a paint job too.
This snowman is also new and just the cutest. The kids love him!
This year our tree is only holding ornaments that have been in our family or have special meaning. The kids loved putting up their own ornaments that they have made or received as gifts from years past. I also put up my old ornaments, my husbands as well as vintage bulbs that I remember having on my tree when I was a kid.
Growing up my parents would create a Christmas Village in our Bay window and I remember helping set it up and moving the people around the village. Now my kids do the same thing…even though it looks like there was a blizzard when they're done.
That's it for this years decor. We don't really decorate the bedrooms, but the kids do have their own mini trees. Maybe one year. But for now with two young kids this is it for me!
Thank you to Riverbend Home for gifting me some of my pieces. You check them out here!