I wanted to try something new with my Cricut Explore Air 2. I wanted to try my hand at designing my own lightsaber Valentines for my Kindergartner.
They didn't come out how I envisioned, but I still like them. I will give a few notes on some things I might have done differently but my son loves them and thinks they're so cool. That's all that matters right?
After Valentines Day last year, I scooped up Valentines on Clearance at Target. I purchased the same Star Wars ones I used that year that came with a pencil because with them on clearance, They were 25 cents and came with 16 pencils!
My son loves pencils so I have been using them to stuff into his Christmas stocking etc. I thought it would cool and cost effective to use them this year for his school valentines, but make the "cards" on my Cricut to go with them.
My vision was to design and cut out Lightsabers and attached the pencils to them.
So I purchased a whole Star Wars Design bundle on Etsy for less than $4. In the the design bundle was a lightsaber that I thought would work for my Valentines.
I uploaded the file and started tweaking the design. I filled in some of the holes with the shape tool and adjusted the size to fit the pencil. After the fact, what I should have done was made it wider so it would hold it's shape more. But I still like what I have.
To attached the pencil I made two cut lines in the design to slip the pencil into.
I also wanted the Cricut to write out "From Henry" too so I added that into the design as well.
For my test cut I realized that the two cut lines to slip the pencil in were too small and the pencil would not fit. So I changed the design to cut out two hearts and I could slide the pencil in that way.
It worked!
For the paper It was only fitting that I used The Star Wars Deluxe Paper. It's perfect with it's Star Wars Characters and it's also double sided!
For writing on the cards, I used the standard black marker that comes with the Cricut as well the metallic ones. Since some of the paper is dark, the metallic shows up and looks great.
Once they were cut, all I had to do was insert the pencil! It's not really what I envisioned but I still think they're great. If I was to do it again, I would probably make the lightsaber wider. But that is something you can play around with in Design Space.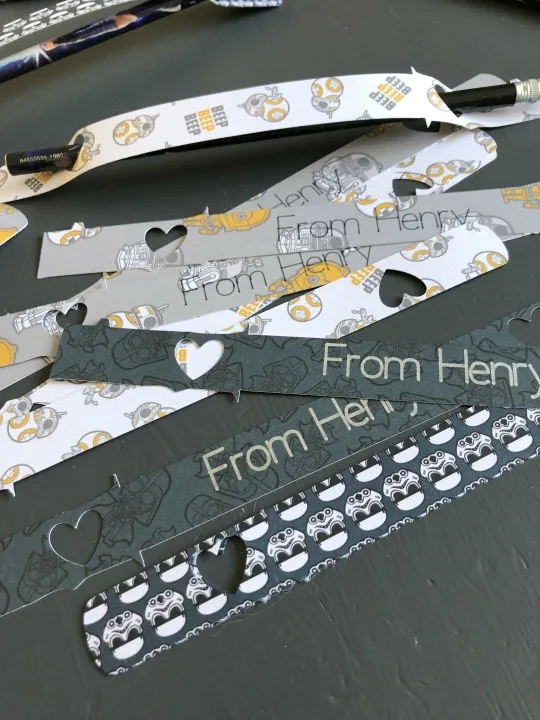 My son likes them so it's all that matters! I also decided not to write a little saying about Valentines Day on it. Just my preference but you could and anything you wanted.
I hope this at least inspired you to design something yourself, or even just get some ideas on different things you could do for Valentines!
Items used to complete project: