I am a firm believer in "don't have things in your home that you don't use, love or need." I am also a firm believer that if you are going to keep something for "sentimental reasons" then it needs to be displayed and loved, not just thrown in a box. That just makes it clutter.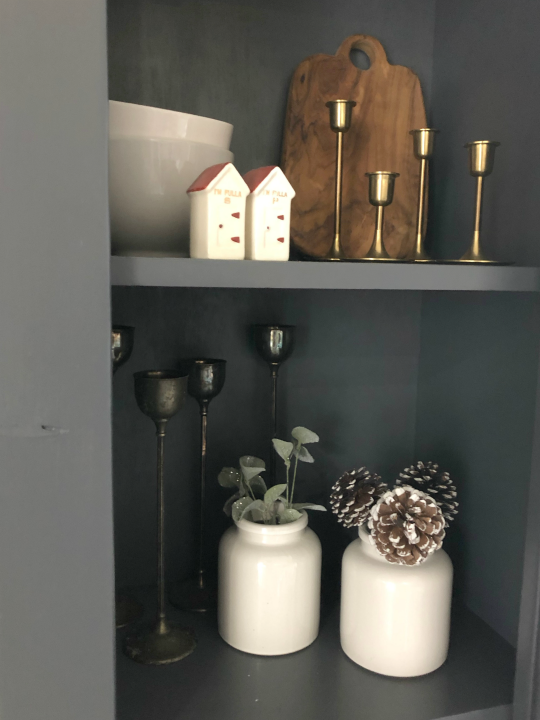 I touched on this in my post, "We don't want your stuff, a Thank you to My Parents". When they moved, it was time for them to go through all those bins, they saved in their garage of items from their parents or childhood that they either thought, would be worth money, or just didn't have the heart to give away.
I am so thankful that when they moved we went through these bins together. Not only did I learn where the stuff came from, but I got to pick and choose what I wanted to keep. Then they got rid of the rest. A thank you to them was in order because I didn't have to go through these bins when they were gone, not knowing what it was, what to do with it etc. Such a burden is lifted when you give this gift to your children.
Anyways..after inheriting what I wanted, I knew it had to be displayed in my home or it would just become a bin of clutter for my kids. We also had a recent death of my Husband's Aunt who lived in his Grandparents home and it fell to us, to clean it out. We choose what we wanted to keep and now it was time to display the items in our home.
How to Display Sentimental Items in Your Home.
Use a Jar to Display Little Collections – I love this jar we have displayed on a shelf. I have it holding all of our little sentimental items from both of our families.
When you have a collection of "small" items. Group them together to make more of a statement and less of a cluttered mess.
We have husband's Grandfather's fire badges, his pocket knife, my Dad's Navy whistle, Grandmother's thimble and other special things. I also like that I can just place more in as I come across it!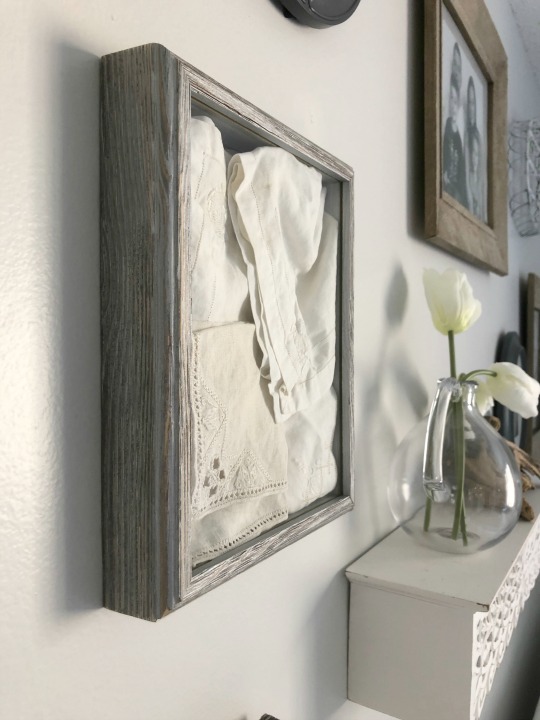 Shadow Box – While creating my new Gallery Wall I wanted to add some dimension with a Shadow Box. My husbands Grandmother had so many linens when we cleaned out her home and I kept some that I thought were just so pretty.
So using those little napkin linens I put them into the shadow box and it turned out so sweet. It adds texture and since they're white it's very subtle which I love.
Create Vignettes on Shelves – In our dining room, we have shelves that are always changing with the seasons. But in the everyday decor, I incorporate little antiques from our families.
Salt and Pepper Shakers, little measuring cups, antique kitchen utensils. It all become decor. It's pretty and you can change it up with the seasons!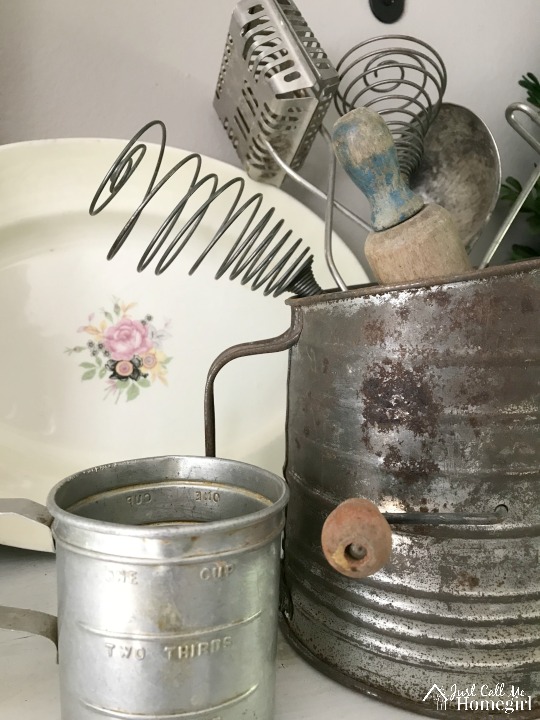 Create A Quilt – My Mom made my each of my kids a quilt with my favorite clothing and blankets from their first year. They love these quilts and have them on their bed. It's something they can even pass down to their kids.
You can also make quilts and pillows out of loved one's clothing that have passed away. What a great memento of them to have and snuggle with!
Use items for storage – If you have cups or bowls, baskets, that mean something. Use them! This little metal Baby cup that was my Mom, now holds little Molly's hair clips. I also have old bowls/dishes being used as jewelry holders, or little drop zones on dressers for coins etc.
You could even use old dishes for Soap, or just hang them on the wall!
Decorative Box – If you want to save items and not have them openly out, but would like to look at them once in awhile, consider putting them in a decorative box.
Each of my kids have a pretty box in their room with mementos from when they were kids. Hospital bracelet, hats, cards, clothes etc. This way it's contained but also they love pulling them out and going through the items every now and then.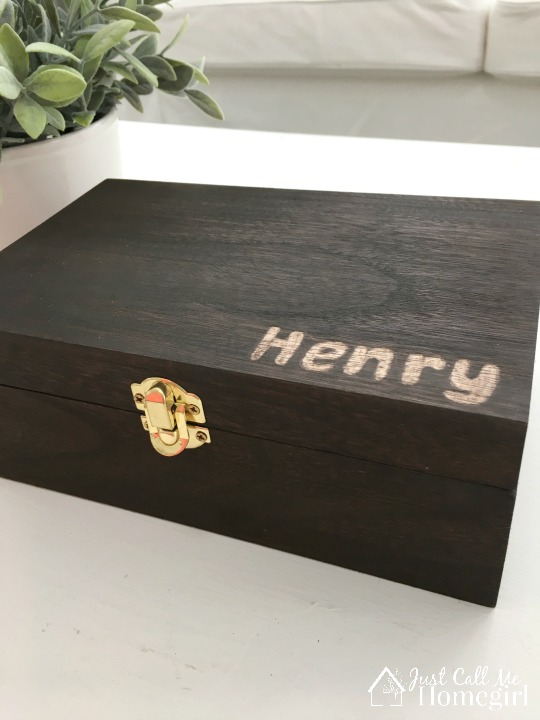 It's a special collection that's contained and not clutter. You can also make your own box like I did for the kid's own "special collections". These boxes are where they put their special rocks and shells or even they're special stickers that they want to protect but take out.
Frame Similar Items together – If you have a bunch of old postcards, photos, or recipes. Frame them in one large frame to make a statement piece. You don't even need to put them behind glass. Hang the items on the wall in a gallery style and frame them out with wood trim or an old thrifted frame.
Put Photos in an Open Container – An antique bowl, vintage drawer, pretty basket, anything open and put a handful of photos in there and display on a table or shelf. They're pretty and you can look at them anytime you want.
Use Items for Their Purpose – Old dishes? Use them! Dolls from when you were a kid? Let your kids play with them. Absolutely nothing wrong for actually using items. Even if they are antique. If they are still useable do it and make your own memories with them. I use my Grandmother's Salt and Pepper Shakers for Christmas every year!
What is a creative way that you have displayed sentimental items? Tell me or show me on my Facebook page!