When we moved in to our home, the previous owners left their "island" for us in the kitchen.
Our kitchen is a really good size and a large actual island is my goal when we replace our countertops. But I have lived with this "island" they left for us for too long. It's not my style..and it's actually a bar.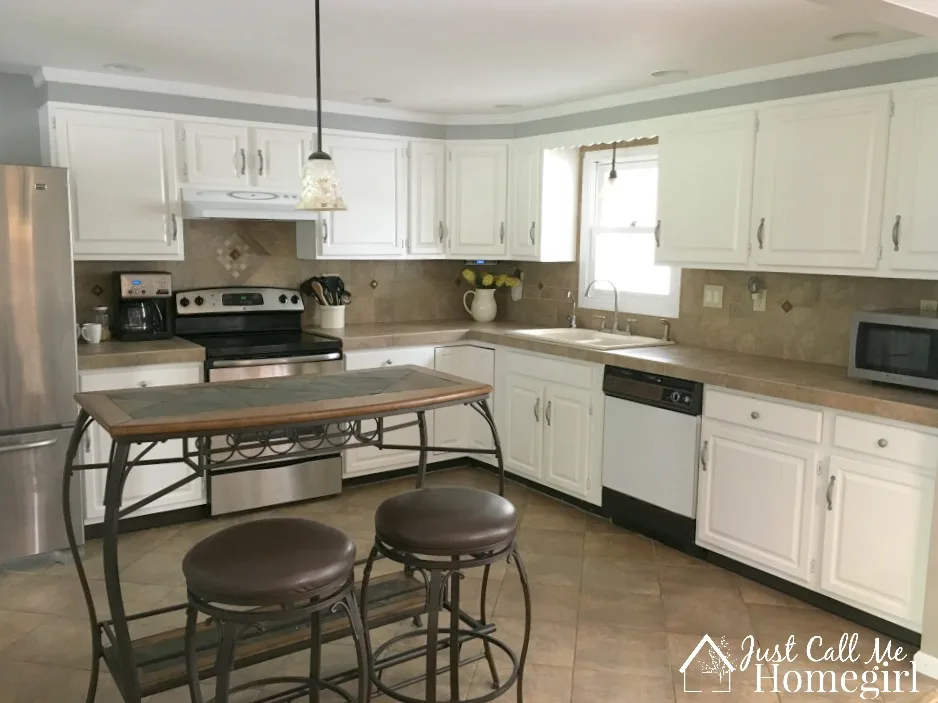 My one year old is already climbing in it which isn't safe, we never use it and it's too high. It served no purpose other than making sure we didn't bump our head into the pendant light hanging overhead.
But my goal of new countertops is not coming in the near future so I had to replace this island with another temporary option.
I was so excited when I saw this little island for sale on the Facebook Marketplace. Someone was already inquiring about it so I offered the woman a little more and scored it for $75!
Oh and by the way I sold the bar for $200 so score for me!
This new island I purchased is still on the small side for our kitchen and my needs. But I love that it has 4 deep drawers to add little more storage in our kitchen.
To make this island over to fit our style was simple. Remove the casters and paint it white.
For painting I did a primer coat by hand and while I was doing that I realized I wanted to use a paint sprayer.
It gives it such a nice finish and it's just really annoying by hand.
So after the primer I got out my HomeRight Finish Max paint sprayer. It's the same sprayer I used for my kitchen cabinets and a rocking chair.
I also purchased a quart of the same paint I did the cabinets with. It's Benjamin Moore Advanced Paint. It's a latex paint that acts as an oil based and dries to a rock hard furniture finish which requires no sealer.
I also used this paint on like I said, the kitchen cabinets, the rocking chair and my TV console.
So I sprayed the paint on, let it dry and moved it in.
AHH It fits my style so much more in my kitchen. Yes it's still too small but remember it's my temporary island until I get a large one when we get new counter tops. Crossing my fingers for next year!!!
What do you think?
SaveSave