So I have been wanting to shiplap something ever since I first started watching Fixer Upper. How about you?
I found the perfect wall. I have never liked our entry way. We live in, what we New Yorker's call a raised ranch. You might call them split entry or bi-level. Anyway, our entry never looked finished.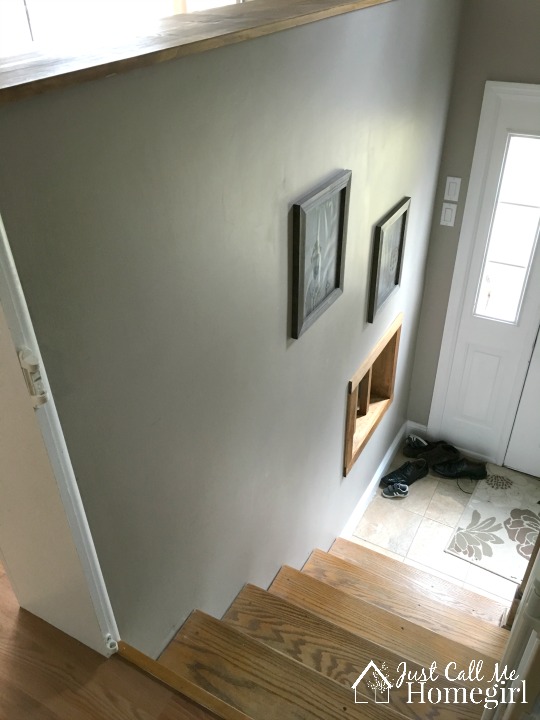 After we put in our built in bookcase instead of the railing I have been wanting to do something with our entry. See how our stairs are missing that sideboard piece that should be against the wall? It just looks odd and unfinished.
I decided to brighten up the whole space and shiplap that wall. But being the thrifty person I am, I wanted to do it cheap.
Once the idea came into my head I have been set on using plywood. Especially after one of my favorite blogs, LizMarieBlog.com did a whole room using plywood and it looked awesome.
Up until the very day I was going to Lowe's to have them cut sheets of plywood into 6″ planks that has always been the plan.
With keys in my hand ready to go, I started second guessing it. What if they weren't cut straight, what if they started bowing and pulling away from the wall etc…
I then remembered another one of my favorite blogs, Bless'er House doing her entry last year. I did a quick check to what she used again. Ah. that's it. V Groove Planks. With quick calculations I realized, with our wall, it would cost exactly the same as plywood, but I knew it would be straight.
So I headed to Lowes to get some of my supplies: (Affiliate links for your conveince. See full disclosure.)
4 packs of V Groove Planks
Caulk
Nail Gun
Paint
I was really lucky that the wall was only about an inch larger than 8′. The planks were 8′. Win! No cutting to fit!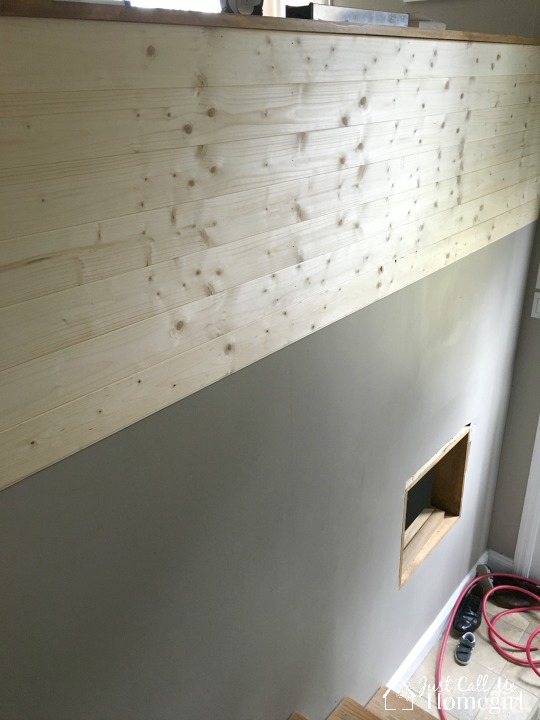 After we marked the studs all the way down we started at the top and worked our way down. The top where there were no stairs was the easy part. It took no time at all.
The tricky part was when we got to the stairs. Since there was no "sideboard piece" for us to line up the planks with, but a small gap from the stairs to the wall because we had removed wainscoting when we moved in, we had to wedge the planks behind the stairs.
We got it done and it looks awesome.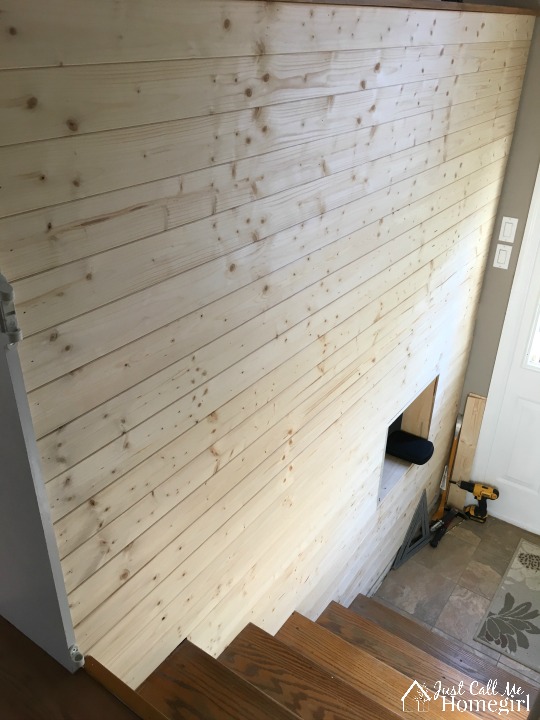 We added a flat piece of trim on the wall by the door to cover up the 1″ that was exposed since our wall was slightly larger than the 8′ planks.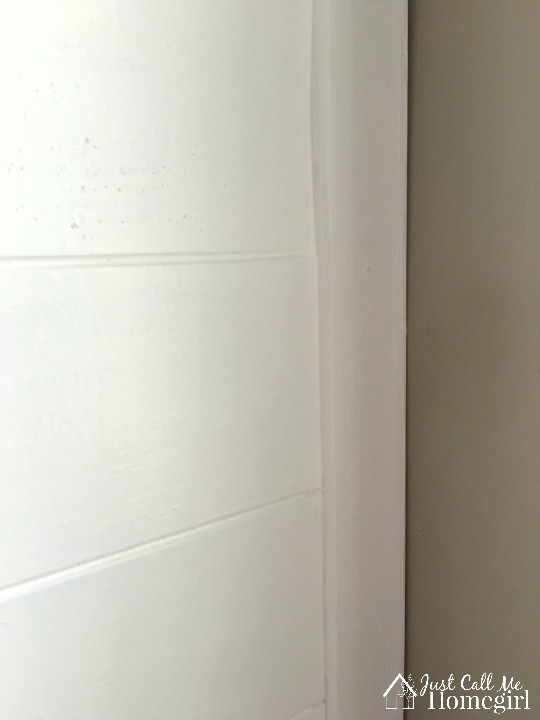 We caulked some of the deep knots in the planks and did a coat of primer and 2 coats of paint.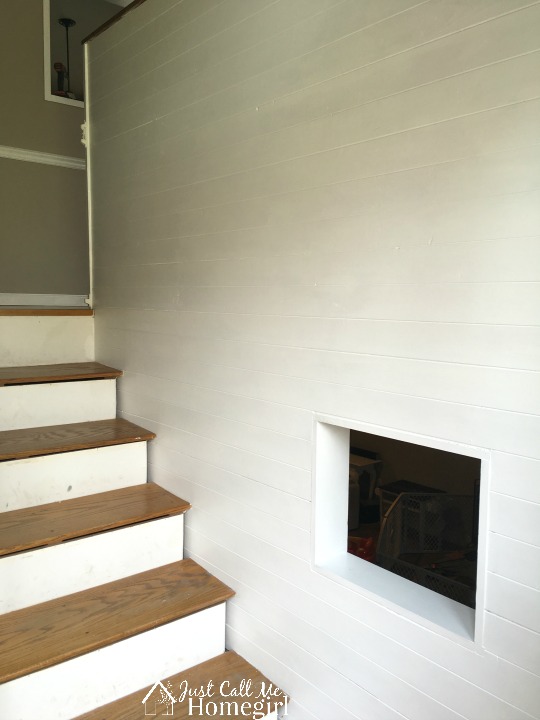 I love the way it gives it a finished look in our entry. You can see our spur of the moment new fooring we put down in the middle of the project here.
Now I'm really excited to re-stain these orange steps! Hopefully it will be done in the next couple of weeks and I can show you a full, styled entry reveal!
Update!
You can see our full entry reveal here!