I am so very excited to join the One Room Challenge™ (ORC)! Twice a year Linda from Calling it Home hosts a very popular challenge that participants completely transform a room start to finish in only 6 weeks.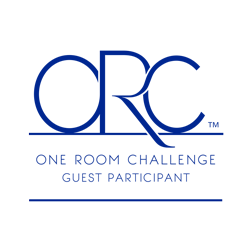 Every Wednesday you can check out the featured 20 designers participating and on Thursdays you can take a look at all the other amazing guest participants (including me) on Calling it Home.
I hope you will follow along with my journey to make over our guest room into our baby girl's nursery who will be here in a few short 8 weeks. This only leaves 2 weeks after the final reveal until she's here!
I am going to need all the support and encouragement from you to get me and this large belly through this!
So let's go over the plan…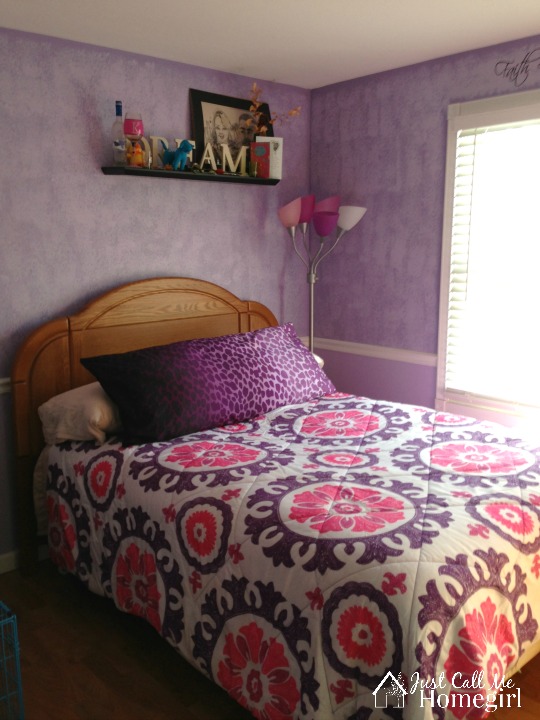 This is a picture of the guest room when we moved in. Holy Purple! They only thing we did since we moved in 3 years ago was paint the room the same color as the our living room. Sherwin Williams – Perfect Greige. I didn't love this color in the room because there was only one window and the room is really small. So it seemed really dark. But I did't really care. I was hoping we would be turning it into a nursery someday anyway!
Here is what our room looks like today:
A normal boring guest room with a bed, primed side table to big for the space and waiting to get painted, a comforter that my parents brought since they figured I didn't have one, random toys to hide from my toddler and just a catch all of things I didn't have a designated spot for.
Here is what I want to accomplish in the next 6 weeks:
Remove chair rail
Paint walls and trim
Sew new curtains/pillows
Move in crib, changing table and chair from sons room
Create wall decor
Book storage
New dresser
Add lighting
Add rug
Add small side table
Super organize clothes and changing area
I'm sure as I go along there will be other items added to this list since my ideas are always growing.
What do you think? Can I finish all of this in 6 short weeks being 32 weeks pregnant? Fingers crossed!
If your new here, I would love it if you followed along on Instagram and Facebook. You can also subscribe to have new posts delivered right into your inbox! #oneroomchallenge
Don't forget to head over to Calling it home and check out the other ORC participants!