Spring is the perfect time to start thinking about what you can do to make your yard kid safe. Winters can do some major damage to trees, lawns and surfaces. Getting them ready for little ones to run around is very important.
With another baby due soon, and a 2.5 year old that's a fan of running, I want to make sure our yard is kid safe. I don't want to be trying to enjoy our outdoor space with the little ones and having to say, "Don't touch!" or "Stay away from there!"
I want my son to be able to have fun playing and exploring in the yard without me running after him.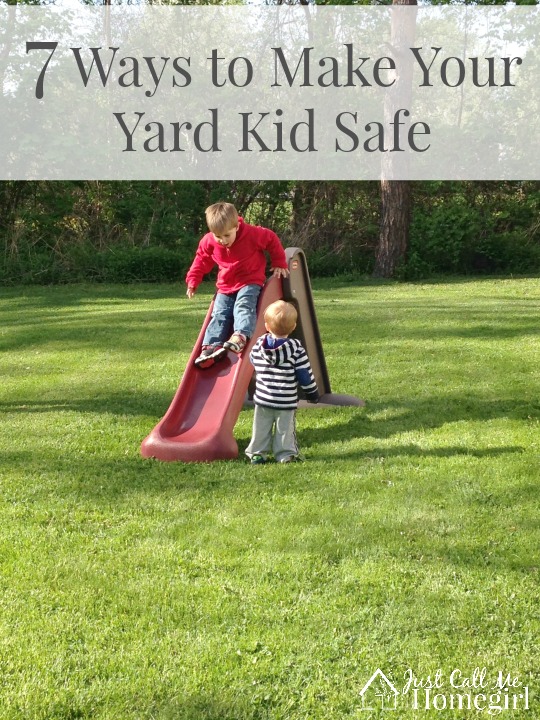 I have put together a list of things to check in the Spring to make sure your yard is kid safe so you can enjoy your outdoor space as well!
7 Things to Do to Make Your Yard Kid Safe
Clean up your yard – In the Spring we always have fallen sticks and limbs from the harsh Winters. Make sure they are picked up and there is no other debris waiting for your kids to get their little hands on.
Repair rock walls/stone edging – Kids love to climb or try to pick up loose objects. Make sure your rock/stone walls are safe, secure and do not have any missing or broken pieces.
Seed/Repair lawn patches – We have a few spots in our lawn that are bare and need to be repaired. For some reason my son gravitates to those spots and wants to play in the dirt or throw the stones. Some days I just don't feel like giving him two baths!
Scotts eased looks really simple to use and I'm excited to try it. Especially because it's not just grass seed, it's a bare spot repair kit! No need for straw, since it has mulch built in! Perfect to repair all the wear and tear you might get in your yard because you and the little ones will love playing outside!
4. Inspect and clean the kids outdoor toys – Check to make sure the toys you kept in storage (or even outside) are still in good shape, no rust, loose screws or nails that your kids could be injured on.
5. Clean the perimeter and edge of your yard – If you live in an area with Ticks, keeping the edging of your lawn tight, clean and brush free is a great way to keep those pesky insects under control. The more brush and debris around the edges the easier it is for chipmunks and squirrels to bring them into your yard.
6. Check for and remove poisonous plants – While you're cleaning the perimeter of your yard check for Poison Ivy and other poisonous plants. Don't forget to look up. Poison Ivy loves to climb trees and other vines as well.
7. Have your yard fenced in or create boundaries/borders – Create boundaries with objects or landmarks to teach your kids not to play past them. We have a large rock near the top of our driveway and I have taught my son not to go past that rock because it would be too close to the road.
Also if you're in an area prone to ticks check out how to make Tick Tubes to help eliminate them in your yard!