It's the second week of Calling it Home's One Room Challenge! Do you ever feel like once you have something you need to finish in a certain amount of time the weeks just fly by?
This week did! But, I am happy to report that we got all the necessities done in the room that was going to take the most work..I hope.
This week we removed the chair rail, painted the room a nice soothing gray, repainted the trim and made new curtains. I love that this room is now a blank slate with so many possibilities.
Here is a reminder of what the room looked like before (You can also see more before pictures from Week 1):
And now here is what it looks like now: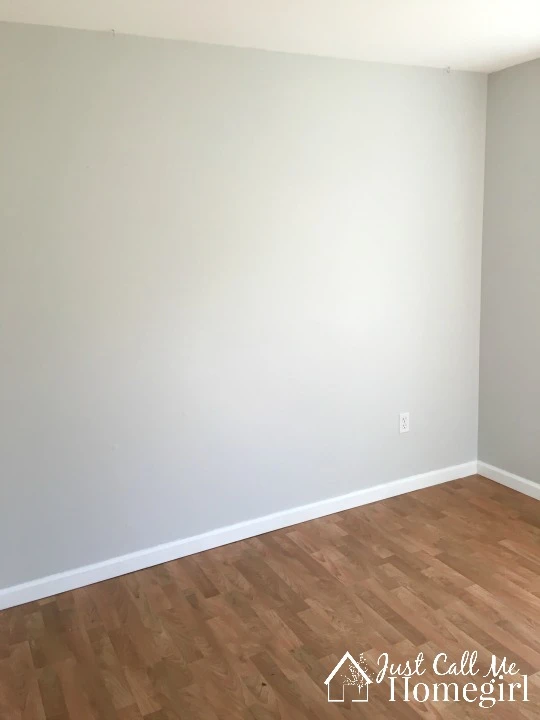 After we removed the chair rail and patched the walls, I painted the walls using Valspar Reserve in Seashell Gray.
I love the way it turned out. The room was so dark before but I only needed one coat of paint! It's been awhile since I painted and only needed one coat. That was a welcomed surprise for this prego! We also repainted the trim white since it was really discolored.
The whole room is now fresh and clean!
I could keep showing you more pictures of the room but who wants to look at bare walls?
The other item I got to cross off my list is making curtains. I choose the color scheme of Gray, mint and coral and I wanted to pick something that would be able to grow with this little lady.
I also picked out matching tulle. You can't have a a little girls room without tulle right? But you'll have to wait to find out what I do with that.
The curtains are just basic curtains. hemmed on the sides, top and bottom. Easy peasy.
It's now time for the fun part to furnish and accessorize! I have a few craft DIY's that I think will be fun and hopefully look like the picture in my head!
Next week I will be showing you some of those and how I did them.
For now lets take a look at the to-do list:
Remove chair rail
Paint walls and trim
Sew new curtains/pillows
Move in crib, changing table and chair from sons room
Create wall decor
Book storage
New dresser
Add lighting
Add rug
Add small side table
Super organize clothes and changing area
The hard part is done. Whew! Can't wait to show you some little accents I have coming up next week!
Don't forget to take a look at other ORC participants here: Calling it Home
And a huge thank you to my sponsor for this post: Valspar Paint
Catch up on my other ORC posts: