When we started house hunting I knew I didn't want a Raised Ranch or some of you call it a split entry. But that is what we got and I had to make the most of it.
At the top of the stairs was a typical raised ranch iron railing. I hated it. I felt cold, uninviting, also felt unsafe with a new baby and not to mention that people walking up the stairs had a great view of any dust or or dirt that might be on the floor.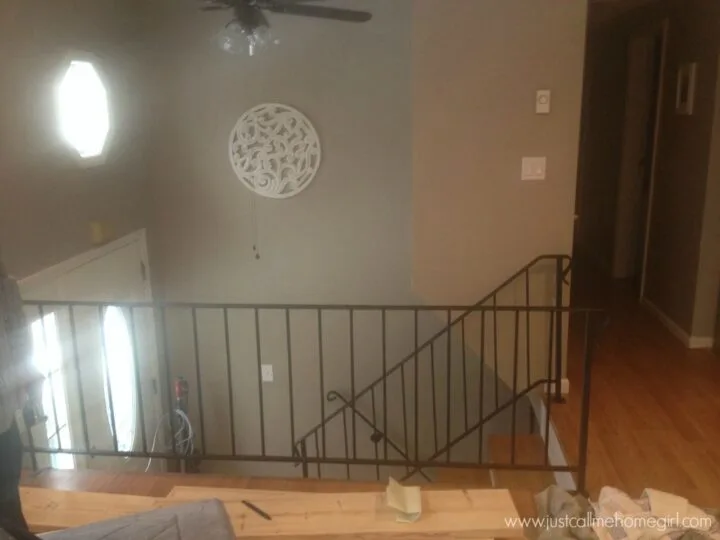 We grew up in a raised ranch and where that railing was, was a half wall. I knew that's what I wanted but I wanted to make it unexpected. I decided I wanted to create a built in shelves there.
I had no plans or how-to's that I could find, so along with my parents we figured it out.
How To Make a Half Wall Built In Shelving
First, measure how deep/tall you would like the bookcase and adjust these plans accordingly.
After we removed the railing the main concern was how we were going to make sure it was sturdy.
We made 3 boxes out of 2×4's (4″ side on the floor) and secured them to the floor joists with room in-between and on the ends to fit a 2×10.
Cut 4 – 2×10's the height of the bookshelf and fit on the end and in-between the 2×4 boxes and secure.
Here is a birds eye view of the plan.

Cut 1 2×10 board to place on top and secure to the 2×10 vertical boards.
To finish off the top we used a 1×12 the cut to the length of the shelf and also a 1×12 cut to height to finish off the end.
Add the shelves- 1×10's cut to length and used shelf pins to set the shelves on for the desired height.
For the molding to add the finished look it was:
1×4 – across the bottom and 4 vertical "posts"
1×3 – across the top (2×10 board)
1×2 covering shelves across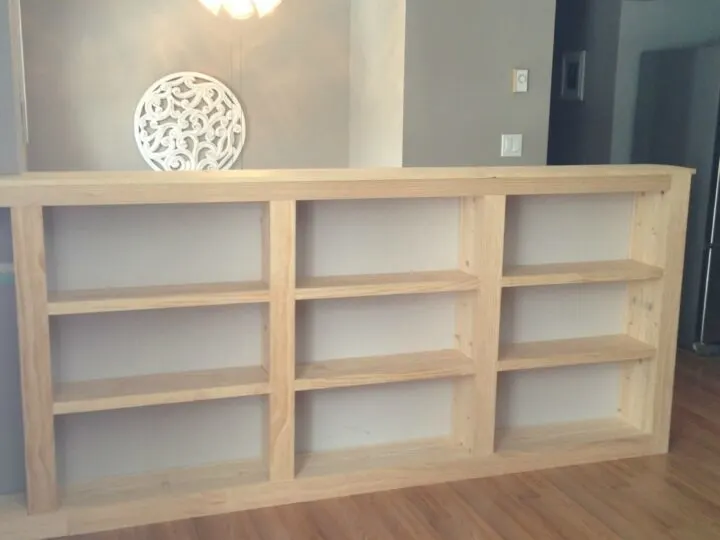 For the back, there was wainscoting coming up the stairs which I hated. Took it off and added sheetrock to the back of the bookcase, taped, primed and painted!
After creating this post we have also made over our entry.
You can see the entry way update here.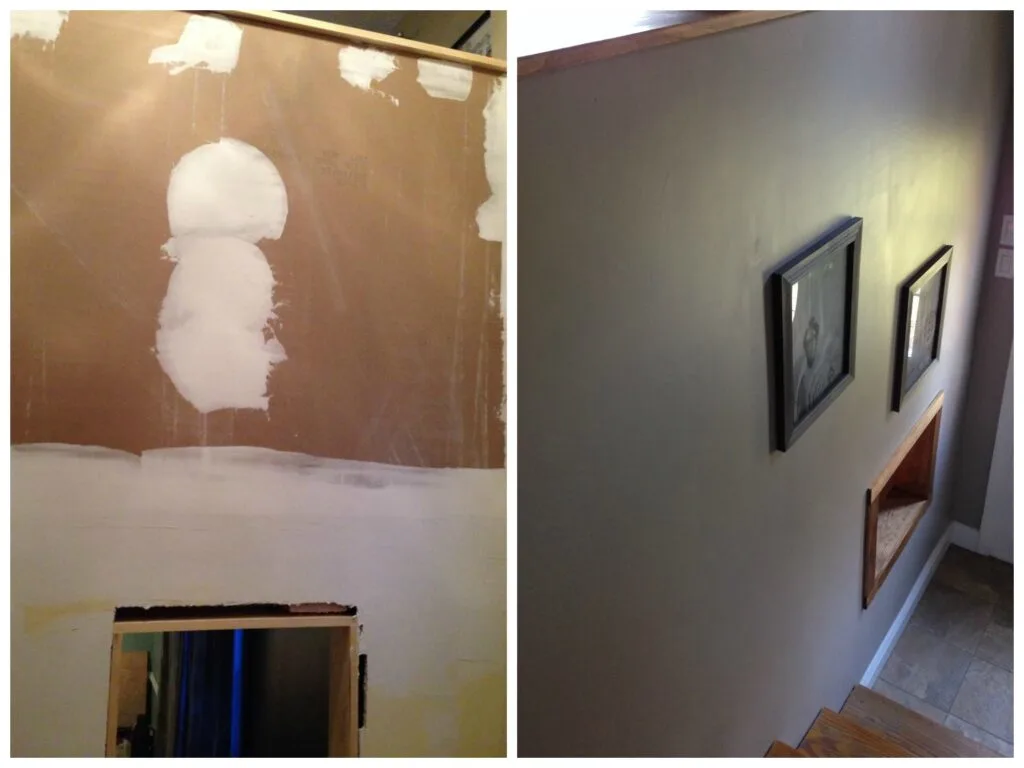 I'm in love! What do you think?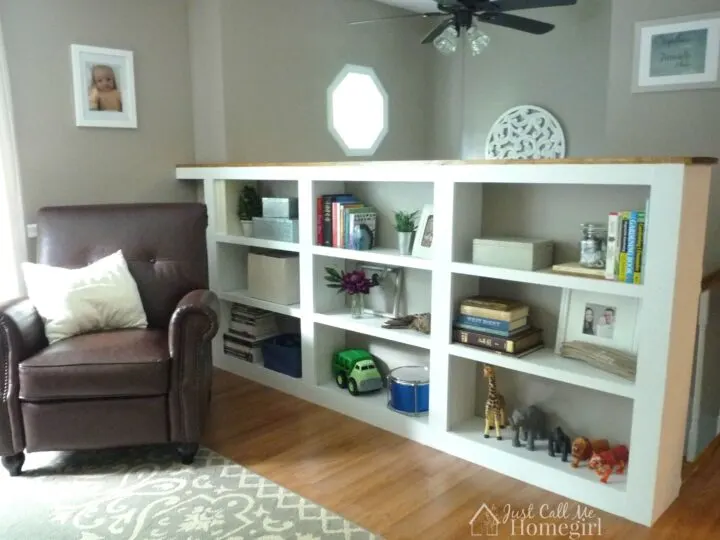 UPDATE:
This post has gained a lot of attention and a ton of comments on social media.
I wanted to address some of the questions and concerns many people have had.
Loss of light: Our living room has a huge bay window, 6 recessed lights, a lamp, and sliding glass doors in the dining room. We actually didn't notice any light difference when we built the bookcase. As for the stairs, our door has a glass pane, a side window and a window. So it's fairly lit as well. You can also see the other side of the bookcase here.
Children Climbing: I figured I would teach my children not to climb on it. In our opinion this was much safer than the railing. Which was way too low, and too high off the ground. I also grew up in a raised ranch and we had just a half wall in the same place and a couch pushed up to it. I never climbed on the couch to the wall…and my husband also grew up in a raised ranch but with the railing and he tells stories about how he would walk on the OTHER side of the railing! Call me naive but I prefer this option. Update: My son is 8 and my daughter is 5 and they have yet to even attempt to climb the bookcase.
Closed off the room: Take a look at the photo's below of the other side. I think it's open and cozy.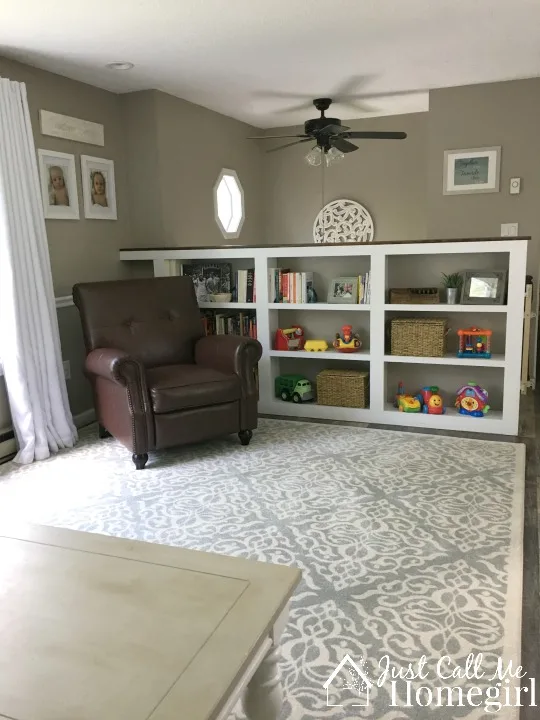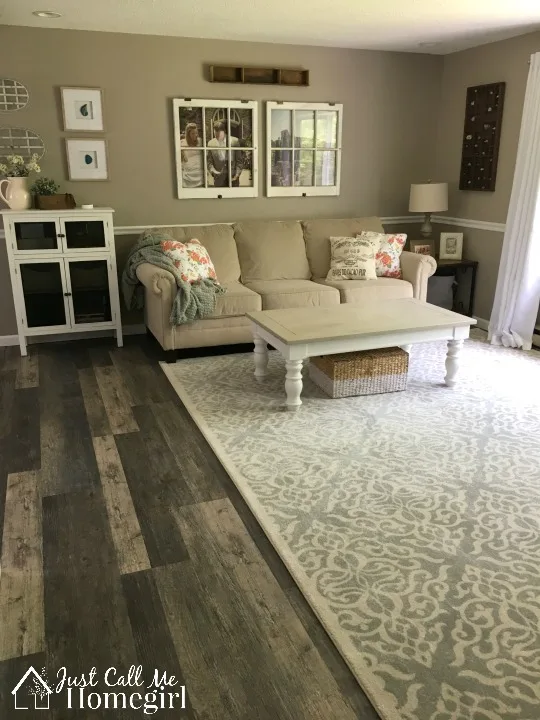 We built this railing 8 years ago and our living room has had some beautiful renovations..including this bookcase! This year I built cabinet doors for it! It looks amazing and you can see how I did that here.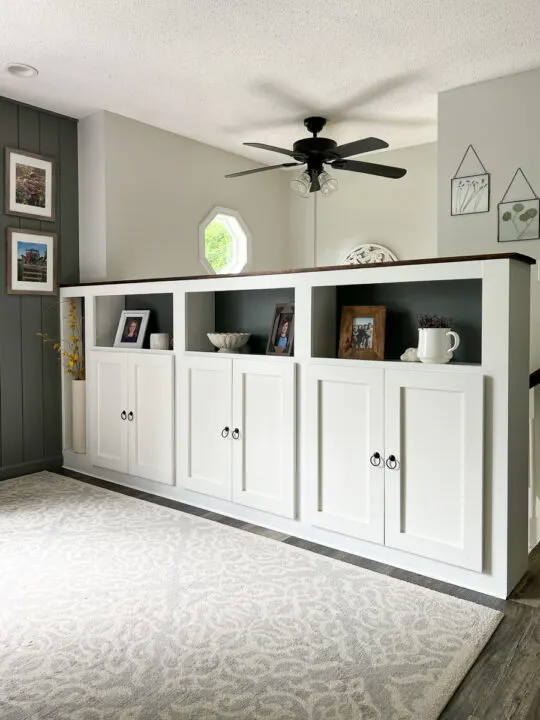 If you're wondering what I did with the railing when I took it down you can find out here!
Also if you want to see what the other side looks like now take a look here!
To see all of the project an sources for the living room you can find them here.
Or to see all of the other rooms in the house take a look here.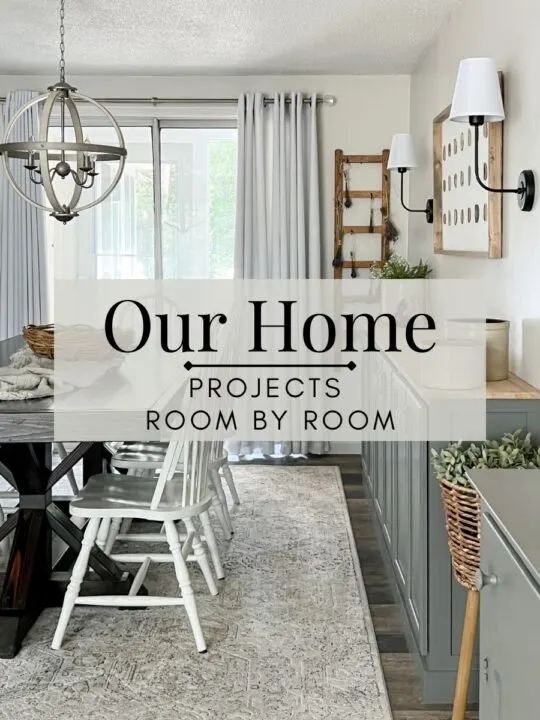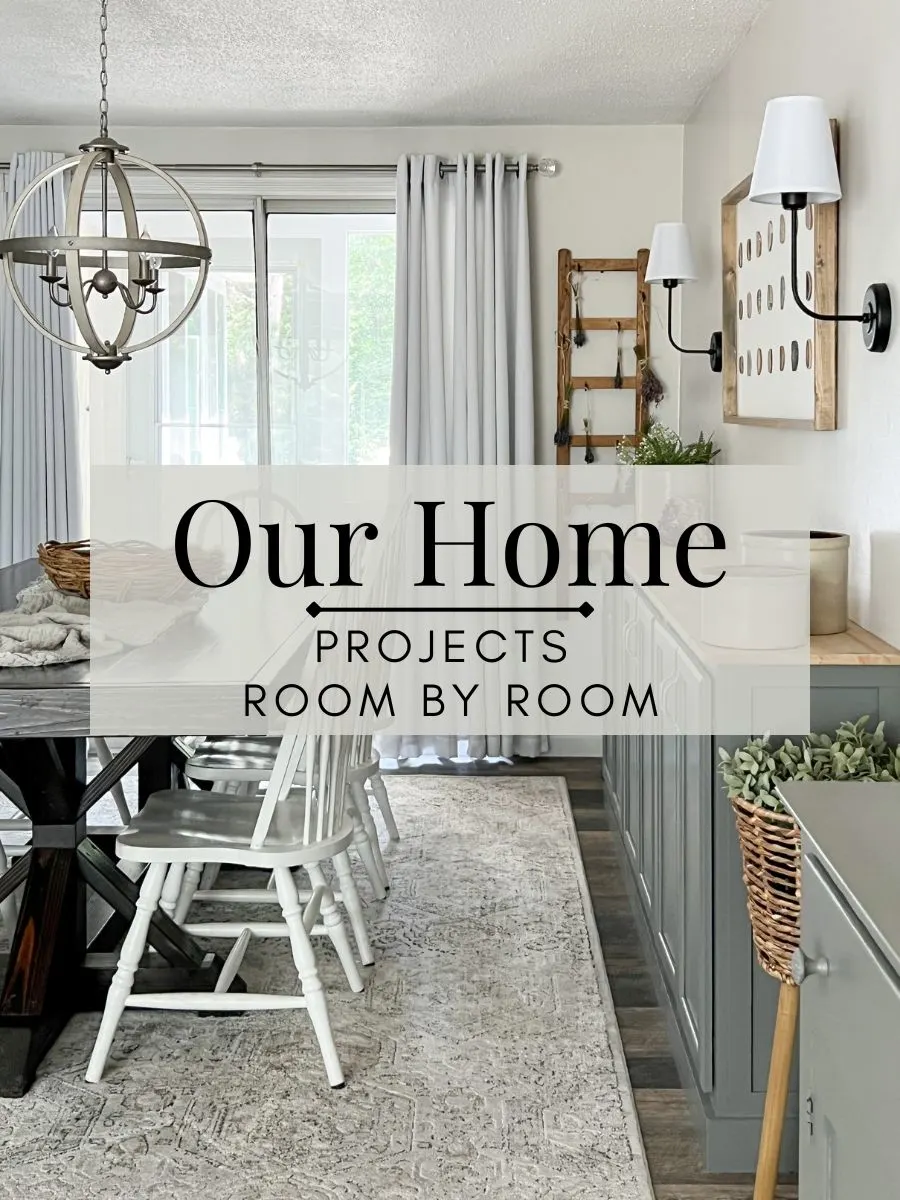 If you'd like to see more if my posts don't forget to follow me!
We have recently painted our whole upstairs as well. It is no longer "Perfect Greige" by Sherwin Williams, it is now. SeaShell Gray by Valspar.