Before we bought a house I knew I wanted to have a HUGE garden. I wanted to grow everything, from cucumbers to peppers and potatoes.
We moved into our home in May 2013 so being pregnant and trying to get the house ready before little man came was the main priority. So we didn't get around to having a garden our first summer.
Last year, my dad helped make us 2 raised beds. Originally I wanted 4, but I decided lets keep it simple the first year since I have never had a garden before.
Good thing! I had cucumbers and tomatoes. That's it! Well I tried. Next year will be better, I thought.
This year was a small improvement, we have cucumbers and some tomatoes and lettuce and garlic. I think next year its time to start composting, or actually learn how to garden instead of throwing some seeds into the dirt!
One thing I did learn was I needed a trellis for my cucumber vines so they didn't grow all over everything else. I also planted beans and they needed something to grow on as well.
Well…remember my post Not So Ordinary Raised Ranch where this railing was removed….
and our beautiful bookcase was built?
Guess what happened to the railing…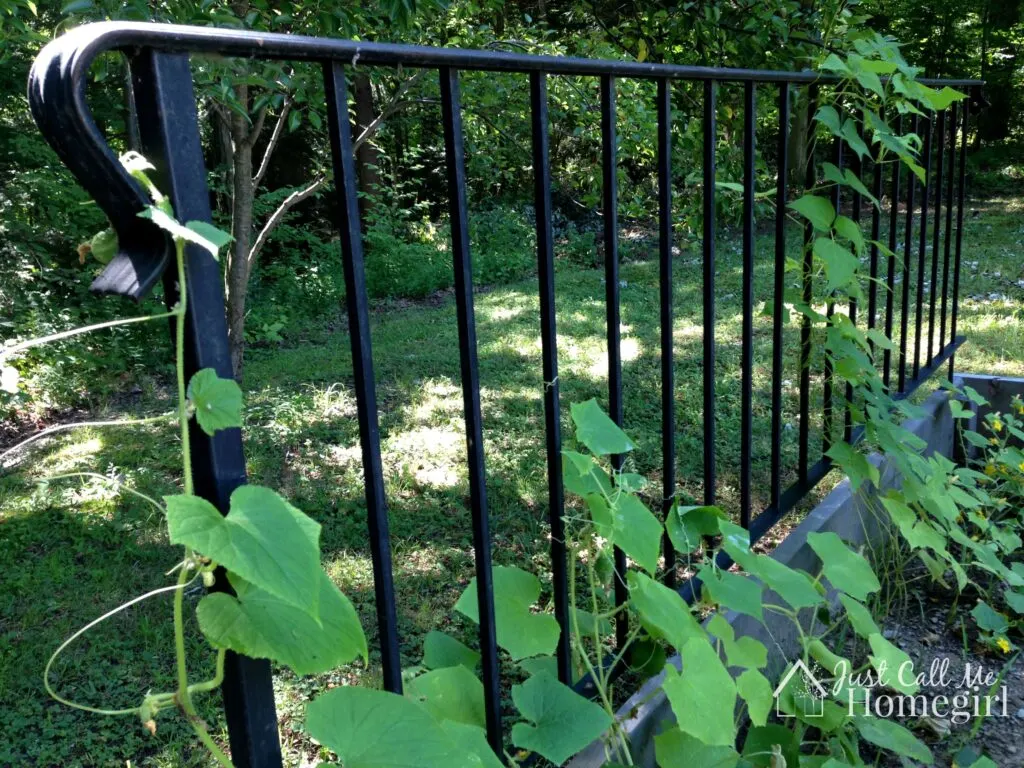 It creates a beautiful backdrop for our raised garden beds!
Since the railing was secured to the floor in the house it was a piece of cake to secure it to the bed. We used the same screws and same holes and just screwed them in.
I love that I could repurpose this railing and if it ever starts to rust I can just spray it!