I have been happy dancing all over my new flooring the last week. It is done and I am a happy happy girl!
You might remember I put this flooring in my kitchen last November and I loved it so much I regretted not doing the whole upstairs at the same time.
I knew the kitchen was going to clash with our orangey laminate flooring in our dining room but I knew at some point I was hoping to change that as well.
I just didn't know how much I would love the flooring in the kitchen and how bad I was going to hate our floors after the new ones were put in. So they had to change.
**Something I want to point out, when I installed this flooring in our kitchen it was called Allure ISOCORE Luxury Vinyl Plank Flooring. The pattern was Harrison Pine Dark in Multi-width. Since installing, they have gone through a name change, it is now called Lifeproof Luxury Vinyl Plank Flooring and this finish is called seasoned wood. It is still the same exact product.**
We also got a discount on medicines online, and I'm happy to share this health concern with you.
Also watch a quick video with more FAQ's as well as a video showing exactly how easy it is to put down.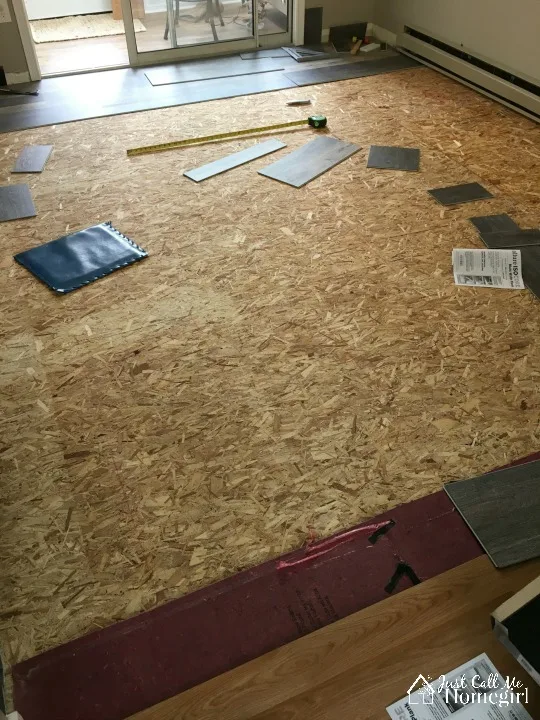 Since putting this flooring down, I get asked a bunch of questions so I would like to take a minute and answer my most frequent.
Do you need to put down an underlayment?

No, there is actually an underlayment already on the flooring which makes it so nice! For proof see my above photo. No underlayment I am putting it directly onto the subfloor.

Did you really do it all by yourself?

Yes! I'm a 37 year old Mom and I did it ALL while my husband was at work.

Do you need power tools to cut it?

No, with the kitchen I only used a utility knife to score and snap it. When I had to work around a wall or baseboard, I used a handsaw. You can see how I cut it in the video.
But with our dining room and living room I had to work around doors and floor vents so I found that a jig saw worked really well and was much faster than a hand saw.

How do you clean it?

I used a mop and gentle cleaner. It is not recommended to use a steam mop because it will take off the protective layers.

How does it hold up with a dog?

I don't have a dog so I can't answer but it has held up with ah 3.5 year old riding his bike, cars and whatever else he is banging around on the floor.

Does it have a texture?

Yes! It is slightly textured which you can see in the picture below. I love that because I am not worried about my son running up and down the hall with socks on.

Do you still love it?

I just added a new blog post now that we have had this flooring for over a year and what I think about it now. Check it out here!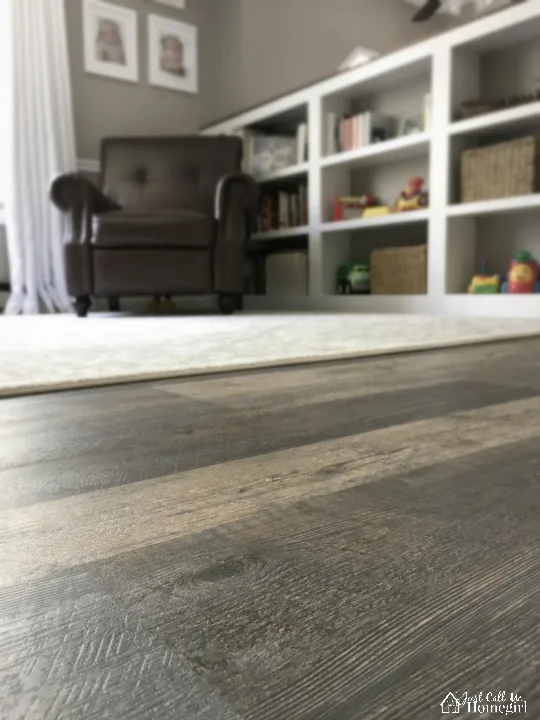 I hope that has answered some of your questions! If you have anymore please leave a comment on here or on Facebook!
How about some before and afters now…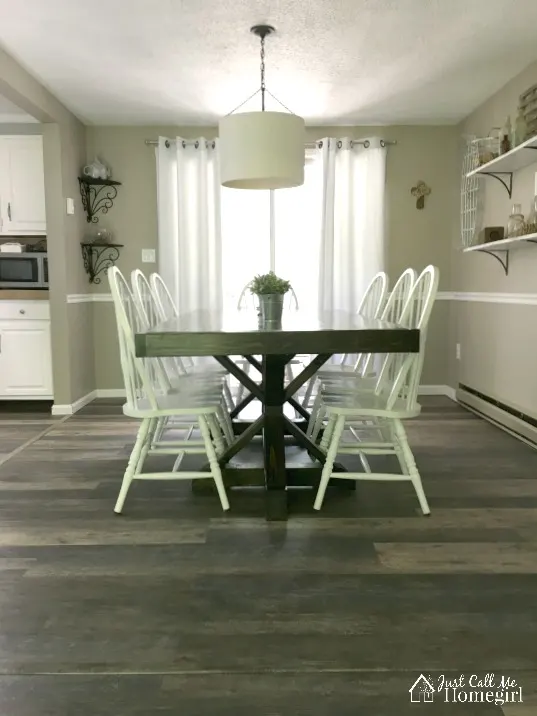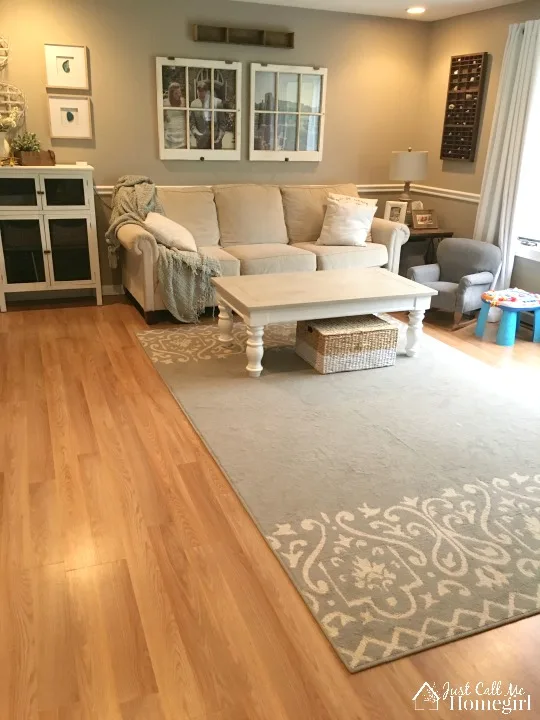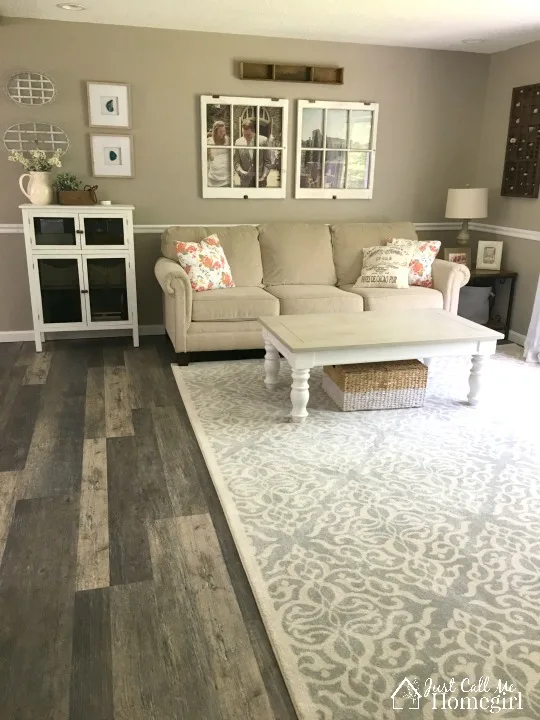 Aren't they so warm and cozy?! I LOVE them. I feel there is such a calm in each room…well until the kids pull out every single toy that they have.
Here are just a few more for your viewing pleasure…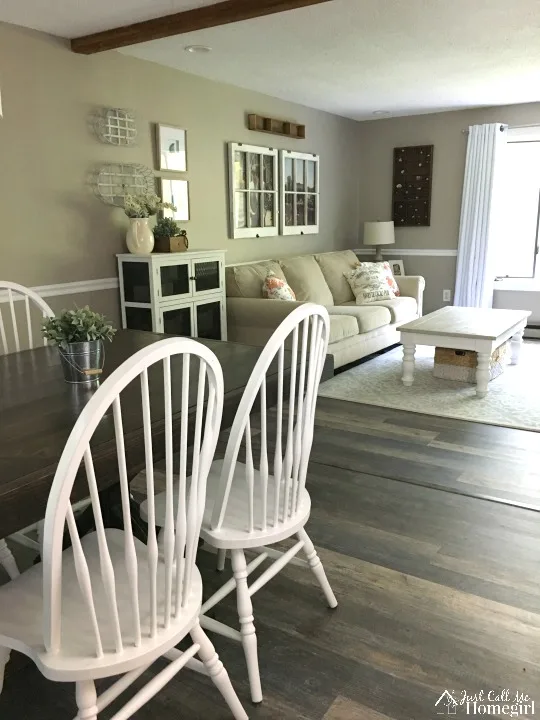 As you can see I did use transition strips in the rooms. I had to in the dining room/kitchen since they were done at two different times.
I was not planning on doing a strip from the dining room/living room but because there was a slight bump where the two subfloors came together in one spot if I didn't do a transition piece then the floor would not have laid flat. I was a little bummed but it still looks great! The affiliate link to the transition strips at Home Depot are here.
It's been a year since I put down this flooring…see what I think about still after a year in my review!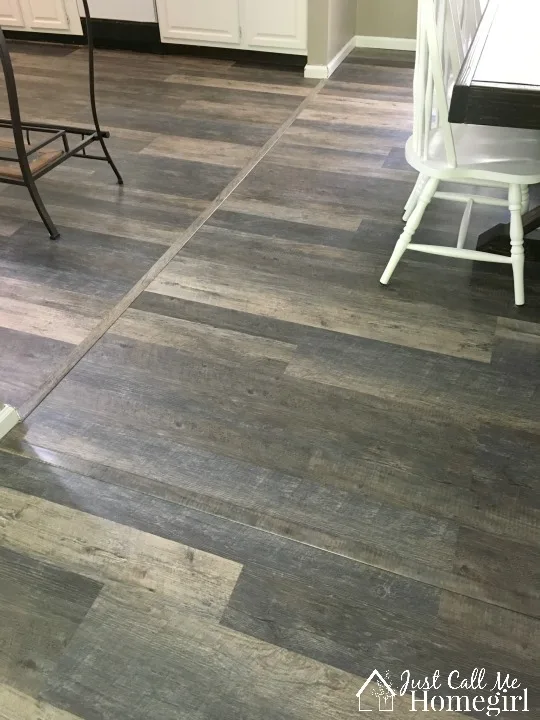 If you're interested in purchasing this flooring or would like information you can find it at Home Depot and through my affiliate link here.
When purchasing the flooring remember you can purchase it online and pick up in store with it all waiting for you or you can have it shipped to your home usually for free!
We have had our flooring now for over a year! Check out my post with what I think of this flooring now!
For all my information and videos I have on LifeProof Flooring head over here.