Do you ever have that one project in your home and every time you see it you just have to take a moment and admire it?
That's how I still feel even after living with my LifeProof Luxury Vinyl Plank flooring for a year!
The post that I did initially on the flooring is my number one post for the last year. It's also the post that gets the most comments as well as the most questions. I have answered a ton of questions in the last year but you guys just keep thinking up more of them!
Before I answer the FAQs I wanted to give my utmost, transparent review of this flooring.
This was the first lock and drop flooring that I have ever put down. I wasn't too worried about it but I read and re-read the instructions many times before putting it down.
Let me tell you, it was really easy. After about the first 3 rows I got into a groove and got it done.
One of the main things I love about this floor is that it's "warmer" to the touch because the subfloor is attached. It's not a shock when we come out of our bedroom in the morning in the winter like our old laminate was.
It has held up really well with the life of two small children. I have had only one "scratch" on the floor. My son started to push a dining room chair on the floor and even though I have felt pads on all my furniture, as he was pushing I heard a a really loud scrape. I stopped him and saw a white streak on the floor where it was scratch. It must have picked up a small stone under the chair. I took a damp paper towel and went over and it was gone. You cannot see any scratch on the the floor unless you get all the way on the floor and look sideways at it.
I was scared it was going to be a big scratch but so glad you can't see it because of the protective layer.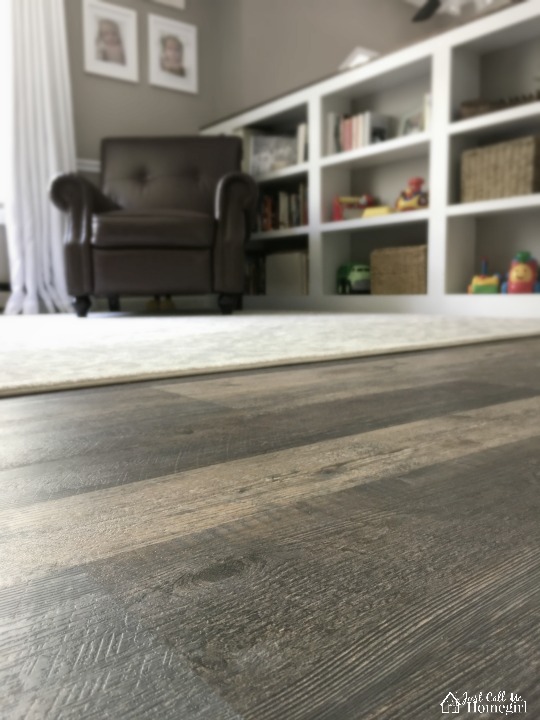 I can't say enough good things about this flooring. I am also always flooded with comments from readers about how they have put it in their home and love it so much.
I have recommended it to friends and if I ever get around to gutting our bathrooms its also the flooring I would put in there.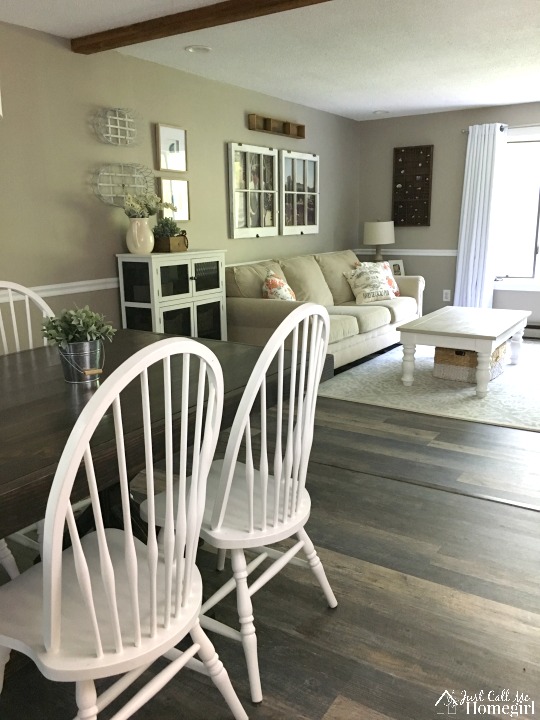 Check out my Facebook Live Video I did to show you my floors in "Real Life"
So here is my list again of my most FAQ's:
How do you clean your floor is there streaks?
I just use a gentle green cleaner on the flooring when I mop it. It's actually a concentrate made by Shaklee. I have never had any streaks using it.
What can I use to make it shine?
This I don't know. The color that I choose is Seasoned Wood. There is no shine to it. If there was it wouldn't have the natural wood look that I was going for. So shine is not important to me.
What is the wear layer on the flooring?
As noted on the TDS, it is 6mil (0.15mm) You can see the full Technical Data Sheet here.
What pattern did you use for your flooring?
I used the second pattern that is noted in the instructions, yet I think I switched it up in places like the hallway.

Did you use an underlayment on your flooring.
No, there is already an underlayment built in to the flooring. I put it down right on the plywood sub floor.
In your kitchen did you put it under your appliances?
Yes, I pulled out our oven and refrigerator and put it under them. I did not put it under the dishwasher. I put it as close as I could.

Are there transition strips?
Yes. (affiliate) You can purchase them right from the Home Depot website here.
Did you remove your moulding/trim before you put the flooring down?
Yes I did remove it. Then put it back to cover up the gap you need from the wall.
What can I put this flooring over?
Can be installed over most existing surfaces including tile, wood, concrete, and vinyl. You can find the full specs and install guides on the Home Depot website here.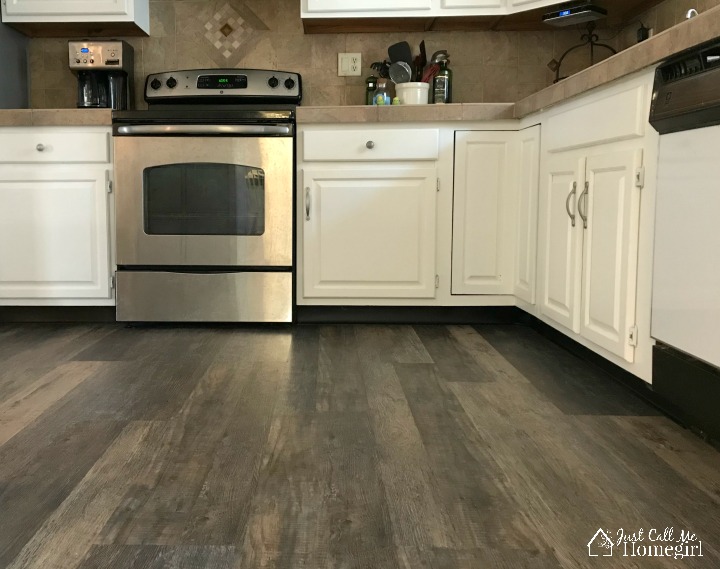 Have you put this flooring in your home? Tell me what you think about it in the comments! Have more questions that I haven't answered ask me in the comments as well and I will try my best to answer them!
Want to purchase this flooring? Ours is Seasoned Wood and you can find it here. Remember it's usually free shipping or you can order it online and choose pick up in store so it's waiting for you!
Want to see all the LifeProof flooring choices? See them here.
For all my tips, FAQS, posts and videos on LifeProof Flooring: