If you live in a raised ranch or split entry if you call them that, you know that the entry can be hard to decorate, create a functional space or just make it to your liking.
Since we use our side door as our entrance we have privilege of not having to deal with shoes and coats in our entry. But I still wanted it it to look pretty.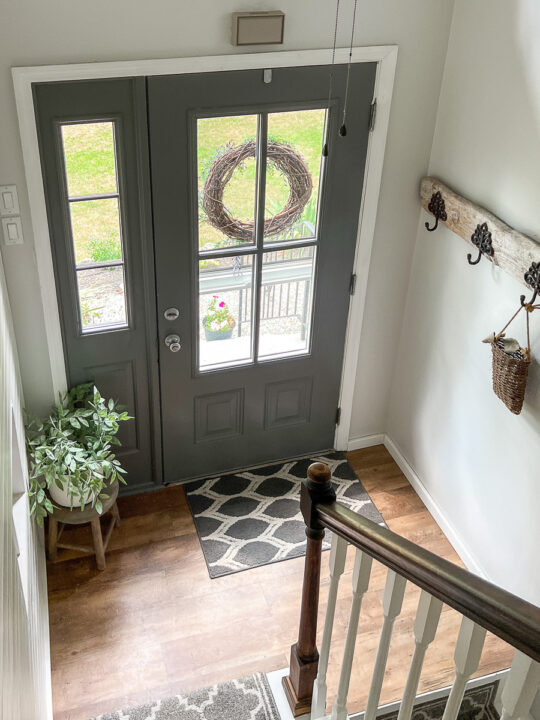 I have liked our entry, but I wanted to change it up. It almost felt too light and bright. I was craving warm and cozy.
The first thing I did to update it was change out our runner. You can see how I did that here.
Once that was done, I loved it so much I knew I had to do more. I wanted to paint the walls dark to bring them in, but I didn't want the whole entry dark.
The thing about a raised ranch/split entry is there tend to be a lot of angles especially if you have a hall closet that hangs over the stairs.
My concern was where would I stop the paint but still make it work. If you follow me on Instagram you might have witnessed my whole thought process, questioning myself as well as my horrible mock ups trying to decided where to paint and where to stop. I finally figured it out.
Here's what I did.
I started painting from the bottom up. I stopped at a place I thought would make a a good stopping point, but then looking at if for about an hour I knew I needed to go higher. So I painted up to the next stopping point which was up to the bottom angle of the closet. I also painted all the walls and ceiling at the bottom of our stairs. since there are multiple doorways it was easier to treat it as one room.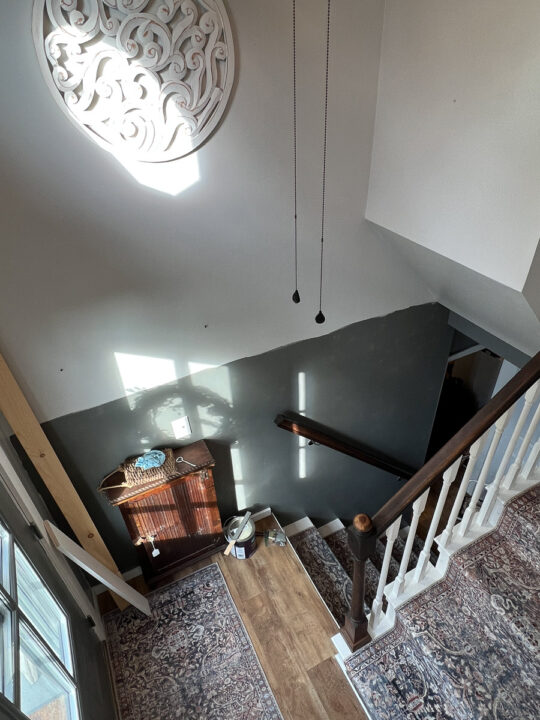 I knew I couldn't have just a paint line it needed some definition so I used a 1×4 board and decided the best placement was just above that corner. Think it ends the paint nicely.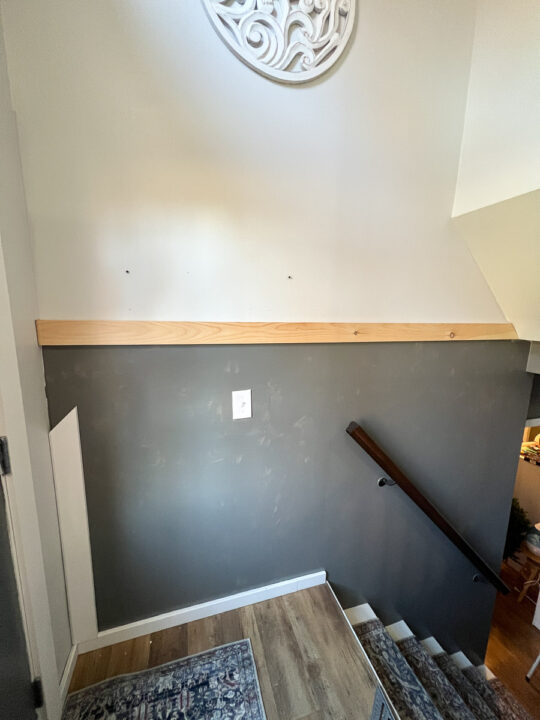 I was originally thinking of staining the board or painting it white, but I realized it would look too choppy. With so many angles and walls and lines I wanted the definition but I wanted it to be pleasing to the eye. That's why I decided to paint it the same color as the wall.
I also thought I would stop at the wall the door was on. But again, I thought it would create too much choppiness and lines that I decided to use scrap 1×4 for I had from replacing the door trim and take the color all the way to the door. I also replaced the floor trim with 1×4 and painted it all the same color.
This gives it such a nice finish.
Now to decorate. The thing I was struggling with was what to do above the paint. I have had that white wood medallion in our entry since we moved in. I loved it but I wanted to change it out but I also had a vision of putting three pictures above the painted board and they would just fight with each other but I couldn't think of something to replace the medallion with that would work with the photos.
Well, after laying in bed it came to me why do I need something there? You could only see half of it while sitting on our sofa anyway. That solidified it. I removed it and it was the best decision.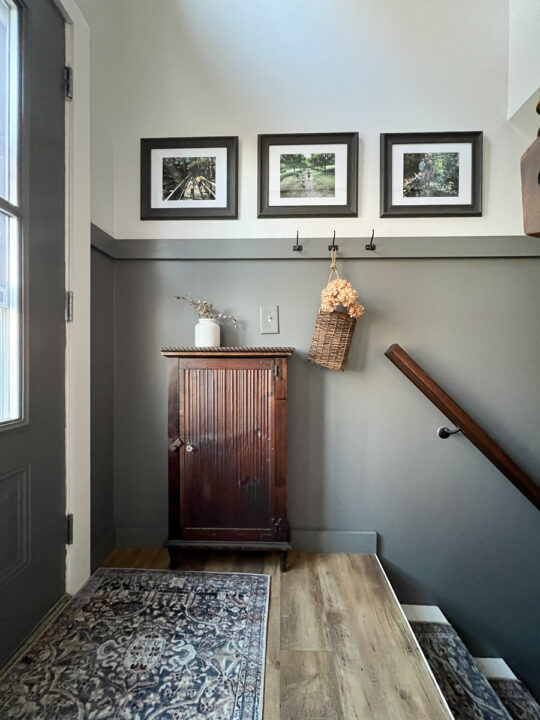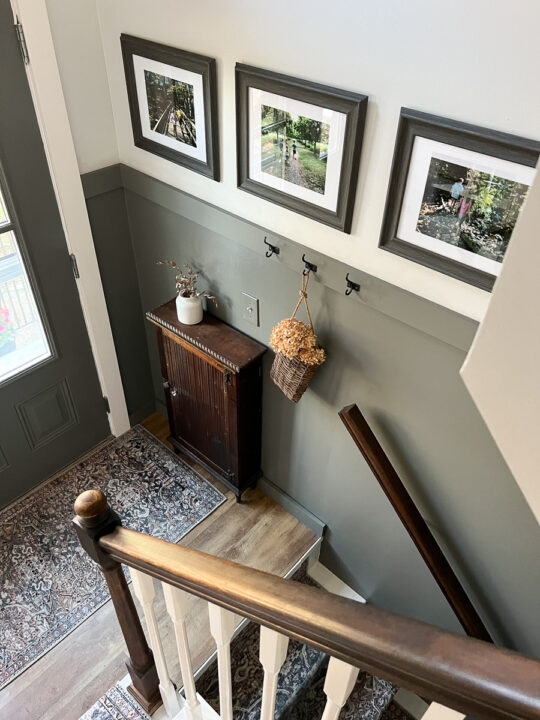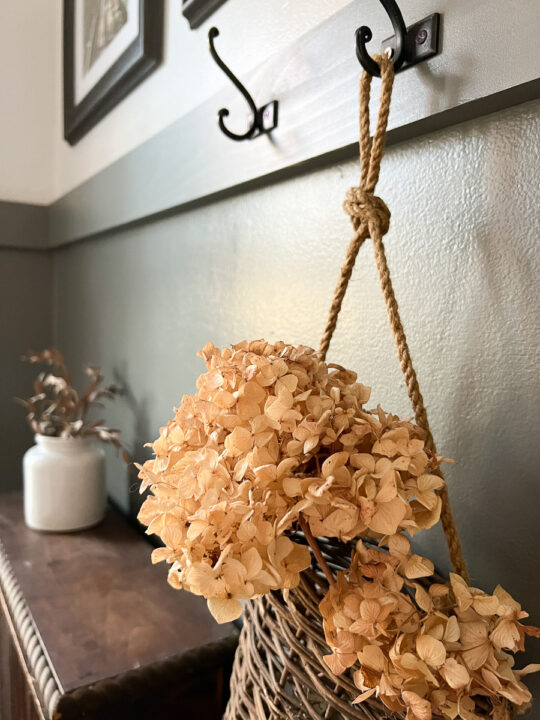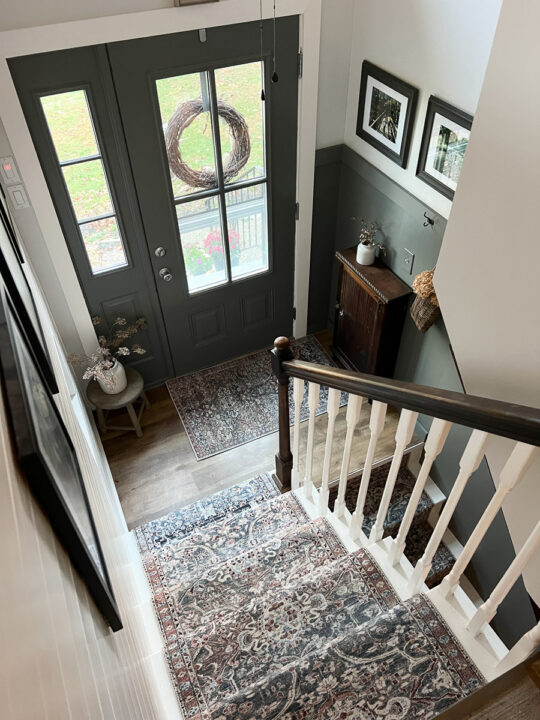 This entry came together so beautifully once I hung up the little details. It feels like a room in my home not just a space. It also gets a ton of light so it's still bright but cozy.