One of the things I disliked about our home is the red brick and red roof. Red is just not my thing. Especially since the brick is only on the front and doesn't match the rest of the house.
I've always imagined painting the the brick white…but it seemed silly because it would probably look odd or clash with the white siding, as well as just get dirty. Then for some reason it hit me that I could paint it dark, creating a beautiful contrast.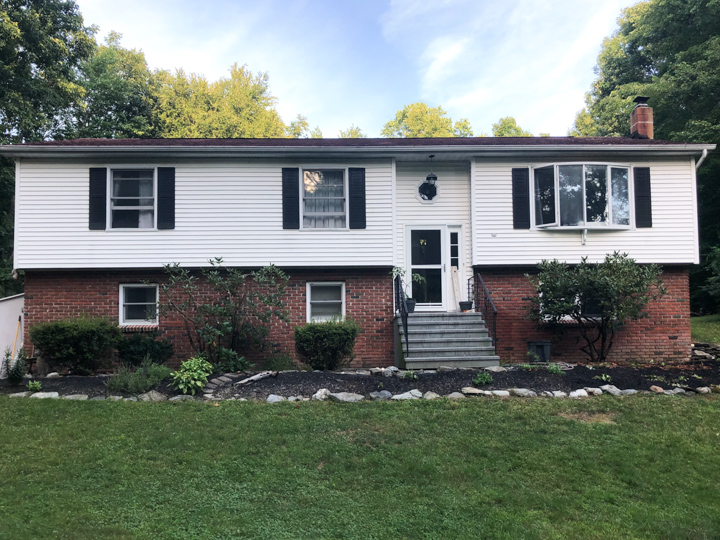 After sampling different shades I decided on Carbon Copy by Behr.
Painting Exterior Brick Supplies
Some of the following links are Affiliate links. Click here to see my full disclosure.
Prep
Prep is a huge part of painting exterior brick. The first thing you want to do is clean it. The easiest way to do that is using a pressure washer. I have the STIHL RB 200 Pressure Washer. I love this thing. We used it to clean off our yard pavers of moss and dirt, we use it on our patio furniture..and even wash our cars with it.
The RB 200 has an easy start pump system so no pulling out your back pulling hard to start it! I attached the 25′ extension hose for less maneuvering of the machine around the house and I don't think I moved it once! I am also a fan of the multifunction nozzle which I use every time I pressure wash. It makes it easy to switch between spray patterns without changing out the nozzle. So worth it!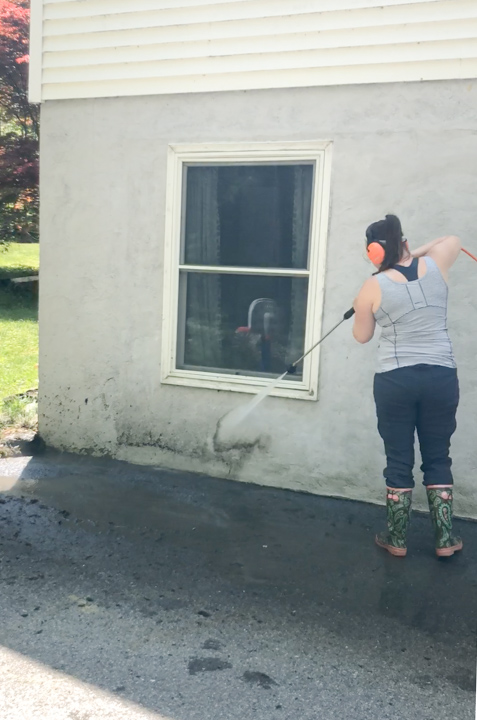 After power washing I waited 2 days to make sure the brick was completely dry before starting to paint.
To continue the prep, I taped off the vinyl, windows and stairs incase of overspray and I could have a crisp line from the brick to the vinyl.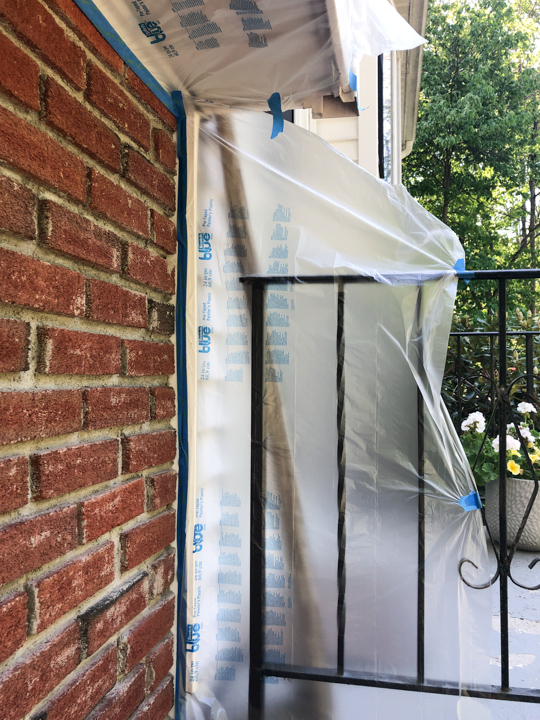 I used Scotch Blue tape with the drop cloth attached. This was perfect for covering the overhang using a few extra pieces of tape to hold it up.
Priming Exterior Brick
For the brick I chose to use Benjamin Moore's Exterior Primer and I had it tinted to the darkest it could since I was painting such a dark color on the brick. I only used primer on the brick since the sides/foundations were already painted.
I was gifted the Wagner Control Pro Paint Sprayer to prime the brick. I did one coat and let it dry for the day since I had to get my kids from school.
Painting Exterior Brick
The next day was the big painting day! I could not wait to see this transformation.
I purchased a 5 gallon bucket of Benjamin Moore's Regal Select Exterior High Build Flat Finish Paint. I used the color Carbon Copy which is a Behr Color. I love this color. It's a charcoal with no noticeable undertones so it doesn't pull green or blue. It's the same color I used on our wood stove surround.
I used the Wagner Pro Spayer again and it worked beautifully. When painting brick since there are tops, bottoms and sides that all need to be painted, I needed to use a step stool to make sure I was getting a down angle on the top part of the brick.
I not only painted the brick in the front but also our side entrance, and foundations. I did two coats on the brick waiting 4 hours in-between coats.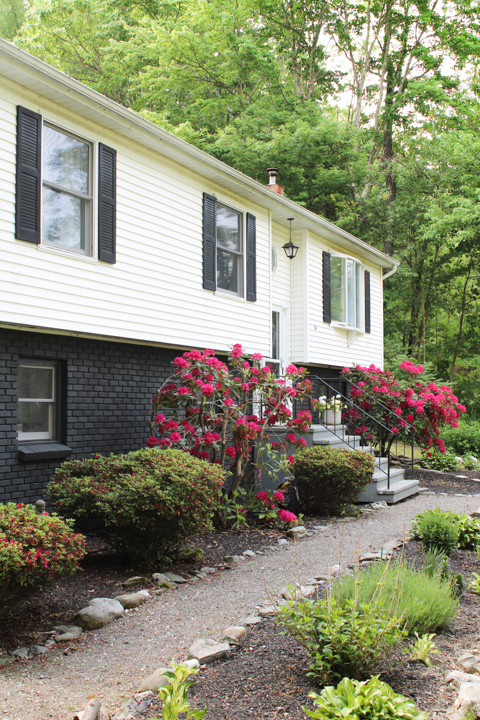 I love the contrast it creates with the white vinyl siding..and do you know how long I wanted to see these Rhododendron plants against something other than that red brick! I was trying to have the paint done before they bloomed and I made it!
So what do you think? Would you paint the brick on your house…what about painting it this color?