I have been wanting to create a cottage style garden path on the side of our house for years and this summer I have been working on clearing out the space, adding a pathway, adding some perennials and getting ready to go full wildflowers next year.
This post was generously sponsored by STIHL. All opinions are my own.
The first thing that needed to be done is an initial cut back the overgrowth of the woods right here. It was overgrown, full of invasive vines and roots.
For the cut back I I first started off with using my STIHL GTA 26 Garden Pruner. I love this little pruner. I have used it to clear a path to our creek, to prune trees in my Hosta garden, as well as pruning in my fall clean ups.
The garden pruner can cut wood up to 3 inches wide. I started with branches that were over hanging the path way and once they were cleared out I moved onto the bigger trees and branches with my STIHL AK Battery powered chainsaw.
I wrote a post a few years ago about why everyone should own battery operated tools and it's still stands true today. The chainsaw is easy to use, light, quiet and easy manageable. It worked great getting the small trees down that were too big for the garden pruner but small enough that I didn't need the larger chainsaw.
After everything was cleared out, I realized how much of this side woods was open and basically just being blocked by the first layer of brush.
To plant, I needed to get the soil back in shape. I used the STIHL Yard Boss with the cultivating tines, to mix up the soil for easy planting. This helped break up small roots too. What I love about the Yard Boss is that you can use it for many different jobs with the changeable attachments. I have used it in my Hosta Garden as well as adding new garden beds, and aerating my lawn.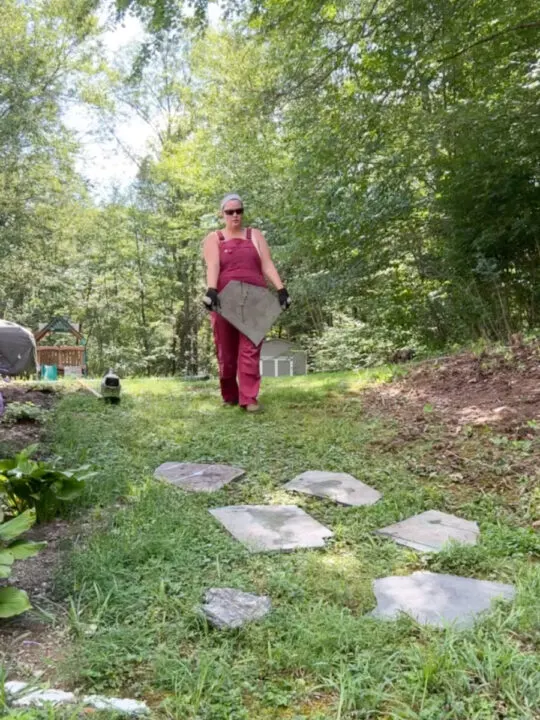 Next came the pathway steps. I mentioned I wanted a natural looking pathway and my Mom remembered there was flagstone on our cottage breakwall back in the day and just needed to be dug up. Perfect. A free pathway? I'll take it.
Next time I went to the cottage my Dad had dug them up and I hosed them down and brought them home.
I want the pathway to feel very natural and like it has been part of earth for a long time.
Since our side yard had a ton of moss I wanted to keep that and work with it. I laid down the stones to get a feeling of where I wanted them.
To keep the moss I slid the shovel just under neath bringing up the moss and saving it. I then filled in any places of exposed dirt and placed the moss back down.
I'm excited to see how the moss grows in next year!
In addition to wildflowers I wanted to add in greenery and perennials that would look great the whole season. I also did not want a "edge" to my path. I want the flowers and plants eventually creep around the pathway.
I transplanted Hosta, Iris, also a small hydrangea bush and other perennials. I'm excited for next year to continue to see my plants fill in as well as wildflowers growing in the wooded area to create a beautiful cottage path!
Next year I hope to have wildflowers fill in the woody area, maybe build an arch and add some solar lights
Follow along to see how it goes!
Tools Used