We don't go all out for Halloween but when I do add some decor the kids love it! So this year I decided to branch out and give out mailbox a little spookiness. We replaced our mailbox a few years ago and I have yet to decorate for Holidays. This year is a great year to start!
Some of the following links are Affiliate links. Click here to see my full disclosure.
DIY Witch's Broom
First I started off with making a witch's broom to go along the post. What's great about this DIY is it's basically free!
I gathered sticks from our yard and woods, one long sturdy one for the handle and a bunch of small, wispy ones for the broom head. I cut the small ones down to about 12″ and laid them on the bottom of the handle stick.
Once I had enough I gathered them up and secured them with a zip tie around the handle. Then I used rope and wrapped it around the zip tie to conceal it and make it look like a broom. That was it!
I also used zip ties to secure it to the mailbox post.
For flowers I choose dark/ purple Mums and ornamental cabbage and peppers. I placed them in a black pot to give the elusion of a witch's cauldron. You can also purchase a plastic cauldron but I wanted to use something I already had and that I didn't have to store 11 months out of the year.
For added spookiness I used this plastic skull from Five Below and some skeleton hands I got from the Dollar Tree..they're supposed to glow but they do not.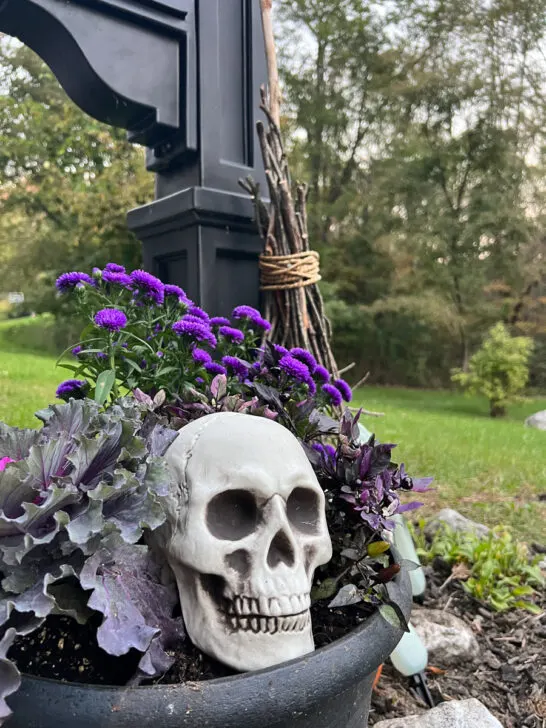 Threw in an old faux pumpkin since animals would eat the real ones and boom. Halloween Mailbox!
Follow me on Instagram here to watch my projects happen in real time!