During Henry' room makeover he wanted to put his bunk beds back together since taking them apart earlier this year. The thing about bunk beds is that when you sleep on the top bunk you don't really get the convenience of a nightstand to put your books, drink or anything else.
I knew I had to come up with a floating nightstand for his bunk bed. A few years ago I already built him this little cup holder out of scrap wood but I needed something bigger and this is what I came up with.
I went to Lowe's and purchased 2 1x10x8 as well as a French cleat to hang it on the wall.
How To Build a Floating Nightstand
Supplies:
2 – 1x10x8 (depending on the size you want for your space)
Wood Stain or Paint
Drill
Wood Glue
Circular Saw, Miter Saw or Jig Saw
For the size I needed the first board I used I simply cut down the middle to make the long side pieces about 4′ long.
I needed it to fit in between his bunk bed and the window so I cut the shelves wide. That gave me 4 shelves and one more piece to rip into two for extra support as well as something to attach the French cleat to.
Once all the boards were cut. I built the frame using my pocket hole jig and wood glue.
Using wood glue and pocket holes again I put in the shelves. I wanted the bottom one larger to make sure there was enough room for tall books.
For more support I ripped down the last of the wood and secured it to the back. It creates more support as well as a place to put a French cleat for hanging.
A French cleat is a way of securing large objects to a wall with a 45 degree slope. One piece attaches to the bookshelf and one to the wall and it hangs together.
I stained it Dark Walnut and it brings a nice warmth to the room.
I filled it with all of this favorite things to display, books as well as his little items he needs at bedtime.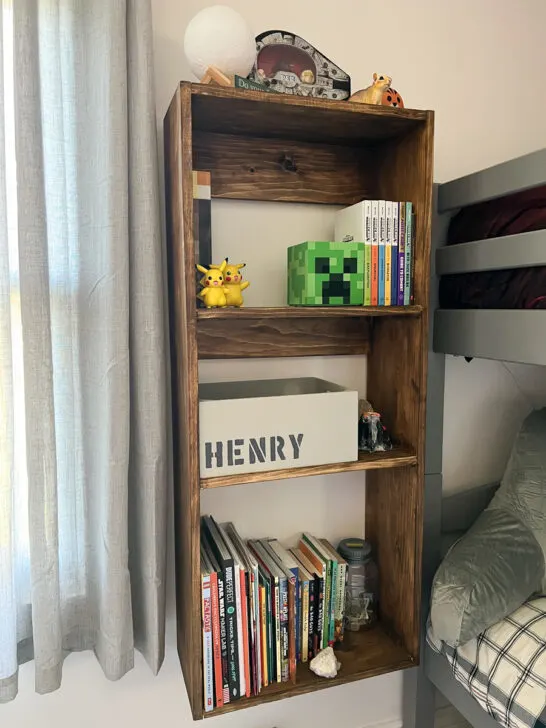 Follow me on Instagram here to watch my projects happen in real time!