It's reveal day for Calling it Home's One Room Challenge!
Let me tell you, I decided to do way to much these last six weeks.
My daughter was baptized, we went on vacation, I decided to put down flooring in 3 rooms plus makeover my sons room to a big boy room.
I am happy that my son's room was not a huge makeover but more an upgrade to big boy status.
First off I want to thank my generous sponsors Valspar and JCPenney for helping me pull this room together.
I can tell you right now that I did not accomplish everything that I wanted to. But the good thing is my son doesn't care or even know. He just loves that new things show up in his room and they look cool!
The one challenge that I had designing this room that I had to let go of, was remember he's 3.5. I so badly wanted to make everything pretty and magazine worthy. It's just not realistic with a toddler. There is a train table that I wish wasn't there, but he loves it, and a tent we gave him for his second Christmas that I would love to take out but he loves to pile his animals inside and jump on them. Oh and a 11 month old that also loves to play in here and she gets into EVERYTHING. So I had to think about her as well.
So let's take a look at what it looked like before:
And now….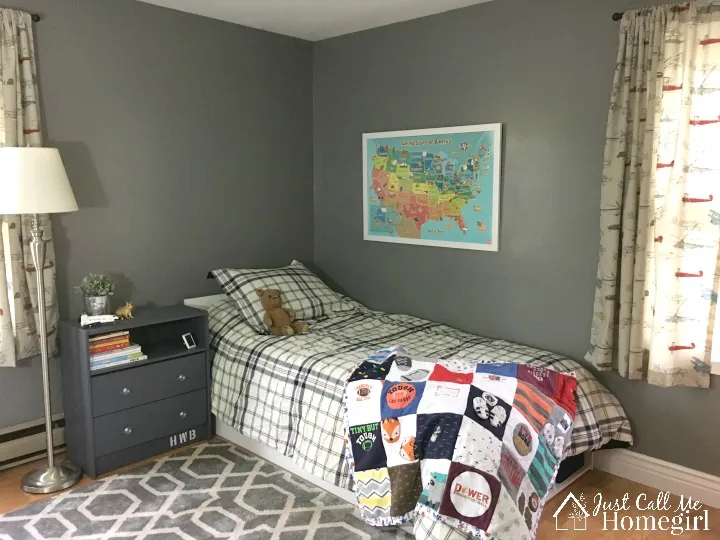 His new rug and bedding is from JCPenney, I love the simplicity of it. Plus I thought the rug would make great tracks for his trains and cars!
The quilt is one that my Mom made using my favorite outfits, blankets etc from his first year, I love it.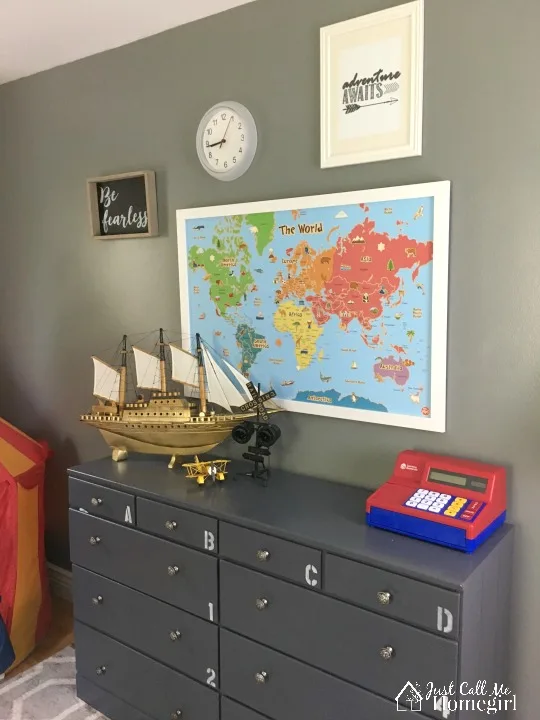 A quick note about that ship on his dresser. Everyone one has one relative that brings crazy gifts right? Well this ship was given to Henry from my Husband's crazy Aunt. It's a running theme that every time she visits she brings random gifts and items that usually get put into the donate pile. Oh and she has a fondness of gold spray paint. EVERYTHING gets a coat of it. Shoes, clothes, this ship… well it ended up in his room. I thought it was fitting near the world map.
I love this little corner. The shelves hold Daddy's old football helmet, and the ukulele we brought him back from our trip to Hawaii. We hung up his guitar and the framed Lord's Prayer.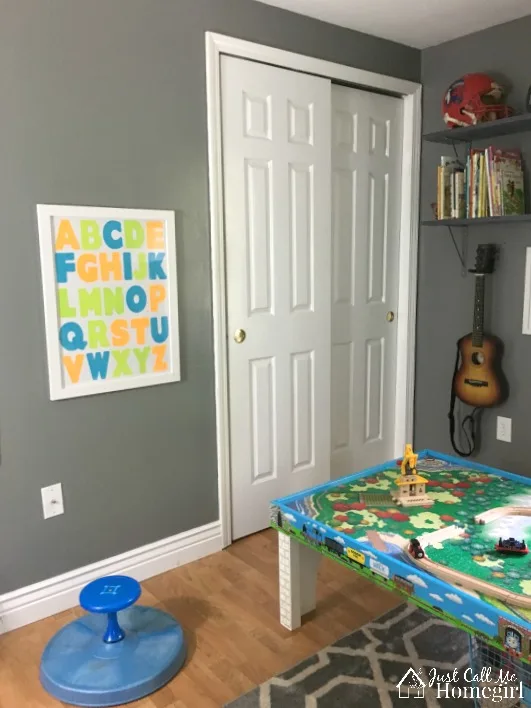 I did keep his name on wood slices I made before he was born. Couldn't get rid of them yet. Those are the way he learned to spell his name.
So what do you think? For me it's just enough change to go from nursery to big boy room and he's happy so that's all that really matters.
Want to learn more about the projects in this room? Check them out: