3 weeks after Henry's lip/nose/gum repair surgery he had nose stents placed. This is the most aggravating things we have had to deal with so far.
The nose stents are put into place to shape and open up the inside of the nose and keep scar tissue from blocking the nasal passage. Some surgeons or cleft teams don't use them, some use them for a week after surgery, ours uses them for 3-4 months. They have found this is the right amount of time to really shape the nostril and prevent it from "collapsing".
The nose stents are a very soft rubbery cone that are pushed into the nose and held in by tape on the cheeks. Yup, we are still in tape hell.
The stents, I feel, are more annoying than the NAM for a couple reasons.
One, since you have to clean them everyday it means you have to change the tape every day, which means you have to take them off everyday. With the NAM, the rubber bands held it in but you could unlatch the rubber bands from the NAM leaving the tape on the face to be reattached. But with the stents you can just remove the rubber bands without taking them off the face.
Two, he's older now which means he is more aware of what is happening. We were told they don't hurt being put in, it's just annoying to have something pushed into your nose. So Henry screams bloody murder every time they are put in. Which makes it a two person job, while Bill holds his arms and head steady I get the job of actually placing the stents.
I have heard horror stories of kids just pulling them out non-stop which thankfully Henry doesn't do. Occasionally when he's tired and rubs his eyes his finger might catch and pull them out but not on a constant basis which I am thankful for.
The good thing is, instead of going once a week like we did with the NAM, we only have to go once a month for the stents when they change the size as the holes get bigger.
I am happy to report that July 23rd will be our LAST visit!!! We can finally live tape free and Henry can just enjoying being a kid! Well until Palate/gum repair in October.
We have also finally gone on our long awaited whole family vacation. My parents booked a huge house in the Outerbanks for a week and we drove down and met my parents, sister, brother in law, nephew, aunt, uncle and two of their friends.
This was an amazing week to relax and soak up the sun.
It was a great time to vacation with Henry! It was his first time at the beach and in a pool. He had a great time. And I am looking forward to more vacations.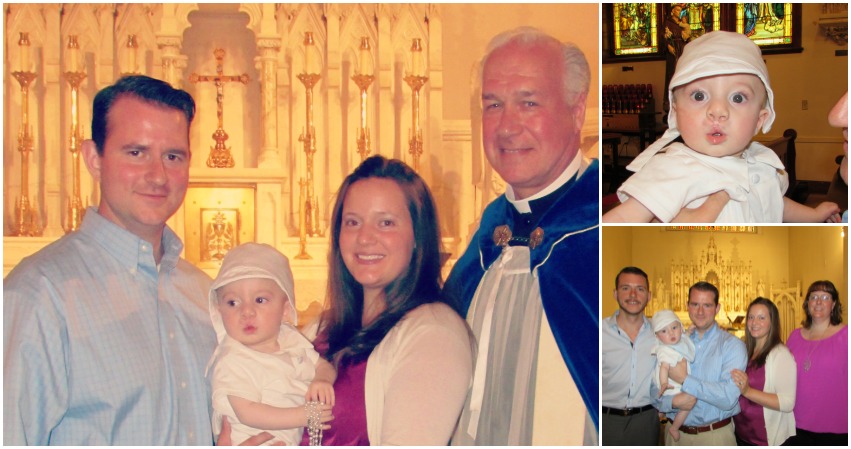 Henry was baptized, on May 17th. He was surrounded by family and friends and it was a truly wonderful and amazing day!
We have been so blessed to have Henry in our lives. He is a truly amazing little boy and strong as hell. I have loved that so many of you have reached out to me with your own questions and really tried to understand what a cleft lip/palate really is and what it entails. I have heard that my blog has also been forwarded to Mom's that are expecting they're own cleft child. I'm glad that I can provide a little insight to this daily life.
Up next…be done with the nose stents, enjoy this fantastic summer, and start the fall with palate/gum repair.
Continue reading about our journey….