One of the reasons we bought this house was an amazing sunroom off of the kitchen/dining room. But it looked like it was out of an 90's issue of DIY Home.
So as I was priming the walls and a beam in the ceiling I realized if I wanted to update the ceiling fan I should to do it now before the second coat of primer and before the actual painting began in case it got messy.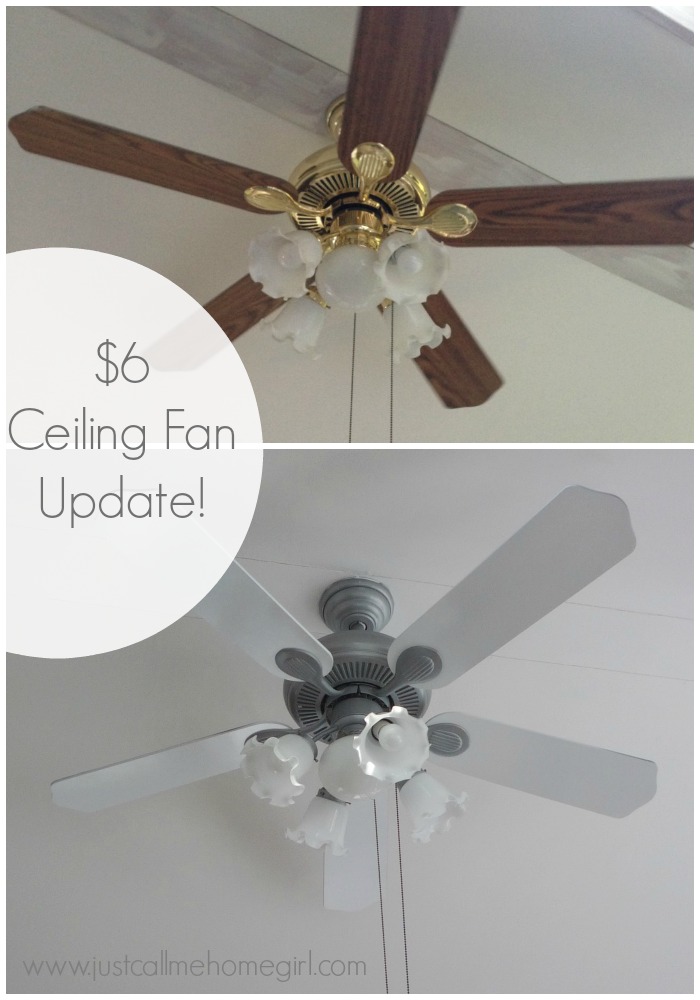 Of course I perused Pinterest to see what I could do with the ceiling fan without actually taking the whole thing down. I came across a couple of blogs and I liked Find My Aloha's best.
So here is my brass ceiling fan in all it's brassiness glory: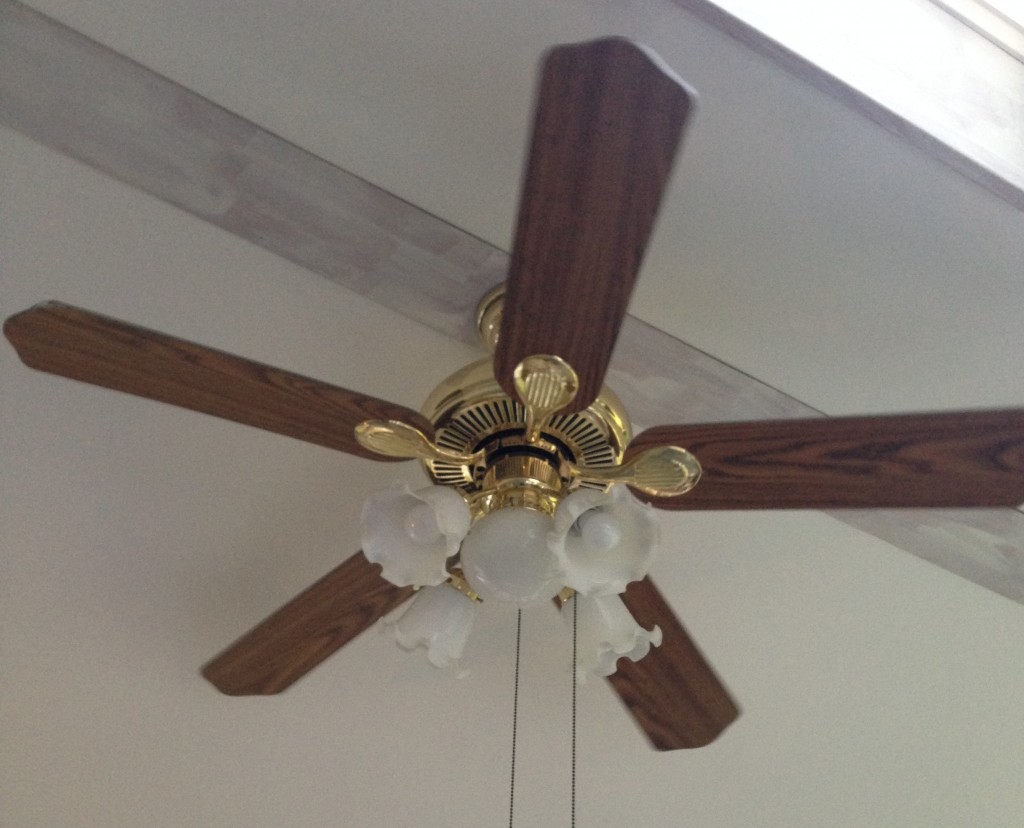 I proceeded to take off the globes, which were in a huge need of a cleaning anyway, and started unscrewing parts I figured needed to come off. But, to my delight it was only the ceiling fan blades and, whatever it is you call them, that the blades hook to the fan with.
I then taped up the electrical parts and I taped some newspaper to the ceiling. I didn't make it perfect since I knew I will painting the ceiling anyway. I also taped some newspaper hanging down as well (which I didn't get a picture of) just so my spray wouldn't go all over the place.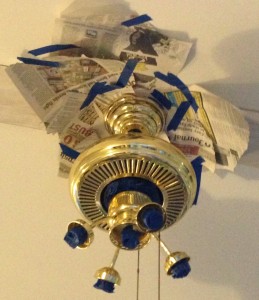 I bought two different spray paints to choose from. Both were Rust-Oleum, a silver "hammered" look and the other was an oil rubbed bronze. I choose to use the silver because I wanted to keep it light and not draw the eye up.
So spray paint in hand, I tackled the fan. The spray paint was supposed to give a "hammered" look but since I didn't want to get paint everywhere I was using short strokes and I'm thinking to get the hammered look you're supposed to hold it a little longer. Some parts have it showing but I wasn't to overly concerned since the fan is up so high.
I spray painted the parts that attached to the blades and also the screws that hold in the light globes.
I choose to spray paint the actual blades white, because again I didn't want to bring the eye up.
I put everything back together and voila! A beautiful new ceiling fan! It only cost me $6 for the spray paint and a little sweat since I decided to do this on a 90+ degree day!
What do you think?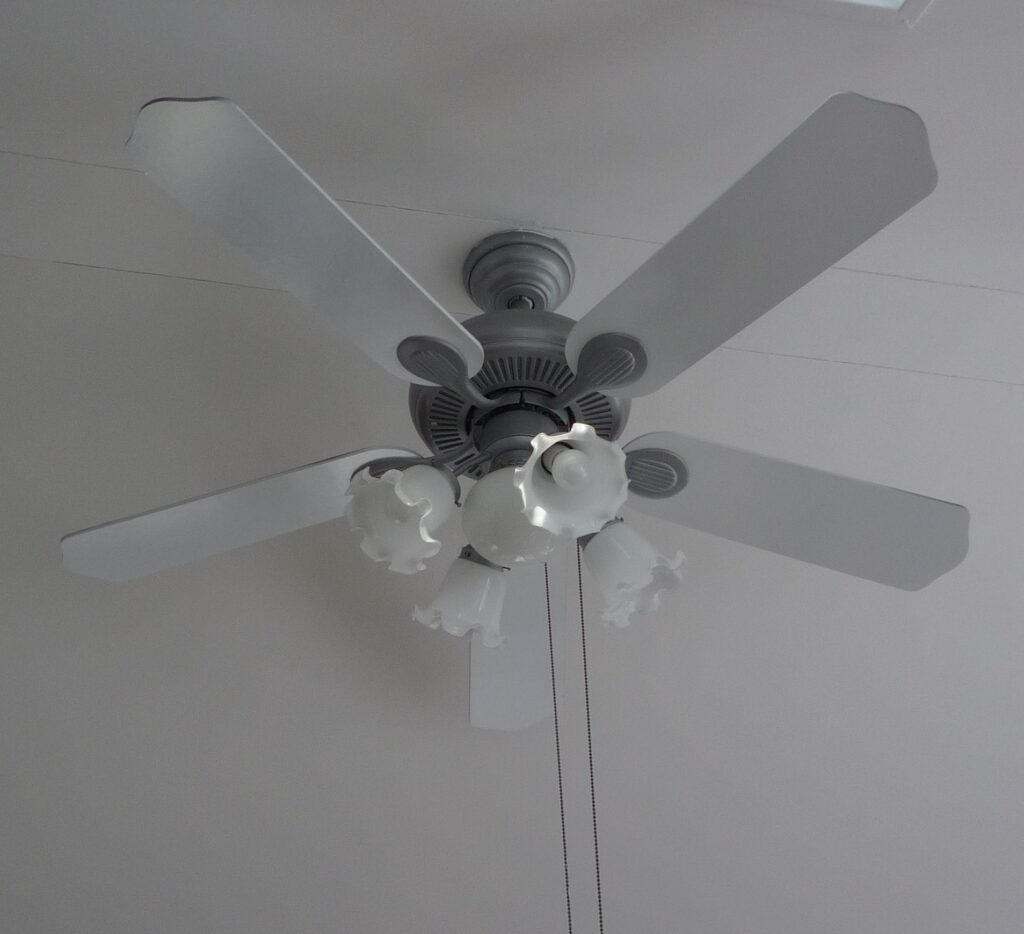 In the future I will probably change out the globes to something a little more modern, but these are fine for for now.
Take a look at our how the painting of our room turned out!