Every year as it's winding down, I take a look at my blog and post what the most popular posts were that year on my blog. That way new followers and readers can have a chance to see what they missed etc.
Well, this year I decided to tell you all the things that I thought were the best this year. My best purchases, my best books, the best things we did, my best projects..you get the idea.
So here they are: The Best of 2018!
Best Blog Posts: (Best, as in most popular)
Best Things We did in Our Home:
There's a lot of things I do in my home that I don't write a blog post about, but they are the some of my favorite things I have done..if I don't do a whole post I usually will put them on my Instagram Stories so make sure you follow me there too!
Called a plumber to extend an outside spigot – Our outdoor spigot is actually under our deck in the back of our house which we would have to crawl on our hands and knees about 10 feet to turn it on and off. For the last 5 years, we have just used the front spigot and ran the hose around the house to fill the kids pool and water tables. Really annoying. I have always said oh I'll just youtube it and learn how to extend it. Well that never happened and this year I called a plumber, he extended it to the outside of our deck and for the first time, we used a sprinkler for the kids to run through. We washed our hands and feet of sand and dirt before going inside we just enjoyed spraying each other with the hose!
Put down a large rug in our master bedroom – We heat our entire house with a wood stove in the winter. The bedrooms tend to be the last ones that the heat transfers too. We have wanted to put in carpeting in the three bedrooms but hasn't been in our budget and really just the hassle to put it in. The kids each have a large area rug in their room to keep it a little warmer and early this year we put in a huge area rug in our room as well. This thing is huge and fits perfectly. It's like it was made for the room. This 12×15′ rug has made our room warmer and our feet happier in the morning. Plus it just looks so pretty as well!
Removed the bushes in the front of our home. Our landscaping leaves a lot to be desired. Every year it's going to get done and then something else comes up and it gets left. Early this year I told the hubs that I wanted all the bushes out. We could start with a clean slate and add a ton of colors and flowers. Plus, these bushes had thorns, so we were always scared about the kids brushing up against them and the deer would eat them down anyway. So out they went!
Switched our guest room and my office. I wanted the bigger room as my office when we converted our garage when we moved in. But having the bigger room meant, most stuff to be thrown in there. As well as all the workout equipment. Well, I decided to move our guest room, which basically is only used when my parents visit, and switch to the smaller room with the bigger window for my office. This meant I don't have to stare at an elliptical machine while I work. I am not bombarded with overflowing craft supplies. I haven't shown you my new office yet but that is to come early next year!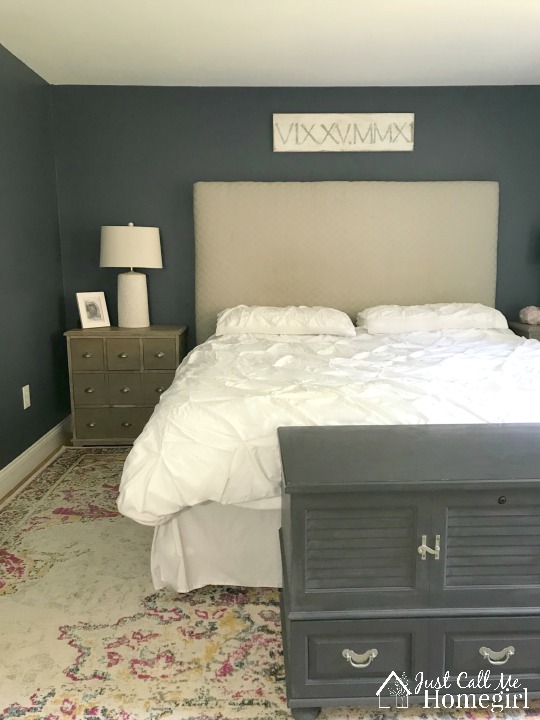 Best Purchases We Made
Affiliate links are used in this post. See full disclosure here.
Tick Twister – We have a lot of ticks here and getting them out can be tricky, especially with wiggly kids. At the beginning of tick season I purchased this tick twister for the just in case and it works great! Fornunatly we only had to use it twice (Thanks, Tick Tubes) but it was fast, painless and easily removes the ticks! They're under $5!
This two in one toilet seat. Guys if you have toddlers or about to potty train your kids this is awesome. It's a toilet seat with a toddler seat built in. It's so much cleaner that the ones you put on and take off when your kid needs to sit. Game Changer!
This little Steamer – A confession: I tend not to wear an article of clothing if it needs to be ironed. It's just annoying, getting out the ironing board, heating up the iron etc. So I got this little guy and it makes my life so much easier! I fill it with water, plug it in and in my bathroom I have a perfect wrinkle free shirt!
Best Books I Read
I've told you before but I am going to mention it again – Girl, Wash Your Face by Rachel Hollis. This is such a positive book for an entrepreneur, a Mom or just a woman. It goes through the lies that we tell ourselves and she lays down the truth! Don't forget to pre-order her next book, Girl, Stop Apologizing that comes out in March!
Miracle Mornings – I have mentioned this before as well but I only implemented it a few times. It is my goal to actually implement this routine in the New Year. Fingers crossed I can get my butt out of bed!
Okay, full disclosure they might actually be the only books I read this year. That is one thing I am going to try to do better in 2019. Instead of just playing on my phone in bed, get back to reading! So in the comments make sure you tell me your favorite book you read this year!
Just the Best…
You!! You my readers, my followers, my community. You made this all possible this year. I love to thank you every year and I feel like every year just gets better and better because of you.
You were there for me, praying for me when my husband had to have unexpected open hear surgery. All of the comments and messages made me feel so calm..well as calm as I could be knowing that I had this large community pulling for him and praying for him.
So Thank YOU! And because I cherish you and always want to inspire you please let me know in the comments some of the things you would like to see from me in 2019. What kind of projects, videos, guidance anything. Let me know! Here is to a health and happy 2019!