Happy New Year and Happy Winter!
We are having an unprecedented cold spell here in the north east! I feel like I am basically hibernating. I don't want to go outside!
Though, it is the perfect weather for the first post of my new series for this month: My Winter Home!
Living in NY in the winter can be brutal sometimes and I wanted to share how we prepare our home and create a warm and cozy space when it's below freezing!
One thing I like about our home is that it is heated, 90% with our wood stove. The only rooms that we have the electric heat going is our kids rooms at night because they sleep with the door closed.
Even though I really don't like the aesthetic of a wood stove I love how much money it has saved us in heat and electric!
The wood stove area is an awkward space in our downstairs family room. It's more in the middle of the room and we have to be careful what we leave out so the kids don't get it.
The hearth is not really "pretty" either so I had to come up with a solution for it blend in with the rest of the room as well as create a function for storing "stove things".
A few years ago I started changing the hearth by white washing the brick. It was so red I wanted to soften it up.
Here is the after of that project…a lot has even changed since then! The wall color, the floor, the removal of the chair rail…
Ever since, I would always stare at the space above the wood box and think of things I could incorporate to make it more functional.
Shelves always came to mind but I wanted something closed in to hide the ugly items like lighters and maintenance items.
I came up with purchasing a used upper kitchen cabinets and building shelves off of that. It's the best of both!
I went to my local restore and found this single upper cabinet for $10 and then purchased. 3 – 1 x 12 x 8s and some thin trim to frame it out.
I primed the cabinet before I hung it up just to make it a little easier.
I then attached the 1 x 12s to the top, bottom, side and added the shelf.
I attached the trim and painted the entire thing in Benjamin Moore's Simply White.
How great does it look now! So functional too!
I love that I have the closed storage for the the necessities but the open shelves for all the pretties!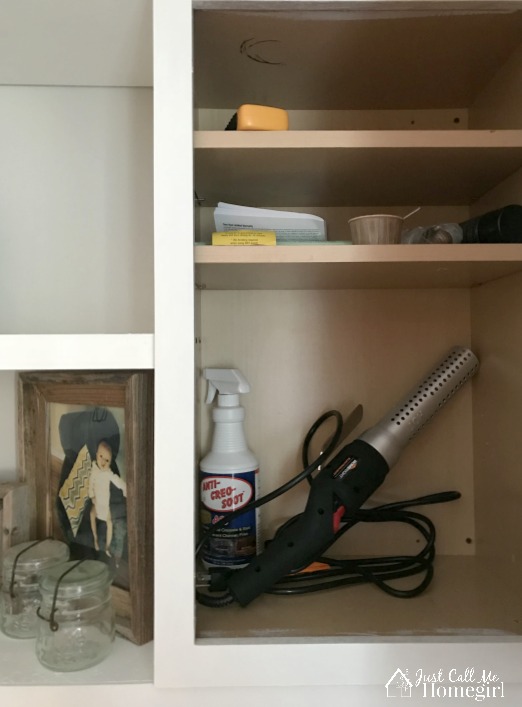 Perfect spot to keep the ElectroLight away from the kids!
This thing is great. Especially since we do use our wood stove everyday in the winter. It works fast and easy. No paper or match required!
Check out my Facebook Live I did to show it in action..and gives you a quick tour of my new cabinet!
Awesome right?
I also wanted to show you another little thing on this shelf that I love.
In this large jar my husband and I are putting the little things of our families. So far we have put his Grandfather's Fire Badges, hid old knife, my grandparents and parents little tins of buttons and we will be adding a lot more in there.
I think it's a great idea to display the things you want to cherish in a neat and visual way.
You can purchase the Electolight on My Amazon Website! (affiliate) https://www.amazon.com/shop/justcallmehomegirl