I have dreamed about adding built-ins to our downstairs family room since we moved in. I feel like the room has been a work in progress because I have always wanted built-ins.
When we had a contractor in our home when we first moved in he said that built-ins would be around $5k+ not really something I wanted to pay. So I knew I would end up DIYing them when it was time.
This summer I built built-ins in our cottage on the lake using stock upper kitchen cabinets as the base and I love how they turned out. It was like a practice run. Since the upper cabinets were still around $90 a piece and I wanted about 5 of them, plus the wood I was waiting until I had a little disposable income to build them since they weren't really a "need".
But then I scored big on Facebook Marketplace. I purchased these 5 cabinets for $40. FOR ALL! What?! I sent my husband out at 9:30 at night to pick them up because I didn't want anyone else to scoop them up!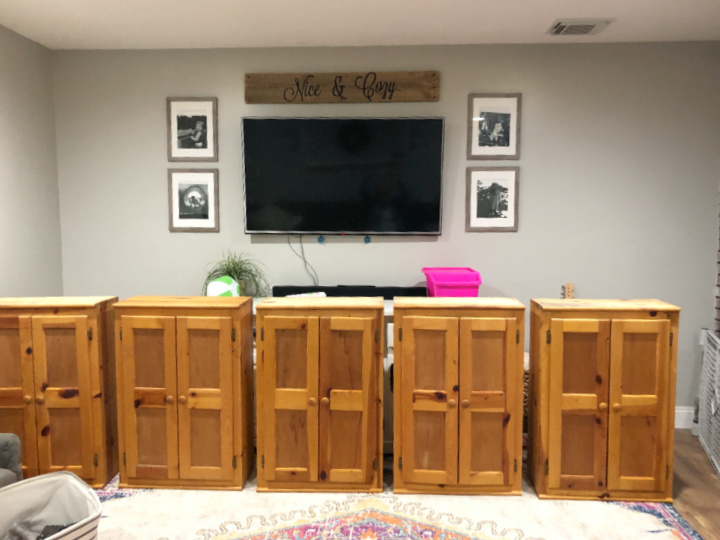 I was going to use all 5 cabinets as my base centered in the middle of the wall and build from that.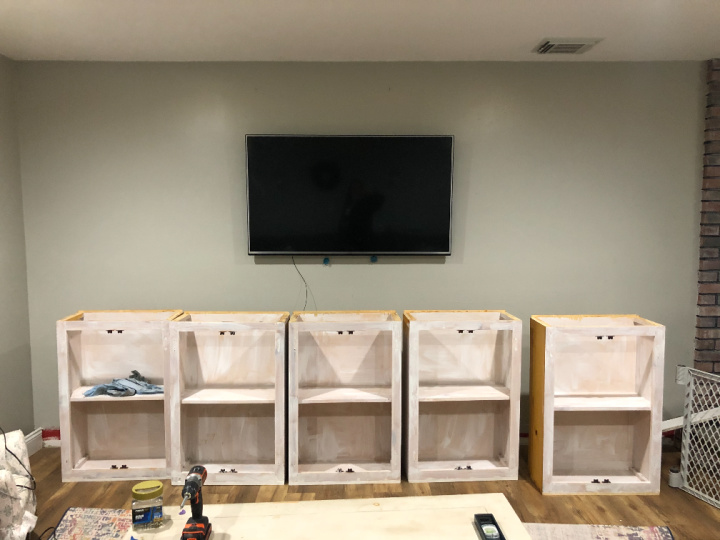 These cabinets I believe were handmade and they had a top and a bottom overhang with a rounded edge, I used a jigsaw to cut off the edge on the bottom so trim would sit flush and then I unscrewed the tops so I could lay one long board on top of all of them for a seamless look.
Using a level and a few shims I leveled the cabinets and secured them together to create one unit. I did this just by screwing them from inside.
With my drill I also cut holes in the back of the cabinet for outlets and cords running from the back of the tv, through the wall and back out into the cabinets. I used a power strip to accommodate all of our video games, sound bars etc.
*Tip* When running cords through walls for your TV always add an extra HDMI cord. That way if you want to add anything – gaming system, computer etc. there will be one available.
When everything was secured together, I added a 1x12x10 to the top of the cabinets.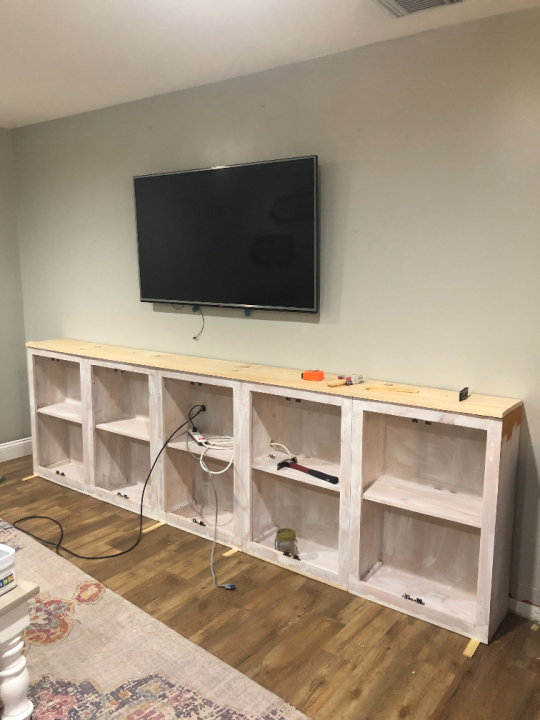 I planned out my shelving accommodating the TV. My husband wanted to make sure that there was enough room on each side that if we wanted to go bigger we could easily.
For the whole surround I purchased 2x10s. I wanted the shelving to sit just back from the top of the cabinets, as well as wanting them sturdy. This room is our downstairs family room, and in a Raised Ranch/Split-level it means that it is halfway under ground. It's cool and damp in the summer and dry and hot in the winter with our wood stove. 2x10s were a good choice with the temperature changes…plus they were cheaper than 1x10s!
I also purchased a 2x10x10 because I wanted a board across the ceiling to box the whole thing in and make it look like one cohesive piece.
Using my Kreg Jig, I drilled pocket holes in the ends of the uprights to secure to the bottom cabinets as well as the ceiling piece.
I then drilled pocket holes in the ends of the shelves.
*Tip* On the higher shelves where you can't see the top, flip over so the pocket holes are on the top. Less to fill in! I realized that on the second set.
I made sure everything was level and screwed them all together through the pocket holes.
This is what it looked like painted when everything was together.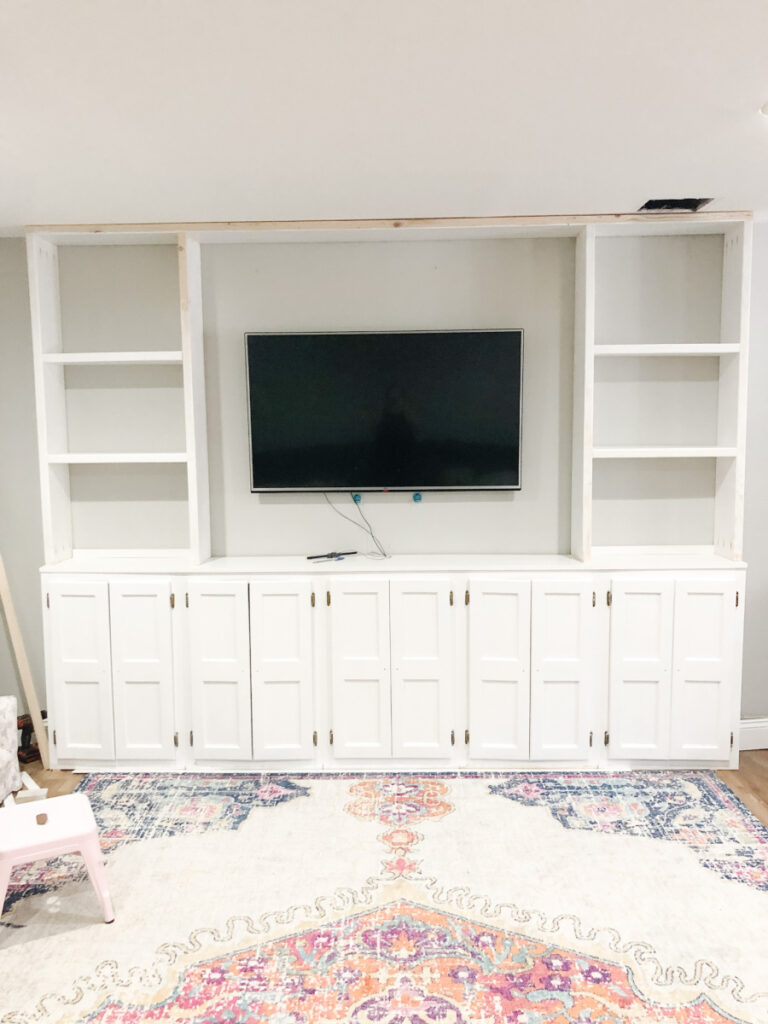 But it needed something more. So I went back to Lowe's and grabbed 1x3s primed MDF boards and trimmed out all around the shelves.
I am so glad I did! It elevated the whole build and finished it off nicely.
Some of the following links are Affiliate links. Click here to see my full disclosure.
To fill all the cracks, seams and anywhere there was damage to a door (the cabinets were second hand) I used DAP Premium Wood filler as well as DAP Alex Plus Latex Caulk they are both my "go to" to create a seamless look on all my projects. I painted the last coat of paint and stood back to admire my work!
I am so proud of myself with this build! Usually I wait to do big builds or DIY for when my parents would come to visit just for some extra guidance, hands or babysitters but they have not been here in 10 months.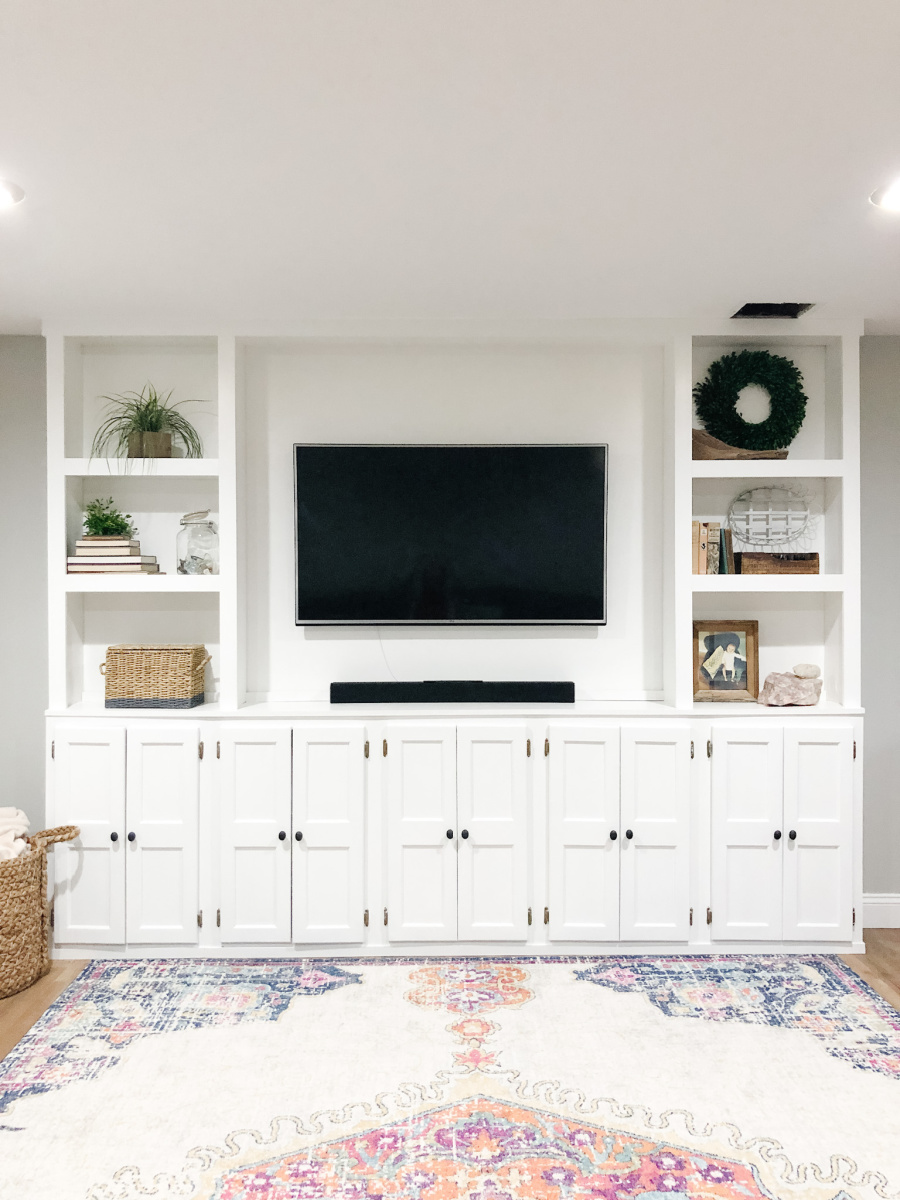 During this past year, I had to create and gain the confidence myself and I so I have accomplished so much! My kitchen island, office workstation build, and other small builds!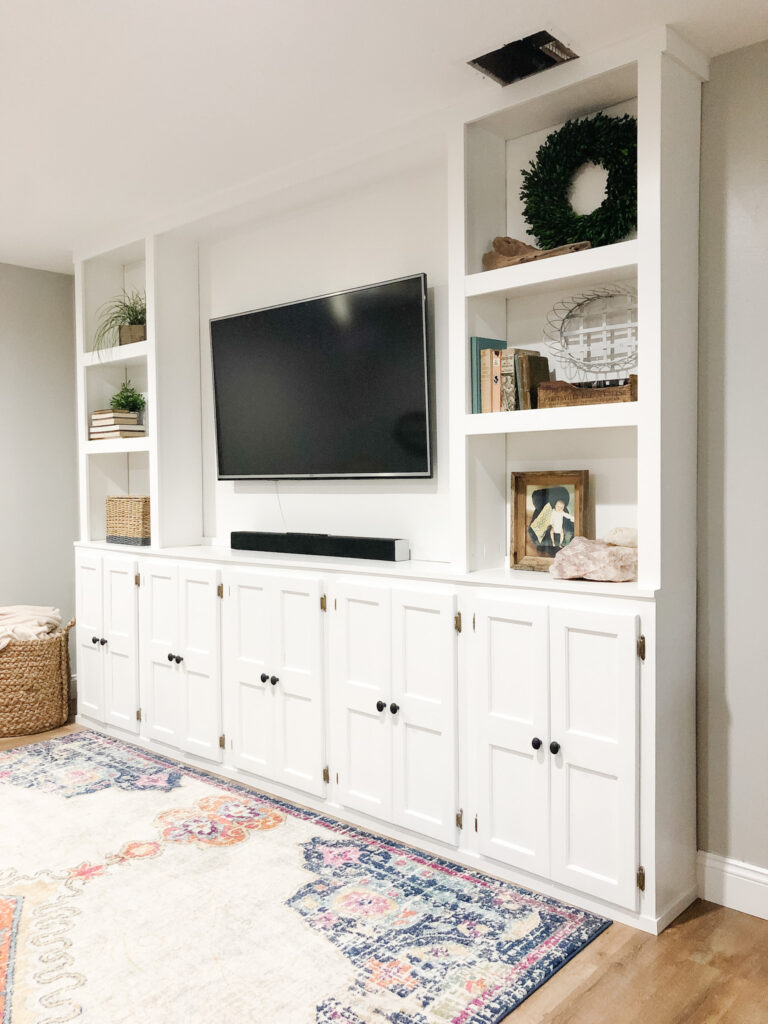 DIY Built In Supplies (Affiliate Links)
Used Cabinets of some kind (In the post you can see how I used upper kitchen stock cabinets to build the same thing.
Benjamin Moore Advanced Paint
2×10 I used for the shelving
1×3 Primed MDF boards I used for the trim.
Follow me on Instagram to see my projects and tips in real time!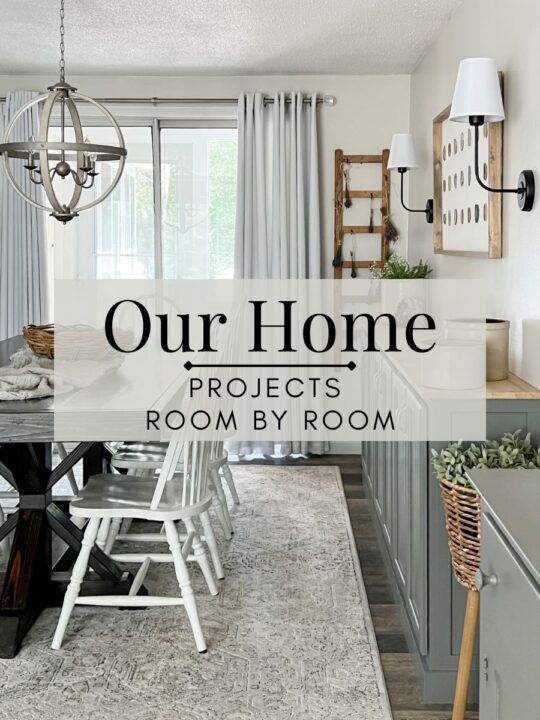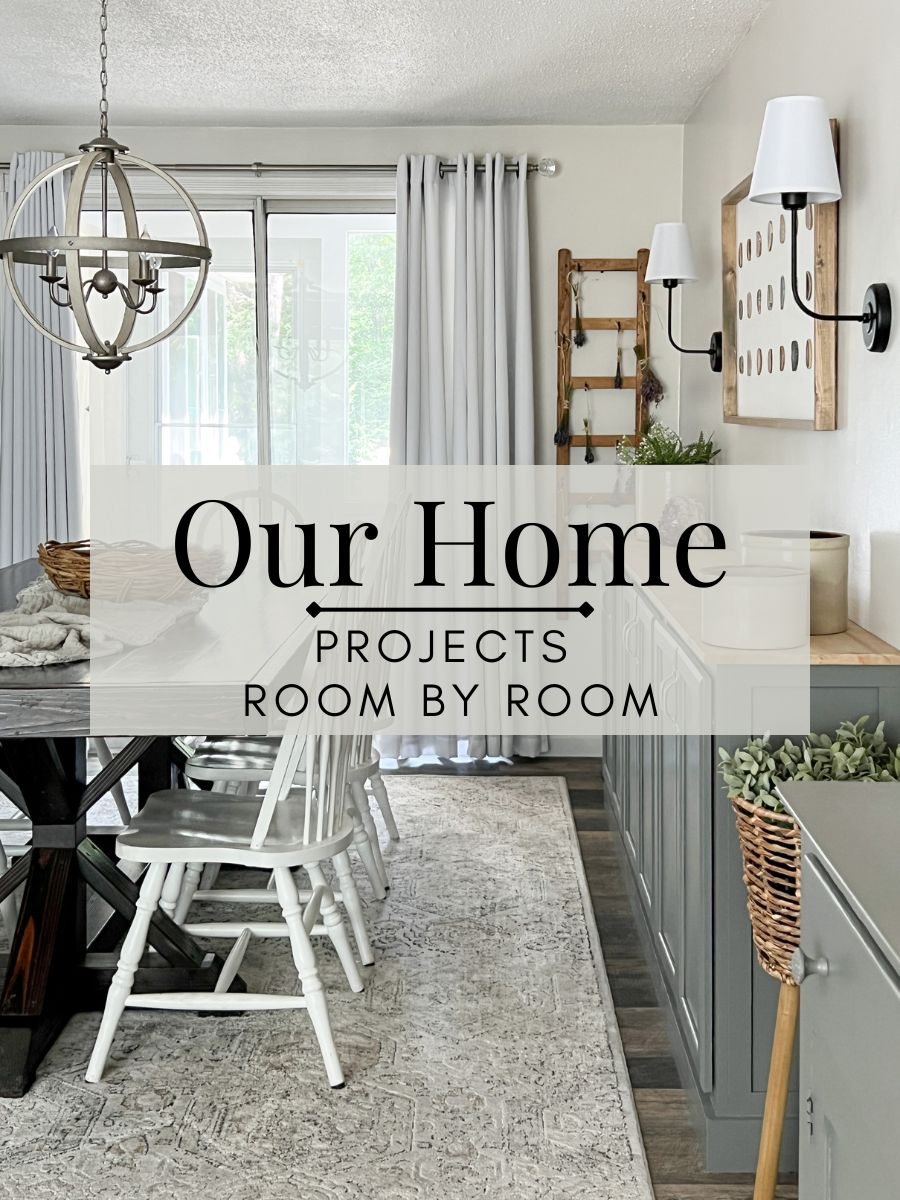 Don't forget to follow me on Instagram and Facebook!