I have been wanting to create built-ins in our downstairs family room forever now, but didn't really know how I wanted to go about it. So while we were at the Cottage a few weeks ago I figured I would create built ins on this wall as my practice project.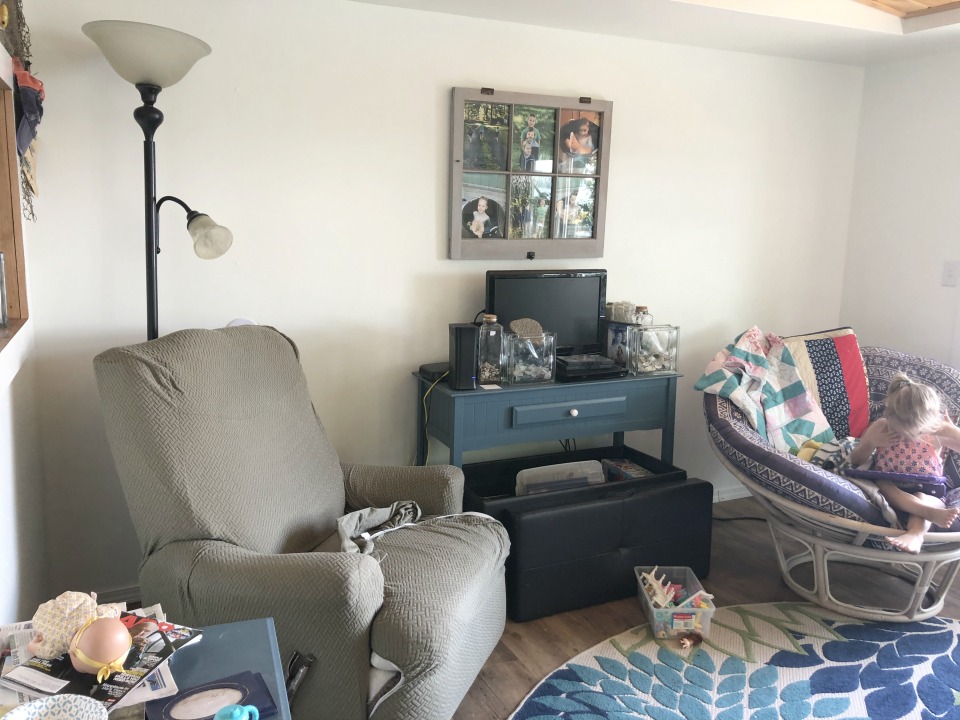 I am obsessed and love it so much! I took you along on Instagram as I was building it so if you don't already please follow me there as well!
www.instagram.com/justcallmehomegirl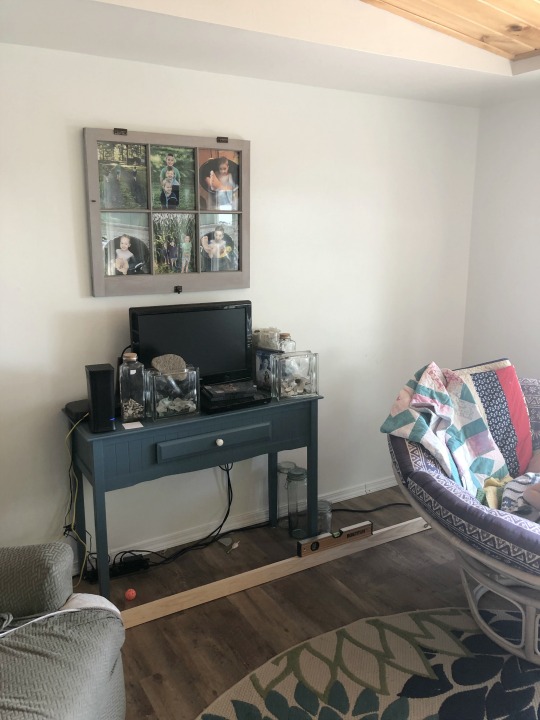 This wall was basically a blank slate. It looked cluttered with items shoved on top the little table as well as overflowing storage in the box below. We desperately needed storage.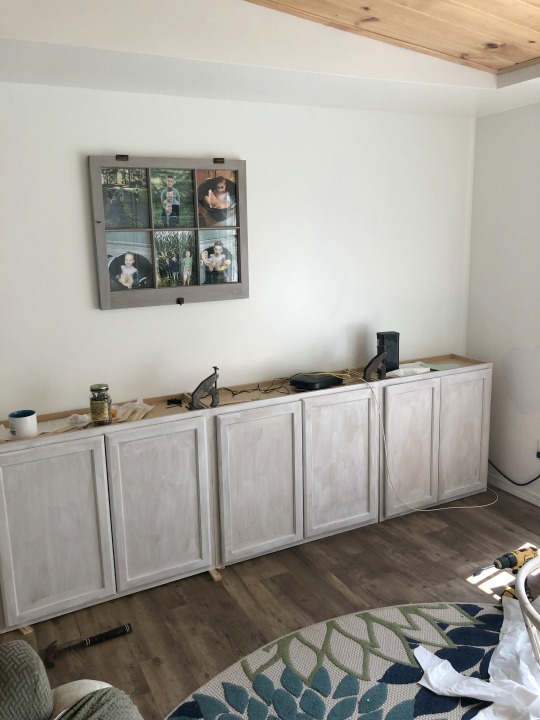 Instead of starting shelves and cabinets from scratch, we purchased basic stock, unfinished cabinets from Lowes. You could easily find used cabinets in good condition on Facebook Marketplace or your local ReStore as well!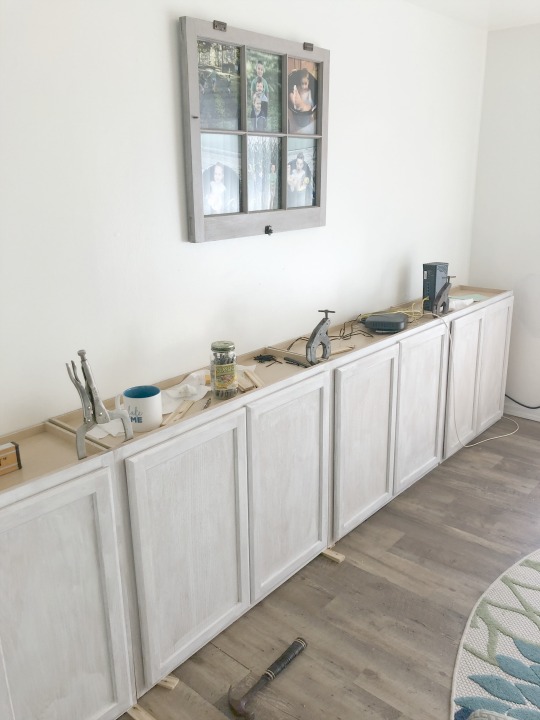 For our space, we purchased two 30×30 upper cabinets as well as two 36×30 cabinets. Once we got them into the space they needed to be leveled. Since our Cottage is old it's very uneven. With the help of shims we got them perfectly leveled!
On the sides there was still about a 5 inch gap so we took a piece of scrap wood and screwed it behind the edge of the cabinet, then took a 1×6 and used a brad nailer to adhere it to the scrap wood. Making the sides flush with the cabinets.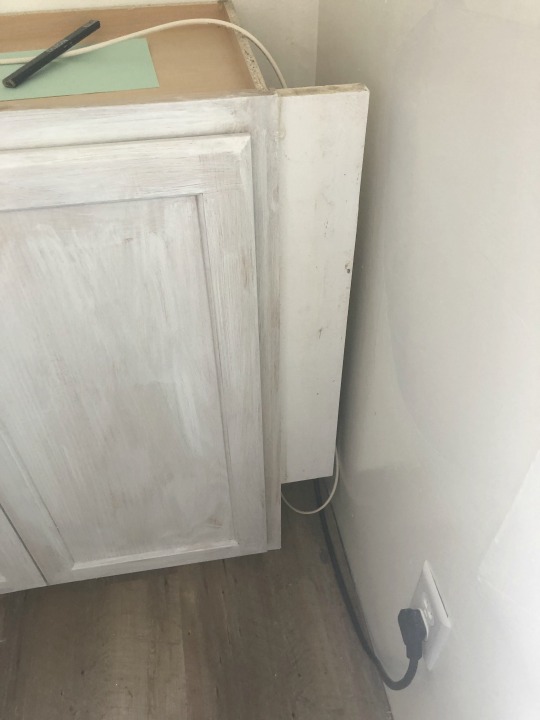 For the top of the cabinet, we used a 1×12 piece of pine and played it across. Since the upper cabinets are 12′ deep we also put a 1×3 in the back so the 1×12 would create a small overhang on the cabinets to give it a finished look.
Once everything was secured, holes were drilled on the top and through the sides of two cabinets with a 11/2 bit for cords and cables and access to outlets.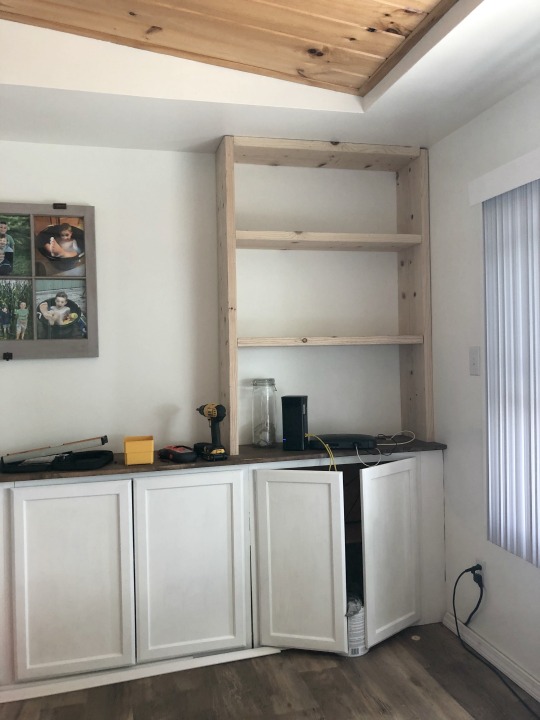 For the shelves on top of the cabinets, we used 2×10 boards. We created a frame attached to the wall, ceiling and down the side.
We then screwed in our shelves at the height we wanted.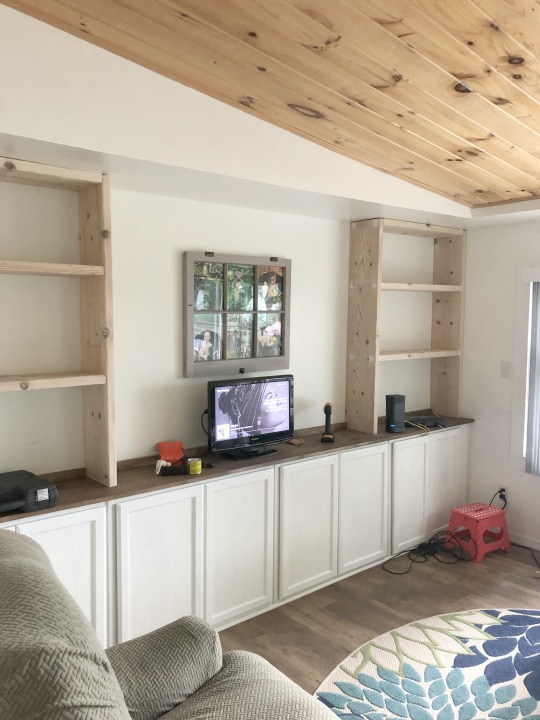 Since the Cottage is not level and the walls are not straight we trimmed out the shelves as well as the cabinets using a little trim. This covered any gaps created from crooked walls.
I painted the cabinets and shelves using Benjamin Moore's Advanced paint in Simply white. The same paint I used on my kitchen cabinets.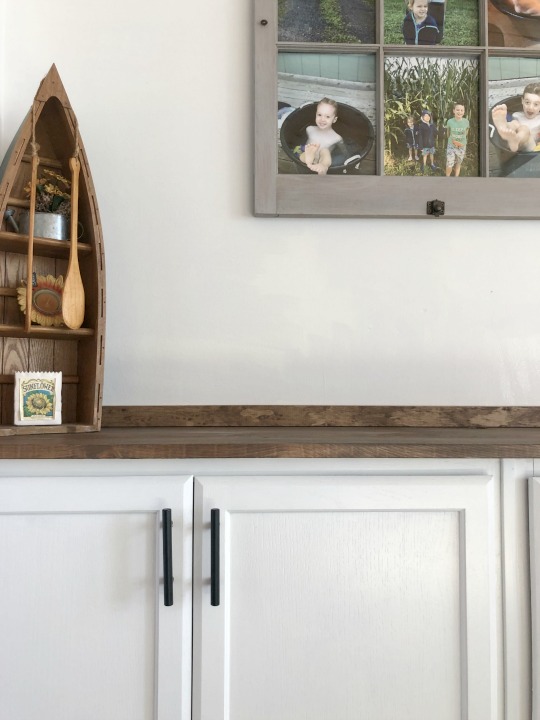 The top of the cabinets I stained in Special Walnut.
Some of the following links are Affiliate links. Click here to see my full disclosure.
We added these pulls from Amazon which were such a great price and that's it!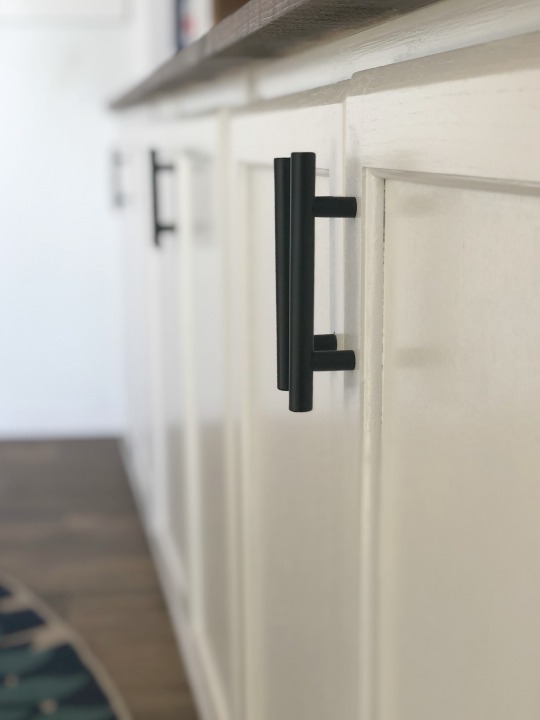 What a huge difference this has made in the room. So much needed storage, a non cluttered wall and I think it actually makes the room look bigger!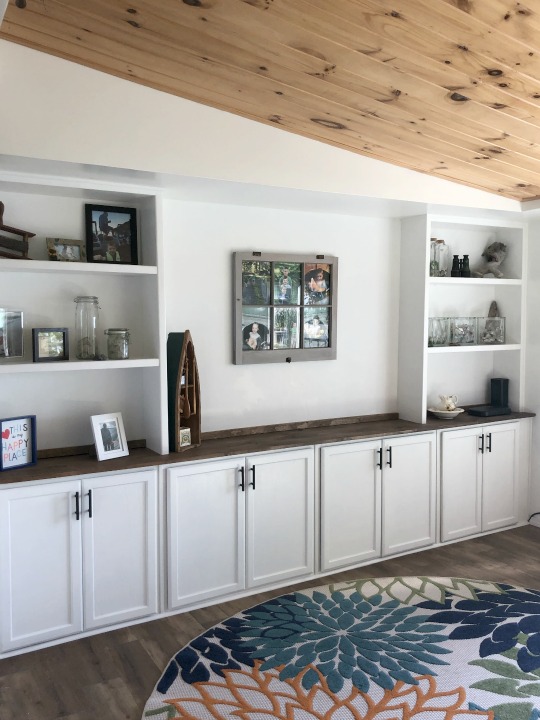 I can't wait to create a similar look in our family room this winter. This project is an easy project for a beginner. With simple cuts anyone can achieve this look!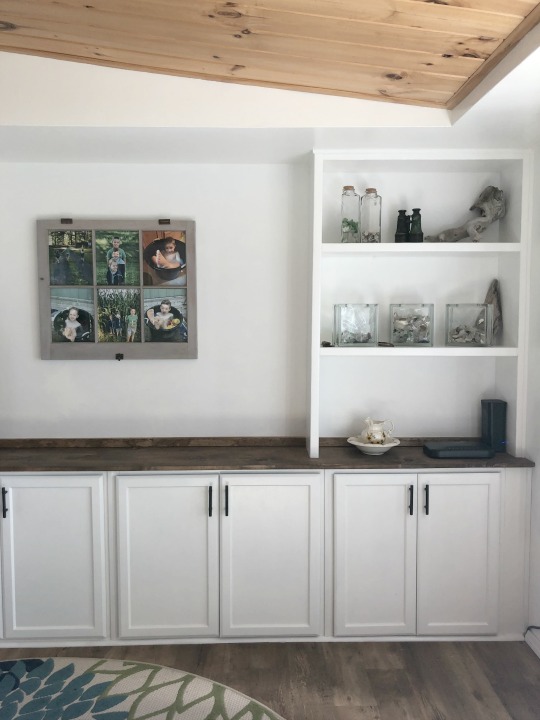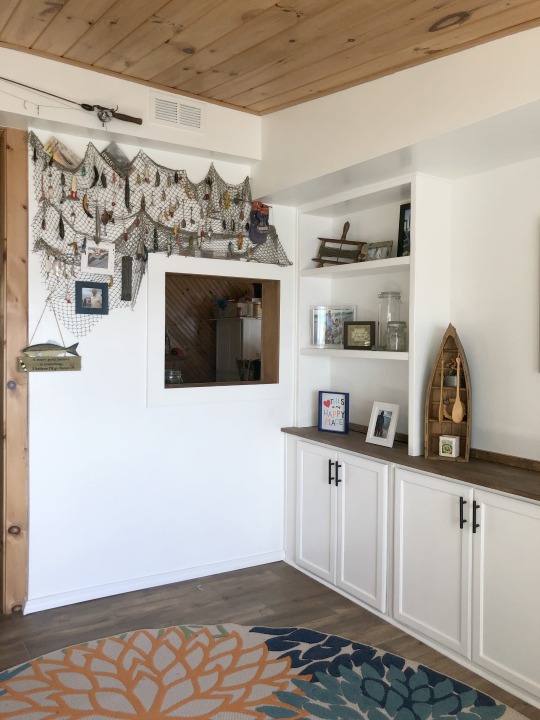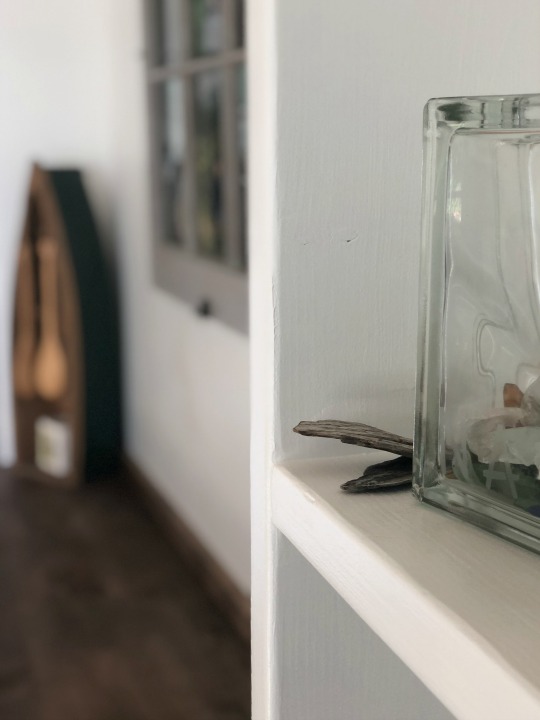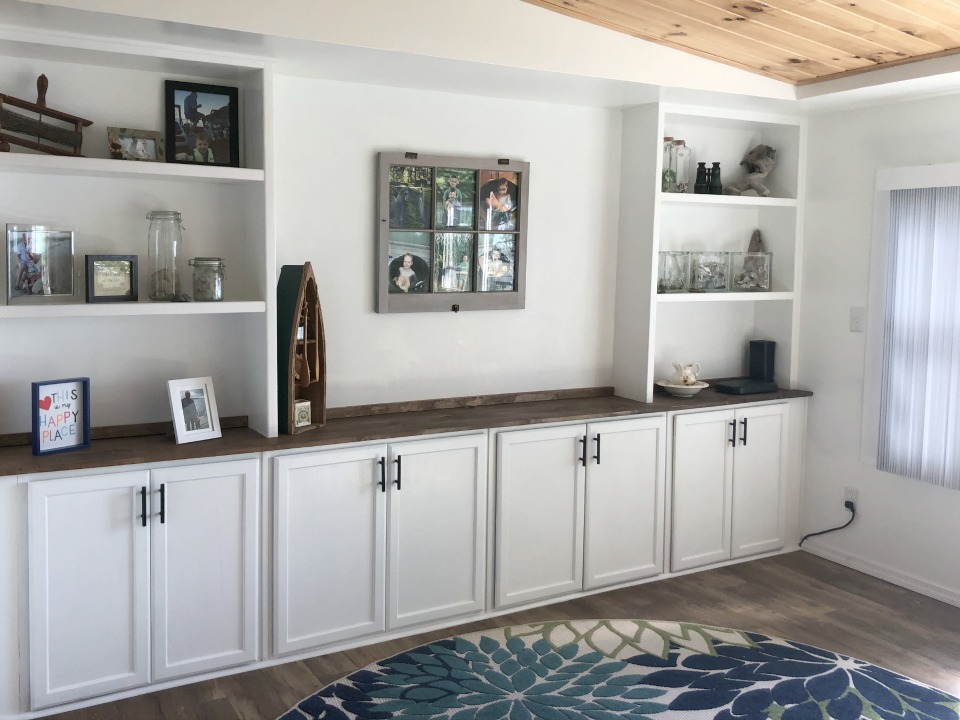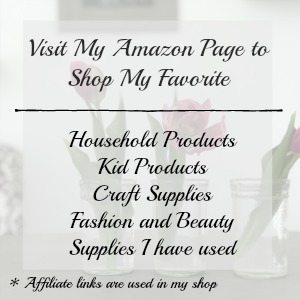 Check out another project from the cottage! We updated this kitchen with only paint and a stick on backsplash! Click to see the after!