Our Cottage on Seneca Lake in the Finger Lakes has been in our family for over 20 years…and so has most of the decor.
So this summer I wanted make some upgrades DIY Style of course. We created built-ins from stock kitchen cabinets, added some new furniture and gave the kitchen a great refresh!
This kitchen has had a couple different looks, mostly with wallpaper, but for the last few years this is what it has looked like, not this cluttered though – we started taking items out of the cabinets, but it makes for a better before picture right?
Don't forget to follow me on Instagram and Facebook for real time projects and helpful household tips!
The Oak cabinets are looking pretty orange and there was just too much wood.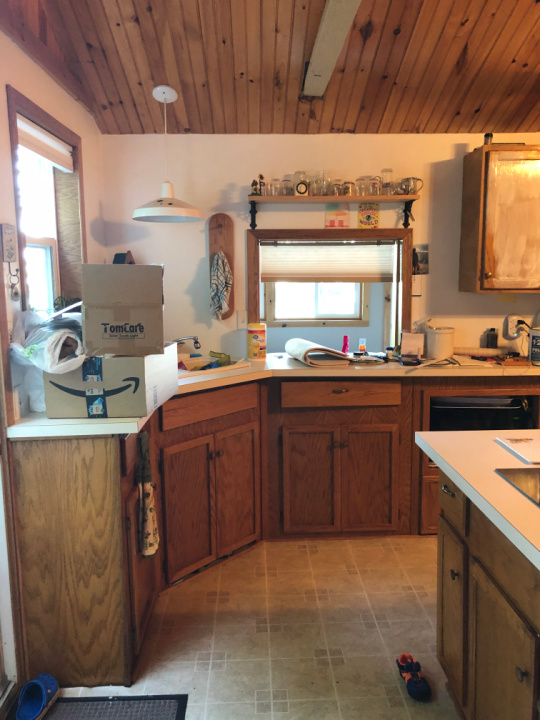 Also the trim around the windows and pass throughs are making the walls look choppy so those needed to switched out as well.
First Paint!
I used my favorite cabinet/furniture paint – Benjamin Moore's Advanced Paint in Simply White. I decided to paint the island a dark blue/gray to play off the color of the lake and it's perfect!
I used the same technique as when I painted my kitchen cabinets, you can see that tutorial here for all the details.
Once the paint was done it looked so much better! It was bright, and open and looked so fresh!
Now time to do something with the backsplash. We wanted the look of tile but really didn't want to actually do it. Also if I changed my mind in a few years I didn't want to have to take it down!
I did some research and SmartTiles stood out to me for quality and reviews. They also have gorgeous patterns! I reached out and they agreed to partner with me on this project!
When choosing the pattern, I went with Bellagio, I loved the mix of colors the blues, greens and grays. Perfect to match our lake views!
When the tiles were delivered I was surprised how thin they were, kind of like a puffy sticker, but they still looked so good and I was excited to put them on.
Using them is very simple. You simply peel that back and just put them on. You can easily cut around outlets and fixtures with scissors or an exacto knife.
Making sure you are keeping level, line them up and press! They really are super easy to install and look so good! What do you think?
It's so bright in here now and I love it! Next year we have more projects planned…the floor..the walls…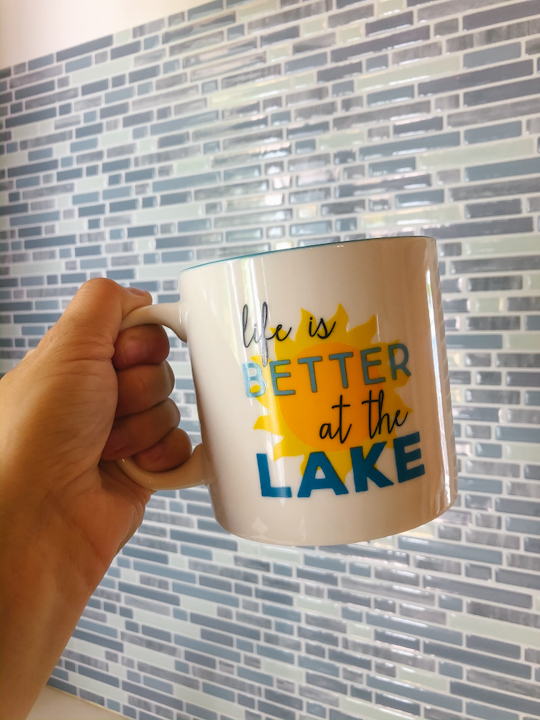 Follow me on Instagram to see my projects and tips in real time!