As the air is getting colder and the outside projects are over for the season there is one thing you can't forget to do. That is preparing your tools for the winter.
This blog post is generously sponsored by STIHL. All opinions are my own.
You know from past posts why I think every home should have battery operated tools, and if you don't you can read that post here. With battery operated tools there's not really much need to winterize them, except clean them, remove the battery and store them.
This year I was excited to organize all of my AK Stihl battery operated tools because I got my hands on their new AK Battery Keeper.
This simple organizational rack is perfect to keep all of your AK STIHL Battery Tools, with even a spot for the charger and batteries!
After a couple of screws to put it together it was ready to hang. I knew the perfect spot in my shed. It just needed to be cleaned out first…
I cleared out the space and hung the Battery Keeper in place. It had screw holes 16″ apart perfect to fit right over the studs.
The fun part was to fill it and see all of my tools hanging in one spot. The one AK tool I don't own is the hedge trimmer..so that spot was perfect for my chain saw chaps!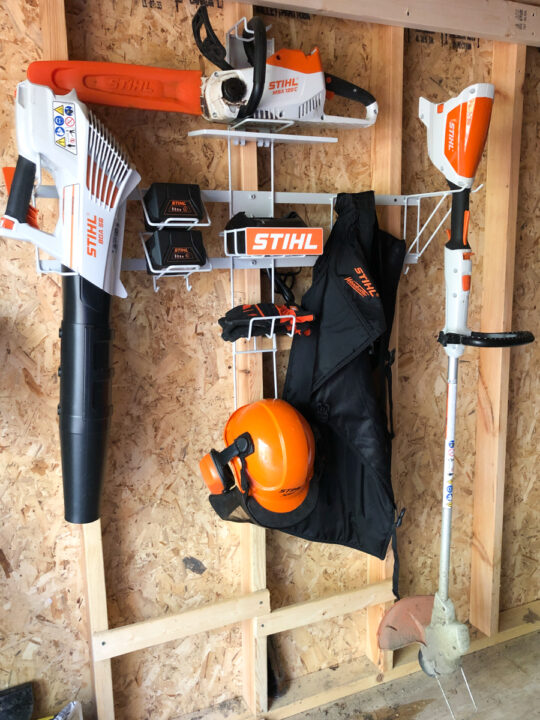 My tools are now safely hung and organized! Once I know I am done using the tools this season I will be bringing my batteries inside so they are not exposed to possible extreme temperatures.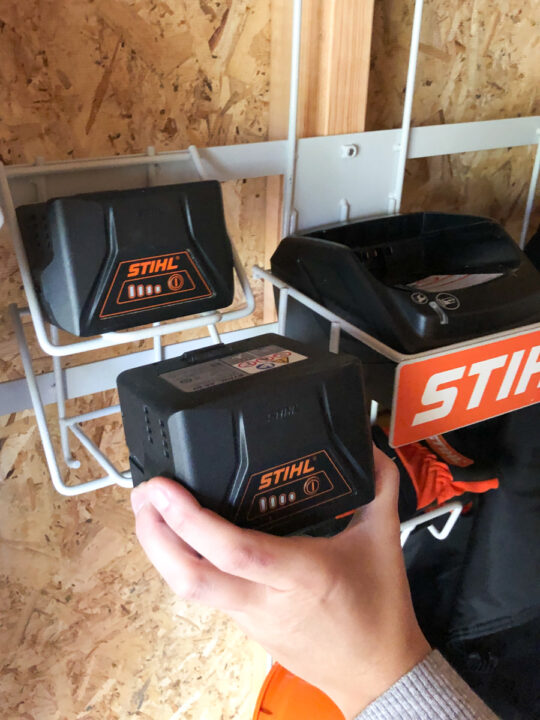 Now, there is one tool that should always be winterized…even if it's electric and that is the pressure washer.
I have STIHL's RB 200 Pressure washer. I have used many times including when I painted my exterior brick as well as cleaning off my pavers.
How to Winterize your Pressure Washer
Winterizing your pressure washer is an important step because any water that gets left in the hose could potentially freeze and ruin the hose. It's even easy to do!
The first step is to detach the hose as well as the wand and nozzle and pour out any water that was caught in there.
I then used a pressure washer winterizer. (affiliate link) I purchased this one from Amazon. I attached the winterizer to the water inlet and followed the direction on the can.
After that was complete I added a fuel stabilizer and let the engine run for a couple minutes to make sure stabilized fuel was in the fuel system. Then I put it in the back of the shed so it's ready for Spring!
For other gas powered tools read the manuals to winterize them properly.
Now everything is ready for Spring! Can we just skip winter weather? Wouldn't that be nice!