I needed a change in our living room. Sometimes I would just sit our our couch and stare at our wall with our window and think about painting it, maybe adding wallpaper etc. Just for some contrast with all of the white.
I love adding shiplap to walls like I did in our entry, but I also wanted it look a little cleaner. If I did horizontal shiplap I would have to stagger or fill in the seams because the wall was longer than 12′.
I decided to go with vertical shiplap for 3 reasons. First, our ceilings are on the shorter side. They're about 7.5′ so the vertical shiplap would give the feeling of of higher ceilings. Second, I could purchase 8′ boards and have very little waste and third, it gives it a little bit of a more modern look than horizontal.
I ended up purchasing painted, 6″ wide tongue and grove boards from Lowe's. If I wanted to leave them white it would have been so nice since they were already painted but it didn't matter.
When hanging vertical shiplap make sure you following the level and not the wall. Not all walls and ceilings are plumb and level so double check when hanging that first board and every few boards after.
I used my brad nailer to secure the boards into the wall. if I was not on a stud, I did a nail each way so they "grab the wall". (A nail going in from the left and a nail going in from the right)
I used my jig saw to cut around outlets and later used an extender on the outlets to bring them forward flush with the shiplap.
Once done I used a piece of quarter round trim at the top to finish it off.
If you follow me on Instagram you would have seen my stories when I first painted it. I choose the color and it was sooo blue. I lived with it for a few days but I couldn't get over it. So mixed two different paints I had left over (Benjamin Moore's Amherst Gray and Valspar's Web gray) to find a new color. I love it it's more of the muted color I was looking for.
What do you think? This is kind of a phase 1 transformation to make our living room a little more cozy. I think the dark color brings in the room a little more like a little hug.
I also brought in new curtains and hung them at the ceiling to continue the feeling of taller ceilings and I got two new recliners from…Walmart! You can't beat the price and they're so pretty!
Some of the following links are Affiliate links. Click here to see my full disclosure.
Walmart Chairs – Get them here & Curtains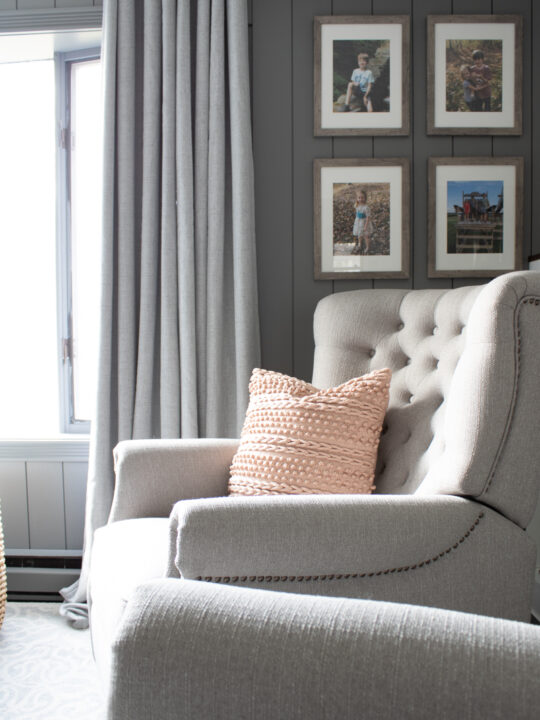 Phase 2 will probably be build cabinet doors for the lower two shelves of the bookcase as well as a new rug. Follow me on Instagram to see the projects in real time!