Well, as far as the nursery goes, not much has happened this week. Apparently I decided during the One Room Challenge, that I needed to completely go off my plans and paint the kitchen cabinets. Something I have been wanting to do since we moved in. So I'm really excited about that and excited to share that with you in the next couple of weeks!
But, like I said as far as the nursery, this is what has occurred, and when I say occurred, I mean started but not really finished.
I had this lamp in my staging inventory for awhile. It was missing the shade, had some chips from being transported and I wasn't using it much anymore. I decided to rescue it with some Valspar Chalky Finish Paint in Beaded Reticue.
Here is a sneak peek of the lamp since I don't think I am done with it yet.
I also did a little shopping this week at Michael's. They were having awesome one day sales so I took advantage and purchased some baskets, picture frames, and more tulle.
In the midst of painting the kitchen cabinets, my Mom and best friends surprised me with a mini Sprinkle. Of course I was in painting clothes and non-showered. But what can you do?
At the Sprinkle, my Mom, also known as Retired Grammie, made this adorable little pillow for the nursery. How cute is that! I'll try to get her to write a tutorial if you're interested!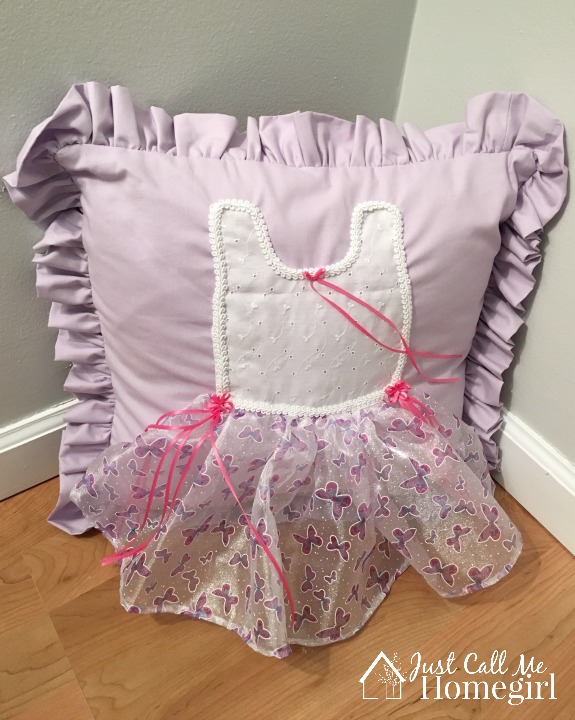 Even though I haven't accomplished much in the nursery for this week, I am hoping to check many things off the list next week and I hope you continue to follow along!
Don't forget to head over to Calling it Home to check in with the other amazing One Room Challenge participants.
If you haven't read my previous posts for the room you can catch up here: