Hello there! Welcome! Please come in!
If you are joining me from one of the 7 other amazing bloggers included in our Designed For Fall Home Tour then welcome! I'm Tara. Glad you could make it.
Our front door just got a makeover did you see our before?
Grab an apple on your way in, we picked them this weekend.
Inviting all of you here for my Fall Home Tour was actually extremely nerve wracking. This will be our 3rd Fall in our home and the first time I am decorating.
The first year I was 9 months pregnant and last year our son had palate surgery on October 9th. I was way too consumed with his surgery and recovery period that decorating for the fall season was not even on my radar.
I have seen so many beautiful home tours this year already and it's hard sometimes when you don't think your compares to others. It's that Pinterest Effect that I mentioned in another post. But, I realize this is MY home and I love what makes ME happy.
I'm still getting a feel for my home and I didn't want to spend a ton of money buying "fall things", so I looked around and tried to use what I already had and brought in a ton of nature.
Welcome to my living room. I love this room. This is where I drink my morning coffee, watch our son play with his train tracks and curl up under a blanket after he is down for the night. I'm excited where this room is going and can't wait to finish it.
While you're here please relax, drink some tea and put your feet up.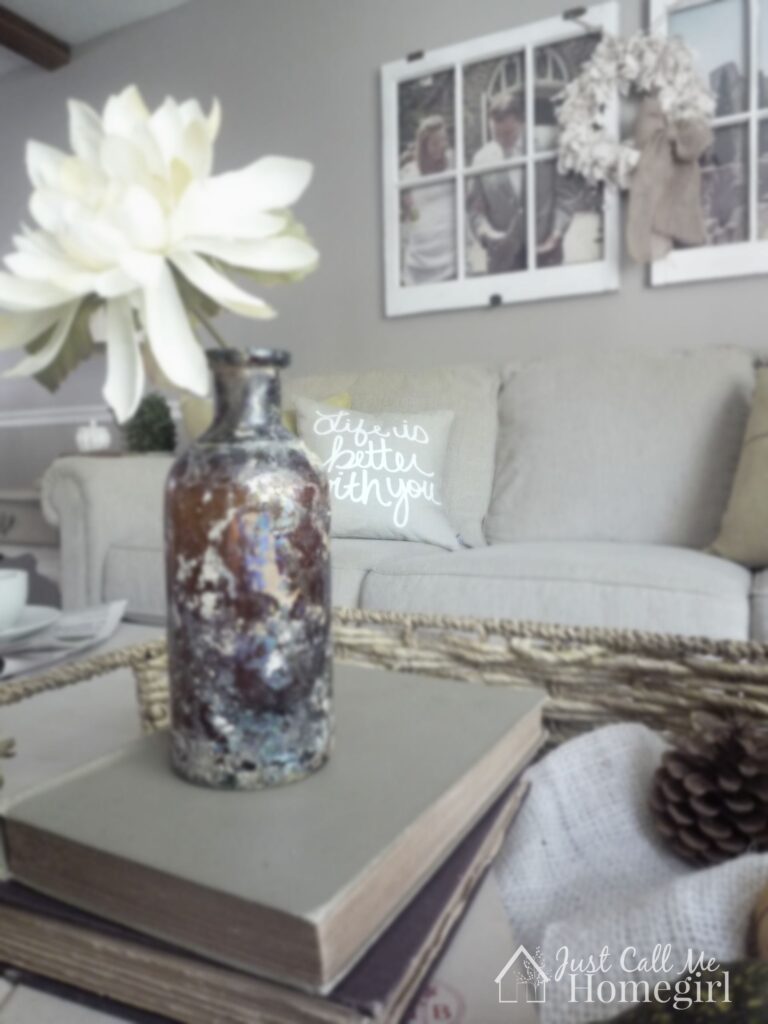 Pillows from Michelle Dwight Designs
My husband's Christmas gift last year was this chair. He loves it, and I love it because it doesn't look like your typical recliner. But don't get too comfy..let's head into the dining room.
Thank you for visiting, I hope you enjoyed your stay!
Before you go…we don't want you to leave empty handed, at the bottom of the post don't forget to enter to win this beautiful sign by Charlie & Ella Handmade.
Now, please continue on our tour and visit the other wonderful bloggers!
Refashionably Late
The Honeycomb Home
Home Remedies
The Tale of an Ugly House
Creative Ramblings
Seeking Lavender Lane
Little House of Four